I am adding to my portfolio an Israeli company that provides bandwidth management solutions, especially on cellular networks, Allot Communications (NASDAQ:ALLT). At the same time, I am removing Incredimail (MAIL), after making a profit of 58% in nine months, and I do so just before the release of the fourth quarter results, probably this week, as the stock has shown continuous weakness since reaching a peak of almost $11 in the summer. I believe the weakness results from the share sales by one of the founders, Yaron Adler, who is no longer a director, and / or because of a large acquisition the company is about to make.
Allot provides solutions for managing loads with systems that do optimization through what is known in the professional jargon as DPI (deep packet inspection), which means monitoring the content on the networks and deciding on priorities and allocation of bandwidth to users according to the policies of the service provider. For example, the provider will prefer to allocate more bandwidth to a business customer, who pays a great deal of money, when he is conducting video conference calls over the IP network, and less to a user watching a clip on YouTube for pleasure via a smartphone.
Allot can do this prioritization in real time for cellular companies and other service providers, including for large enterprises, and we are only at the start of dealing with video traffic loads on the networks. Until companies invest billions of dollars in new fourth generation networks that can better cope with the loads, or bolster the existing infrastructure of third-generation networks with equipment such as is provided by Ceragon (NASDAQ:CRNT) and others, the immediate solution for lightening the loads is with systems of the kind provided by Allot.
Those fighting to protect the privacy of web users oppose the idea of a provider that looks at the content users are consuming in order to prioritize resources with the aid of systems like that of Allot. As such, penetration of this technology is slower in the US than in Europe. But according to Barclays (NYSE:BCS), the palpable risk of collapse of the networks will force communications providers' managers to take charge of the networks' fate, and introduce a lot more systems of this kind.
Allot was founded in 1996 by a team headed by Yigal Jacoby, and is managed today by Rami Hadar, a veteran technology entrepreneur and manager. The company is traded at an attractive value of around $95 million, when it has around $55 million in cash, and no debt. It is one of the few companies in the field of telecommunications equipment that reported higher sales in 2009 than in 2008: $42 million, compared with $37 million.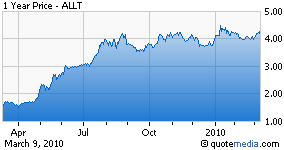 On a proforma basis, Allot broke even in the fourth quarter, on sales of $11.5 million, and on the basis of Hadar's general guidance on growth, I believe that this year it will be profitable in every quarter, increasing growth in comparison with both the corresponding quarter and the previous quarter. The cellular sector contributed 30% of sales last year, and that proportion is expected to grow to 50% this year. Among Allot's customers is one of the biggest cellular companies in the world, with over 60 million subscribers in several countries, which has provided orders worth $17 million up to the end of 2009.
Last year there were dramatic changes in the ownership of Allot, when founder Yigal Jacoby sold large quantities of shares. He now holds only 7.1% of the company. One of the most aggressive purchasers was Zohar Zisapel, who holds over 10%, but who has yet to seek a position of influence on the company board.
Disclosure: Author holds shares as part of his portfolio tracked by "Globes".