Since James Dennedy took over as CEO in 2009, Agilysys (NASDAQ:AGYS) has undergone a major transformation to right-size its cost structure and sharpen its focus on the Hospitality industry. Now, considering the fact that most of the transformation is complete, the company should see above-average earnings growth that should last throughout the rest of the decade. Even without considering this inflection point, the company has some very interesting attributes including:
$100MM of cash on the balance sheet (1/3 of the market capitalization) and no debt.
Net operating losses ((NOLs)) that are valued at $160MM (over half of the company's market cap and 80% of the company's enterprise value). The company has just recently reached profitability (after selling its retail division) and will not pay cash taxes for the foreseeable future.
A large amount of insider purchases that have occurred over the last two years, which are still continuing at this price level. These insider purchases also include the accumulation of a 32% stake in the company by Mak Capital, a New York based hedge fund. The company has 82% institutional ownership.
The company benefits from the growing demand for point of sale and software as a service (SAAS) solutions. This industry should grow at 5-7% annually for the foreseeable future and AGYS has a plan to grow revenues at least 10% annually.
The company doesn't need big wins to be successful. If the company can take 5% market share of its addressable market, which I expect them to do by the end of the decade, they will make over $2.50 per share in earnings.
The company benefits from a rebound in the hospitality industry. Many analysts have noted this should hit an inflection point in 2014 and see above-average growth.
The company has little sell-side analyst coverage, which can be its own catalyst.
After selling its retail business, the company is laser-focused on the hospitality industry, and I expect revenues to ramp. Considering the fact that the company has done a great job cutting costs out of its business over the last few years, there is significant operating leverage from an upside move in revenues. Taking into account the other factors I described above, I believe that the company is significantly undervalued at its current levels. I have an $18 price target on the stock.
Business Overview
AGYS is a leading developer of proprietary enterprise software, services, and solutions to the hospitality industry. The company specializes in the development of point-of-sale (POS), property management, inventory & procurement, and mobile & wireless solutions that are designed to streamline operations, improve efficiency, and enhance the guest experience. In addition, the company provides support, maintenance, resold hardware products and software hosting, and subscription services. Customers include casinos, resorts, hotels, foodservice venues, stadiums and cruise lines.
Up until this year, the company served the retail industry, but recently divested this segment for $34.5MM (or about 30x ANOI, which is much higher than the company's current valuation, which is a higher margin business). The company sold the unit in order to focus its capital on the much higher margin hospitality business (hospitality gross margins are 65-66% vs. 20% for the retail business).
This divestiture was part of a bigger restructuring by the company that was initiated by appointment of James Dennedy to CEO. Prior to his appointment as president and CEO, Dennedy was a principal and chief investment officer of a New York-based hedge fund focused on small and microcap investments. Prior to that, Dennedy was president and chief executive officer of Engyro Corporation, an enterprise software company that provided IT systems management interoperability solutions. He served as a public company director at NaviSite, Inc. (which was acquired by Time Warner Cable (TWC)), where he was chair of the audit committee and a member of the compensation committee. He was also a director of I-many, Inc., and Entrust, Inc. Most of the restructuring initiatives helped to better manage costs associated with the business and give the company the capital necessary to grow its higher margin business. Now that most of these initiatives are complete, the company is poised to grow revenues +10% annually and see significant operative leverage.
The hospitality industry, with a $4B addressable market, is more than big enough for AGYS to grow into. The company competes against NCR Corp. (NYSE:NCR) and MICROS Systems (NASDAQ:MCRS), but has a competitive advantage because it only focuses on the hospitality industry. The company should be able to take 5% market share in this industry by the end of the decade, which would equate to over $2.50 in earnings.
The company will take this market share by the introduction of new, innovative products like its Insight Mobile Manager Solution, a mobile dashboard application that enables hotel managers to view key information about the property quickly and easily from a mobile device, and its InfoGenesis Mobile v2.0 Mobile Point-of-Sale Solution, which is designed to streamline food and beverage service in properties of all sizes. This solution grows revenue by allowing servers to remain on the floor, which translates to an increase in orders and a more profitable bottom line. Early indications of the products have been strong, which gives me more confidence in the company's revenue ramp. The company already has some very large customers: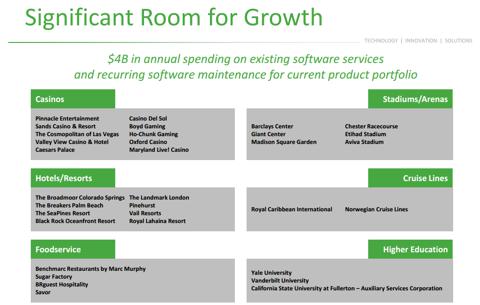 Source: AGYS investor Presentation
Another thing I really like about the company is its growing reoccurring revenue business: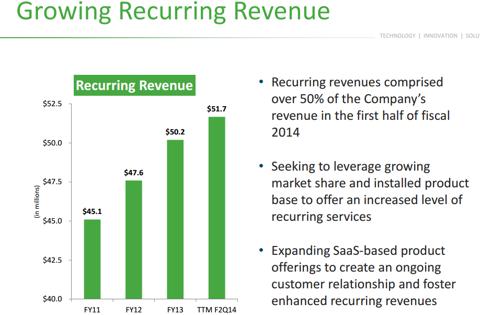 This reoccurring business has higher margins and should command a higher multiple. The company hopes to continue to grow this business as a percentage of revenues. One of the concerns investors have with point of sale companies is their dependence on one-time sales. Now that about 50% of revenue is reoccurring in nature, this risk is mitigated to a greater degree.
A Growing Company in a Growing Industry
Many analysts have recently noted that they expect the hospitality industry to have a strong year in 2014:
The Economist recently noted that they expect the travel and tourism industry to grow 5.3% in 2014, its biggest increase since 2010.
PWC recently noted that they expect hospitality RevPAR to grow 6.2% in 2014, which would take RevPAR back to its peak levels in 2006.
Deloitte recently noted that "Looking into 2014, the travel, hospitality and leisure (THL) sector outlook remains positive due to improving demand side drivers."
I follow the gaming and lodging industry and expect 2014 to be a strong year. I also believe that it will be a year in which the casinos increase capex spending (which is one of the reasons I wrote in my recent article, Top 12 Ideas For Your Portfolio in 2014, that I am a fan of Bally Technologies (NYSE:BYI). This trend should greatly benefit AGYS.
Additionally, AGYS benefits from the growing demand for point of sale devices and SaaS products. Software spending is expected to increase 6.2% in 2014. Overall, the company has some big industry tailwinds benefiting its upcoming ramp in the coming years.
Understanding the Balance Sheet
Not only did the divestiture of the retail segment help the company from a capital perspective in focusing on the hospitality business, it also created a very attractive balance sheet. The company has $100MM of cash on the balance sheet (1/3 of the market capitalization) and no debt. Additionally, the company has NOLs valued at $160MM, which will allow the company to not have to pay cash taxes for the foreseeable future. The company will look to deploy this balance sheet in order to grow revenues organically, but will also look for acquisitions to strengthen its position in the market. The company recently completed the acquisition of TimeManagement Corporation, a privately-owned Minneapolis-based technology provider with solutions that streamline workforce management environments for hospitality operators. The Company funded the acquisition through cash on hand and expects the transaction to be immediately accretive to adjusted operating income. TimeManagement's TMx labor management solution gives hospitality operators the tools they need to improve the efficiency and productivity of their workforce through precision staff scheduling and management. There was only modest customer overlap, so the acquisition also creates cross-selling opportunities.
As the company significantly grows ANOI over the coming years, considering the fact that the management team has been aggressively buying shares for their personal accounts (more on this below), I could also see the company initiating a share repurchase program.
Very Impressive Insider Purchases
One thing I like to see in a stock is insider buying. As many have said before "there are many reasons you sell a stock, but only one reason you buy it." When looking at AGYS, the insider purchases are very impressive: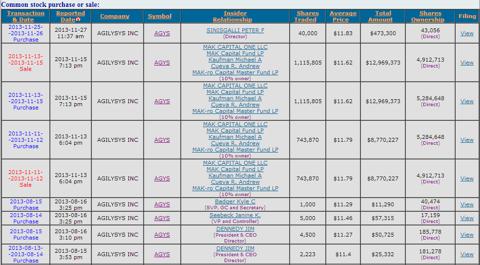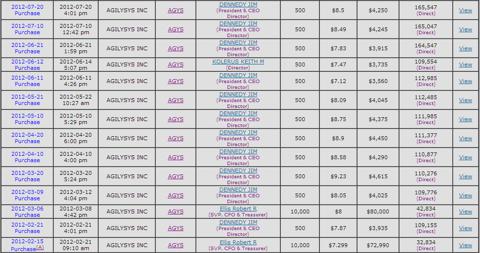 Source: http://www.secform4.com/insider-trading/78749.htm
As you can see, not only are there a large quantity of insider purchases, but they have been fairly constant over the last two years. What's more, they are continuing even after the stock's recent run-up. This is a very strong signal from management about their opinion on the stock's price. I think this specifically signals that now, after the company has sold off its retail division, that the company has much more room to run.
I'd also like to note that this small-cap stock has 82% institutional ownership, including a 32% stake by Mak Capital, which is a New York based hedge fund with just over $500MM in assets. This is a big bet (20% of total AUM) by this hedge fund, which I also take as a strong signal for the stock.
Outlook
As we noted above, the company has been able to both significantly increase its gross margins while taking operating expenses out of the business. On top on this, the company will not pay cash taxes and should see +10% revenue growth for the foreseeable future. Taking these considerations into account, let's take a look at what operations could look like in the coming years (note, I have annualized the results for calendar years, not fiscal years, to better compare its investment potential):
| | | | | | | |
| --- | --- | --- | --- | --- | --- | --- |
| | 2015 | 2016 | 2017 | 2018 | 2019 | 2020 |
| Revenue | $ 115.0 | $ 130.0 | $ 146.8 | $ 165.9 | $ 185.8 | $ 204.4 |
| Gross Profit | $ 74.8 | $ 84.5 | $ 96.9 | $ 109.5 | $ 122.7 | $ 134.9 |
| | | | | | | |
| ANOI | $ 8.8 | $ 16.5 | $ 26.9 | $ 37.5 | $ 48.7 | $ 58.9 |
| ANOI per Share | $ .40 | $ .75 | $ 1.22 | $ 1.71 | $ 2.21 | $ 2.68 |
| ANOI Growth | | 88% | 63% | 39% | 30% | 21% |
Note: ANOI is basically the company's cash earnings per share. Considering the company will not pay cash taxes, it's the best metric to use. It's EPS adding back non-cash items.
As you can see, I expect that the company will be able to take 5% market by the end of this decade because of its focus on the industry and early success with new products. Because of the operating leverage in the new model, we see very high levels of earnings growth for the foreseeable future. When an investor screens for this stock, they will see negative revenue growth, but that will be because on the divestiture of the retail business. In reality, AGYS is becoming one of the better growth stories in the market today. Again, the company only needs to take 5% market share over the coming years in order to make over $2.50 per share in earnings.
Valuation
Before we discuss the valuation of AGYS, let's take a look at the valuation of its competitors, NCR Corp. and MICROS Systems :
| | | | | |
| --- | --- | --- | --- | --- |
| | EV/Revenue | Revenue Growth | P/E | EPS Growth |
| NCR | 1.1x | 4.90% | 11x | 8% |
| MCRS | 2.6x | 6.10% | 24x | 17% |
When taking a look at these valuations, I believe that AGYS, considering its focus on the growing hospitality industry and its much higher growth rate, would command the high end of these valuations. Using a blended valuation of 24x EPS and 2.6x revenue for 2015, we get a price target of $18, which represents over 30% upside. I believe that using 2015 numbers instead of 2014 is more appropriate because 2015 is the year in which the operating leverage, or full potential of the company, starts kicking in.
On the downside, considering the fact that AGYS has a much better balance sheet and significantly higher growth rate than NCR, I am using a blended valuation of 15x EPS and 1.25x revenue for 2015, which give me a price target of $11.50 (15% downside). This 2-to-1 upside to downside ratio makes the stock quite attractive. Additionally, considering the fact that management has signaled the stock is cheap by buying shares for their personal accounts and the $100MM of cash on the balance sheet, the company could begin to repurchase shares if the stock gets too cheap. This would also help provide a floor on the stock.
Lack of Sell-Side Coverage
I am a fan of "information arbitrage." Even if information is public, it is not always known by investors, especially in the small-cap space. Even though the company is in an industry that is very hot right now, and already has 82% institutional ownership, AGYS only has one analyst covering the stock. As I have noted in the past, expanded sell-side coverage can be its own catalyst as it enables a larger pool of investors to understand the company. As AGYS grows, some firms could initiate coverage on the name. There are already 13 firms covering MCRS and 7 analysts covering NCR, making it more likely that these firms could realistically initiate coverage on AGYS in the future.
Risks
Risks for the company include:
Because of its focus, the company is reliant on the performance of the hospitality industry.
The company must continue to roll out best in class products to be successful, which is why the company has a $30-40MM annual R&D budget.
The company could face pricing pressure. AGYS must maintain their current gross margins to meet our forecast.
The company will most likely acquire new businesses, which comes with integration risk.
Catalysts
Catalysts for the company include:
Market share gains through product introductions.
The announcement of new acquisitions, which would most likely be immediately accretive.
Further insider purchases or the announcement of a share repurchase program.
Initiation of sell-side coverage.
If the company received an offer for its business equal to the valuation of the retail business, or $16.50 (22% upside).
Growth of the hospitality industry and demand for SaaS products.
Conclusion
Overall, the company has a very attractive business model. Management expects the industry to grow 5-7% annually, but AGYS will grow much higher than the overall industry. Considering this fact, combined with the fact that the company has a targeted focus on a growing industry, an improved operational structure, a best in class balance sheet, and the fact that the company only needs 5% of the market to be very successful, I believe AGYS should trade at a premium to its competition. Insider buying signals to me that the stock is cheap. I expect a bright future for AGYS for several years to come. I have an $18 price target on the stock.
Disclosure: I am long BYI. I wrote this article myself, and it expresses my own opinions. I am not receiving compensation for it (other than from Seeking Alpha). I have no business relationship with any company whose stock is mentioned in this article.