…based upon all my years of experience…if you're waiting for a better rate and a better house price, you're going to wait and you're going to find higher rates and higher house prices. So I think…a number of buyers are coming to the conclusion that rates are not that high, home prices are not that high and today is a great time to buy.

- Donald J. Tomnitz - Vice Chairman, Chief Executive Officer, President and Member of Executive Committee for D.R. Horton, Inc (NYSE:DHI) during the Q4 2013 earnings conference call on November 12th (from Seeking Alpha transcripts)
The above quote pretty much sums up the attitude of homebuilders (BATS:ITB) going into 2014. It sounds like a classic sales pitch from a real estate agent, but the evidence continues to indicate to me that 2014 could easily be a solid continuation year for the housing recovery. The first key is an economy that does not suffer any surprise shocks. A second key is the Spring 2014 selling season. An analyst on the last earnings conference call for Toll Brothers went as far as to say that the Spring selling season could be bigger than the Super Bowl.
The homebuilders are singing from similar hymnals when describing the prospects for the housing recovery in 2014:
Still early in the recovery cycle.
Supply constraints from under-building persist. This has created production deficits in single and multi-family buildings.
Pent-up demand continues to grow with increasing population, on-going lending constraints, and delayed household formation.
Continued economic recovery will overcome other headwinds such as higher mortgage rates and increased fees on government-guaranteed mortgages (FHFA-backed loans).
Increasing rent levels sustaining an attractive buy over rent calculus.
Economic recoveries in local areas are particularly important and specifically targeted for investment.
In this post, I highlight some choice quotes and themes from four major homebuilders who reported in the last six weeks of 2013. In chronological order, they are…DR Horton Inc , Toll Brothers (NYSE:TOL), Lennar Corp. (NYSE:LEN), and KB Home (NYSE:KBH). TOL, LEN, and KBH reported around mid-December (links point to the Seeking Alpha transcripts for each builder). Note that all the builders delivered pretty strong year-over-year results, and I am not focusing on those numbers here. The stock market spent most of 2012 anticipating 2013′s strong financial results. Accordingly, homebuilder stocks went almost nowhere in 2013 as the impressive reports rolled throughout the year. This consolidation in homebuilder stocks now awaits resolution in 2014; it is all about the future.
2014 SPRING SELLING SEASON
All the builders are optimistic about the upcoming spring-selling season…which oddly enough begins in the middle of winter, post Super Bowl (TOL pegged late January as the start of the Spring selling season). TOL is "cautiously optimistic." LEN went so far as to anticipate a "robust" season. LEN extrapolated from foot traffic and a "progression" of sales with sequential improvement after the market adjusted to higher interest rates and got past the government shutdown. While LEN does not want to get "aggressive" in its expectations, it still expects a strong performance built from pent-up demand and on-going demographic developments.
When asked about potential softness in the Spring selling season, TOL pointed to Northern Virginia and Maryland as a possibility where incentives would be needed in an unexpected continuation of softness in the Spring. These areas were understandably hit by the government shutdown. For now, TOL has plenty of backlog to work through in the area and does not expect to go to the well once they have cleared it.
DHI was the most circumspect of the group. An analyst asked about DHI's response if the Spring season disappoints. DHI indicated it is prepared to drive absorption rates no matter what happens, implying they will price and/or discount accordingly:
…we have plans in place coming January to make sure that we drive the right amount of the absorptions relative to our margins, because it's a balancing act. And we've got plans on a community-by-community basis, and I'm sure other builders probably will follow suit.
PRICES
At the crest of the robust price increases earlier in 2013, homebuilders forthrightly and correctly indicated that such price runs were not sustainable. TOL even indicated that the strong price increases leading up to their fourth quarter contributed to a "leveling" in demand. The subsequent cooling in pricing would be healthy for the market. In the last conference call, LEN indicated it expects normalization to single-digit increases, MAYBE low double-digits. In contrast, KBH does not expect 5-10% market price increases. I think that any increase will feed the positive feedback loop referenced in the quote leading this post. The deflationary mindset lingers in the housing market with folks on the sidelines expecting collapse at any moment. Another year of price gains should further shift the deflationary psychology.
Contributing to the softening in price increases is softening in the land market. Conditions are much less heated than they were earlier in the year. Homebuilders of course consider this cooling a very positive development; LEN expressed this sentiment. TOL provided a regional perspective that could be more relevant to the upper-end:
In certain markets like New Jersey and Connecticut and Massachusetts, where there is very little competition, we seem to dominate the land market. But in other locations, like California and like Northern Virginia, it's very difficult and we are being very careful. We've had some great buys in Dallas and Houston and are really growing both of those markets as they continue to perform, and there seems to be plenty of land to go around.
TOL also provided some great historical perspective. Inventory constraints contributed to the current run-up in prices just as they did in previous housing cycles. TOL referenced 1968, '74, '80, '81, '82, '88, '89, and '90, saying that in this cycle "the same movie has been playing." No supply was put into the pipeline during the recession. Indeed, the big fear going into even 2013 that there was a swell of shadow inventory of foreclosed homes that would overwhelm the market. (I debunked that concern in early 2012). Increasing prices help motivate more supply as builders move in to profit from the healthier market. On the existing home side, more sellers finally decide to put their homes on the market who have been waiting to get more value…and of course many of these sellers turn around and become (move-up) buyers. In February of last year, I discussed how housing supply typically plummets following a recession.
Interestingly, KBH noted that some areas in certain cities do not have prices high enough to support additional community development and will suffer on-going inventory constraints until those prices rise. The company did not name those areas and analysts on the call did not press for more.
DHI described conditions as getting more "flexible" in the land market and not that prices have come down: "…generally speaking, land prices haven't come down, but they're a lot more flexible on terms, it seems like, than what they were 6 and 9 months ago." The company also said its land purchasing in 2012 and early 2013 has provided the company with most of its short-term needs. Thus, it has not recently spent much on land.
INCENTIVES
TOL dropped incentives year-over-year from $24,000 per house or 4% of the home sales price to $17,500 per house or 2.6% of the home sales price. TOL does not expect to add incentives going forward. LEN has recently increased incentives by a "mild" amount on "select inventory," but the company does not expect an impact on margins. LEN's incentives amounted to $20,600 per home, dropping from 9.0% to 6.3% of the price. LEN used very little incentives for sales in the West.
Analysts closely watch incentives as an indicator o the strength of demand and pricing power. It appears builders still have the ability to tightly manage incentives.
(PENT-UP) DEMAND
All the homebuilders talked about pent-up demand as part of the housing recovery story. The pace of homebuilding remains well below historical levels. In the strongest markets, inventory remains a significant constraint. What will distinguish 2014 from the previous two years of recovery is the pace of the overall economic recovery. Job growth and economic growth are yet to reach levels expected in the wake of a recession. I suspect the housing recovery will need more of both to demonstrate incremental improvements from 2013 (there is a positive feedback loop for housing and the general economy).
From TOL's standpoint, it seems pent-up demand is particularly acute in the luxury segment:
Due to a shortage of approved homesites, labor constraints in some markets and a lack of available capital for small and midsized privately owned builders, the supply of luxury homes is still not meeting current demand, let alone the pent-up demand of the last 7 years…this supply constraint could lead to a further escalation in luxury home prices above and beyond normal trends until industry production returns to historic equilibrium.
I have looked to California as a key market to support homebuilder performance. KBH disappointed somewhat in this area as its unit sales decreased as part of an on-going transition from sold-out coastal markets to more open inland markets. California is KBH's key market, so this process of transition is critical, especially as new communities replace sold-out ones. KBH claims that going forward the business will experience lower quarterly variance in its sales pace. This will be important because its backlog in California dropped by 17% in value although profit in that backlog increased 34%. KBH cited two large communities, one in Playa Vista (Southern California) and one in San Jose (SF Bay Area) that will replenish the inventory of higher-priced and higher-margin homes for sale. However, going forward, inland areas with improving economies and lower average selling prices will become an increasing part of the mix.
ACQUISITIONS
Merger and acquisition (M&A) activities can shed additional light on the strategy of homebuilders. They continue to operate very selectively, targeting areas where labor markets are strongest and land is tightly constrained.
TOL acquired Shapell Homes of California for $1.6 billion in November. Acquiring lots in California makes plenty of sense given the land constraints that exist. Shapell operates "…in the affluent coastal markets of Northern and Southern California…consisting of approximately 5,200 entitled lots in affluent, high-barrier-to-entry markets: the San Francisco Bay Area, Metro L.A., Orange County and the Carlsbad market."
Builders other than DHI also continued to buy up land for future production. For example, LEN bought around 11,000 homesites for $365M and spent $197M on land development. Together, this represented a 76% year-over-year jump. LEN has also increased its purchases of shorter-term, quick turnover deals that are at low margin but can take advantage of their existing low-cost operating structure. This is a sign that LEN is experiencing demand pressures and opportunities.
KBH spent over $1.1B on both land and development in the year and increased its owned and controlled lots by 37% to 61,000. These investments concentrated in economically strong areas with higher incomes. This is driving higher sales prices and larger-sized homes. Average square footage was up 7% year-over-year in KBH's fourth quarter. KBH did not provide specific estimates for 2014 but announced that "…directionally, we intend to continue with the aggressive land investments and development that we've started and continue to build our community count."
DHI has been hiring more people to grow its business. It holds more spec inventory than other builders because it is more reliant on realtors than advertising for its business. Realtors drive for commissions as soon as possible, so DHI has to build toward faster sales cycles to meet its target market.
MARGINS
The story of the past two years or so has been about margin improvement, especially for KBH which finally achieved profitability in 2013. Going forward, margin growth should be quite moderate. For example, TOL anticipates gross margins to improve by 175-200 basis year-over-year. LEN expects flat year-over-year gross margins at 25%. The company believes it is approaching peak margins. KBH experienced a year-over-year increase in housing gross margins from 15.1% to 19.8%. The company is still striving to get back to historical margin levels. It claims it can do so without relying on market price increases by driving its operational excellence. DHI's 29% gross margin was its best since 2006. DHI attributed the high margins to sharp price increases in specific markets where demand was much higher than supply. I did not find guidance for margins in the coming year, but DHI's commentary suggests that further margin improvements should be minimal.
The overall implication is that 2014 needs to be a year for more top-line improvement and sufficient pricing power to cover rising cost levels.
COSTS
TOL noted that the housing recovery is starting to attract workers back into the market. This movement has started to ease increasing labor costs. Most of the $2500 (per home) increase in building costs over the quarter were from labor. LEN sees on-going cost pressures in 2014 as the supply chain continues to try to catch up to increasing building activity. DHI sees cost increases from sub-contractors and manufacturers continuing into 2014. The company believes that as the largest builder in many of its markets, it will generally be able to keep control over these increases. DHI has so far been able to raise home prices enough to cover costs. DHI has observed that sub-contractors are purposely keeping their businesses smaller because they are afraid of a return to 2005/2006 when they built-in far too much capacity. DHI has even experienced sub-contractors who turned down their business rather than increase capacity to meet the demand.
These supply chain issues will be very important to watch in 2014. Continued reluctance to increase capacity could indicate on-going skepticism about the sustainability of the housing recovery. An ease in supply chain pressures from increasing capacity could indicate growing confidence.
CREDIT CONDITIONS
LEN believes credit conditions will continue to loosen. The evaporation of the refinance market will motivate lenders to turn to mortgages. Interestingly, DHI cited more competitive pricing in its financial services unit which could be good news for homebuyers. However, DHI claims that it has not observed any significant loosening of credit conditions for its customers beyond a few banks which had particularly tight standards that are now closer to market.
OTHER REGION-SPECIFIC INFO
LEN slowed sales down in Southeast Florida given a tremendous surge in prices and a 50% year-over-year increase in its backlog.
DHI is seeing demand mix return to more normal conditions with first-time buyers dropping toward the 35-40% range. In the core of its operations, the Southeast and South Central parts of the United States, DHI experienced strong demand on the back of strong job growth. DHI had a similar experience to KBH in California: a drop in units but increase in overall value.
THE STOCKS
Put all this info together, and I see the conditions for a solid year with many key indicators to monitor progress. The stock market is showing signs of waking up to the possibilities, especially after the Federal Reserve announced tapering. There is an intriguing possibility that higher rates will encourage more lenders to take on the risks of lending, especially if inflation remains relatively low in the economy (another key indicator to monitor). The Dow Jones Home Construction Index Fund is showing signs of a breakout from six months of consolidation. The builders listed here closed out 2013 on a strong note even as they all finished well off 2013 highs. Incoming FHFA director Representative Mel Watt's announcement of a delay in hikes on mortgage fees likely helped. Those highs represent the immediate upside opportunities in these stocks and key market tests going forward.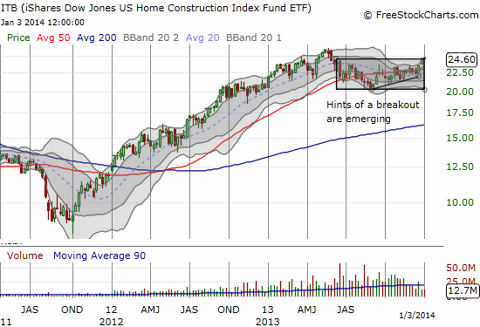 The Dow Jones Home Construction Index Fund is just starting to break out of 6 months of consolidation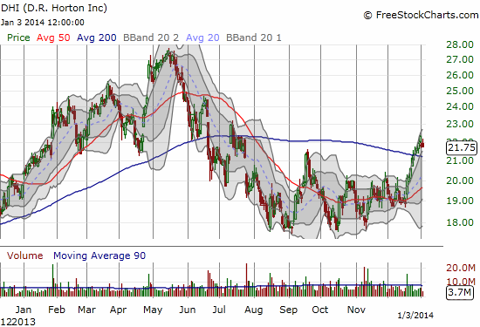 All of DHI's gains for 2013 came in the final two weeks of the year. It is off significantly from its recent highs.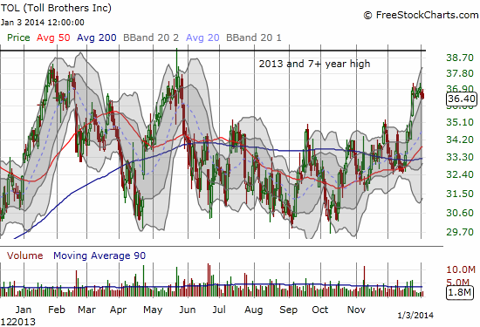 All of TOL's gains for 2013 came in the final two weeks of the year. It hovers just below multi-year highs.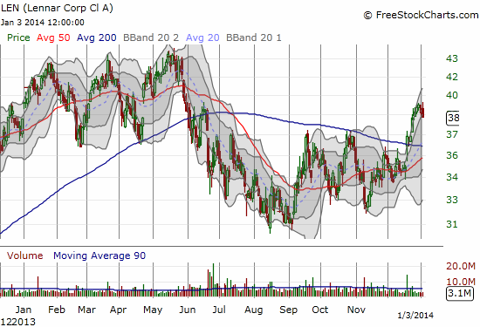 Lennar's marginal gains for 2013 came in the final days of the year. The last three weeks look like the beginning of a breakout.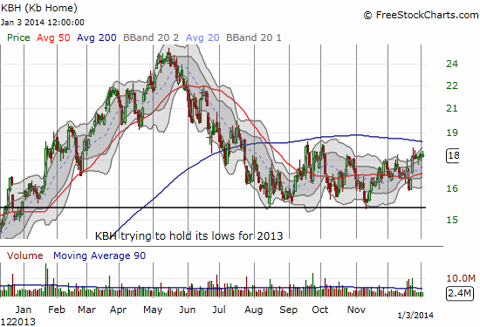 KB Home did well to trade off its 2013 lows. Its 16% gain for the year is well off its high of 57% reached in May.
Source of charts: FreeStockCharts.com
Be careful out there!
Disclosure: I am long KBH, . I wrote this article myself, and it expresses my own opinions. I am not receiving compensation for it (other than from Seeking Alpha). I have no business relationship with any company whose stock is mentioned in this article.
Additional disclosure: Long KBH call options