Last week BMO downgraded both Health Care REIT (NYSE:HCN) and Ventas Inc. (NYSE:VTR) to underperform due to the potential for deceleration in senior-housing operating portfolios structured as RIDEA (REIT Investment Diversification Empowerment Act). The call by BMO analyst Richard Anderson was more of a directive that these two large cap health care REITs with RIDEA portfolios could face more pressure with senior housing demand and greater risk from property-level income changes.
The call made by BMO was somewhat perplexing since Health Care REIT and Ventas are already trading at an unwarranted discount due to their growth potential, strong credit profiles and lack of weak tenants. In fact, the downgrade by BMO was even more intriguing since Ventas is trading at such a deep discount already underperforming the REIT index by 1,500 bps since May 21. Also, Ventas has returned negative 29.21% since May while the S&P 500 returned 11.16%.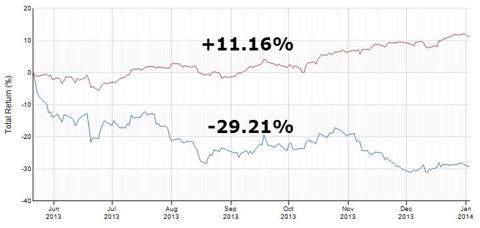 Since writing an article on Ventas back in October 2013, there has been no new change to fundamentals whatsoever. The only noticeable difference was the announced earnings - or FFO - increase (in the third quarter) of eight percent to $307.2 million, from $284.9 million (for the comparable quarter in 2012). Also, Ventas announced that it increased the fourth quarter dividend by eight percent to $0.725 per share and including that dividend, the company's annual per share dividend of $2.735 represents a 10.3% increase in 2013. Ventas has NEVER cut its dividend, and with the exception of 2009 (where the dividend remained flat) the company increased every single year.

Also, throughout the previous three years Ventas has increased its dividend by an average of 8.5%, almost double the growth of either of the two diversified health care REITs, HCP Inc. (NYSE:HCP) and Health Care REIT.

Ventas has a current dividend yield of 5.11% ranking lowest in the overall health care sector:

However, for external growth, Ventas' forecasted payout ratio (76.4%) as a percent of AFFO is the lowest in healthcare coverage in 2014, which should enable Ventas to continue to make acquisitions.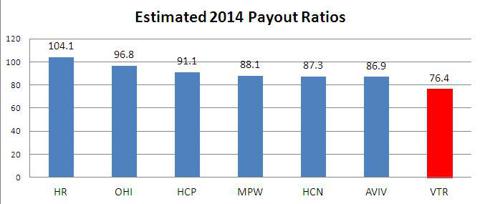 Nothing Has Changed for Ventas
As referenced above, nothing has changed for Ventas since my last article; consequently, I won't go into great detail to explain the business model of the largest health care REIT in the US. However, let's look at the peer group based on overall market capitalization:

The BMO downgrade was rooted in the senior housing operating assets where the healthcare REITs participate directly in the upside and downside of properties that they own. For Ventas that means that the company has exposure of around 27% in senior housing operating properties (based on income).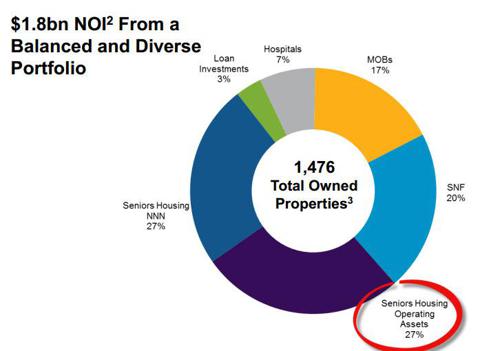 The key question then is: can Ventas continue to grow its operating senior housing assets?
According to the National Investment Center for the Seniors Housing & Care Industry (or NIC), the senior housing development pipeline is at 16,000 units, or 3.0% of existing stock. The majority of inventory is being generated in assisted living.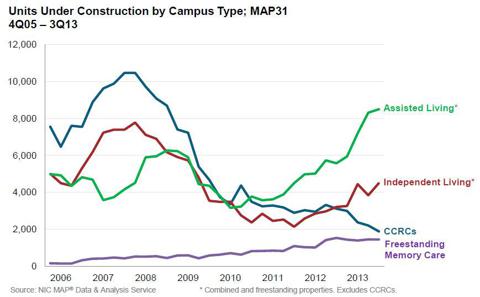 Here is a snapshot illustrating both new and expanding projects: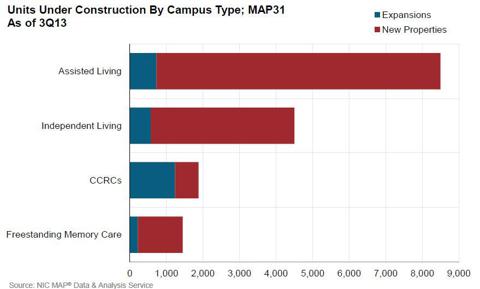 This snapshot below illustrates that senior housing supply and demand is balanced and the macroeconomic indicators provide sound evidence that Ventas' exposure to the asset sector is reasonable: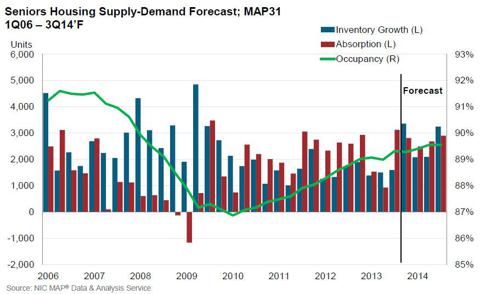 Furthermore, Ventas' REVPOR and occupancy indicate that the company's projected Net Positive Absorption should maintain and increase through 2014.

During the latest earnings call, Ventas, CFO, Raymond Lewis stated:
Our total SHOP portfolio now stands at 236 properties, as 9 new properties have -- were added to the SHOP portfolio since July 1, all managed by Atria. These best-in-class assets are in great locations around major metropolitan areas including Los Angeles, San Francisco, Miami and Sacramento.

Occupancy in the 212 properties in our same-store portfolio increased by 110 basis points year-over-year, and occupancy in the 220 communities that we own in both the second and third quarters of this year was up 60 basis points sequentially. Occupancy growth in our same-store SHOP portfolio outperformed the growth reported in the NIC Top 31 MSAs by 60 basis points year-over-year and 30 basis points sequentially.

REVPOR increased 3.6% in the same-store portfolio year-over-year and was stable sequentially. Variable expenses were higher in the third quarter over the second quarter due to increased occupancy, and fixed expenses increased due to seasonal utility costs resulting in some margin compression. This is a typical seasonal pattern, which we predicted on our call last quarter....

With the continued strong performance of the same-store portfolio and the 2013 SHOP acquisitions, we are providing a new 2013 NOI guidance range for our total SHOP portfolio of between $447 million and $451 million. This new guidance includes the impact of the 15 new properties acquired so far this year, as well as about 5% to 6% year-over-year NOI growth on an as-reported basis in the same-store portfolio for 2013.
During the analyst Q&A, Lewis responded to the following question regarding senior housing:
I think over the long run everybody would agree that seniors housing is the best market demographically, it's where you want to be, that's where the growth is. But let's talk about the construction. As said earlier, I mean, we worry about everything. There's maybe 16,000, 17,000 seniors housing units under construction. And to put that in perspective, there are 17 million people over the age of 75.

So it doesn't necessarily seem like a lot of construction, but as you point out, you kind of have to look market-by-market. And when we sort of bump our portfolio up against the markets that -- say the top 5 markets where you're seeing the largest increase in the percentage of the inventory, that's maybe about 3% of our total shop NOI.

So we've said all along, our assets are in high barrier to entry, infill locations, that's true. That provides us with some insulation against the construction. But just like everybody else in industry, whether it's our existing portfolio or new acquisitions, we want to understand what's going on in our markets with respect to construction.
Turning to The Most Important Thing
In The Most Important Thing, the author Howard Marks wrote: "Investing consists of exactly one thing: dealing with the future." As it relates to Ventas, I believe that the company has done an extraordinary job at managing risk, and that can be best illustrated in the remarkable record of earnings consistency. In reviewing the FAST Graph below we can see that Ventas has been able to intelligently bear risk for profit by increasing its dividend consistently (the shaded aqua blue area represents the dividends paid) while also being able to grow its common equity (shaded dark green area).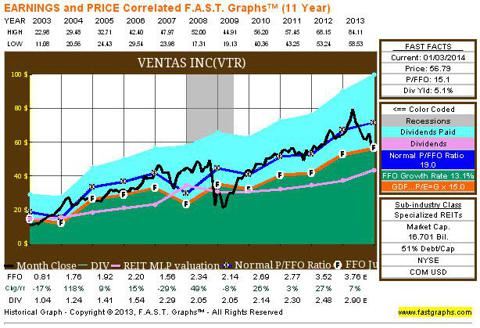 As value investors recognize, buying stocks when they are cheap is the best way to grow one's nest egg, and stocks of blue chip REITs generally reap the highest returns. Ventas trades at 13.7x P/FFO (Price /Funds from Operations), a 10% discount to the peer group. This discount is unwarranted due to the company's growth potential, strong credit profile and lack of concentrated, weak credit tenants.

Due to a lower average REIT multiple as a result of a broad decline in sector share prices and revised long-term earnings estimates for Ventas reflecting a more conservative acquisition pace, I believe that Ventas could move into a more normal price range ($70 - $75) during the next 12 months.
As Debra Cafaro (Ventas' CEO) stated on the recent (Q3-13) earnings call: "The Ventas strategy has been very clear, which is that we want in the shop portfolio the absolute best assets in the best market, highest barrier to entry with institutional quality operators who can produce -- have robust reporting functions, et cetera, and great management capabilities. And we also believe in the mass-market for senior housing and we believe in those assets as well. And we think that in general, those assets should be in more of a triple-net lease structure. And that's how we have developed our strategy from the beginning, and that's how we've been executing the strategy."
Here is close-up of the FAST Graph that illustrates the "sound" valuation of the Ventas shares as well as the "margin of safety" reflected in the current valuation ($56.70 a share).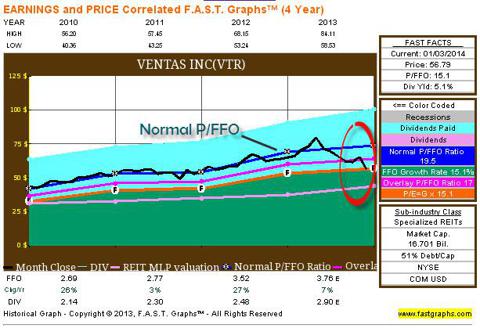 It's important to recognize intrinsic value because it lets the investor take advantage of temporary mispricing, and chances are that Ventas will ultimately be recognized and the market price will rise to a more indicative level of worth. Perhaps "the most important" element for any investor is getting in at the bottom of a cycle and that means that sometimes you must simply plant your seeds and watch your portfolio grow. Intuitively, I put more (Ventas) skin in the game last week, and regardless of the BMO downgrade I'll sleep well at night.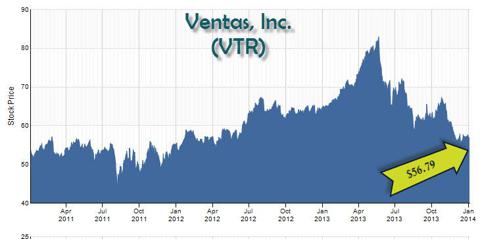 Make sure to check out my REIT newsletter this month where I post answers to questions from Ventas CEO, Debra Cafaro.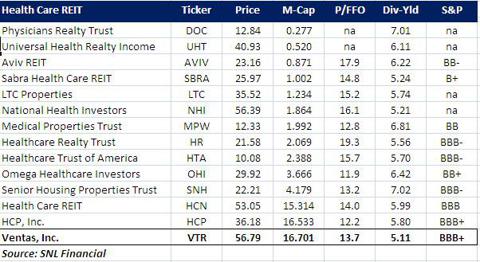 Source: FAST Graphs, SNL Financial, Ventas Investor Presentation, and National Investment Center for the Seniors Housing & Care Industry.
Other REITs mentioned: (NYSE:DOC), (NYSE:UHT), (NYSE:AVIV), (NASDAQ:SBRA), (NYSE:LTC), (NYSE:NHI), (NYSE:MPW), (NYSE:HR), (NYSE:HTA), (NYSE:OHI), and (NYSE:SNH).
Disclaimer: This article is intended to provide information to interested parties. As I have no knowledge of individual investor circumstances, goals, and/or portfolio concentration or diversification, readers are expected to complete their own due diligence before purchasing any stocks mentioned or recommended.
Disclosure: I am long O, DLR, VTR, HTA, STAG, UMH, CSG, GPT, ARCP, ROIC, MPW, HCN, OHI, LXP, KIM, . I wrote this article myself, and it expresses my own opinions. I am not receiving compensation for it (other than from Seeking Alpha). I have no business relationship with any company whose stock is mentioned in this article.