As we enter 2014, it's time to look at some old investor favorites and what investors should do with these names. Recently, beverage giant Coca-Cola (NYSE:KO) has seen its shares rice nicely, aided partially by a very bullish call from Barron's. As you can see from the chart below, shares of Coca-Cola ended 2013 at their highest point in more than six months. This may not be surprising, given how the overall market has done. However, investors might want to be careful with shares at these lofty levels, and today, I'll explain why investors should wait for a continued pullback before buying.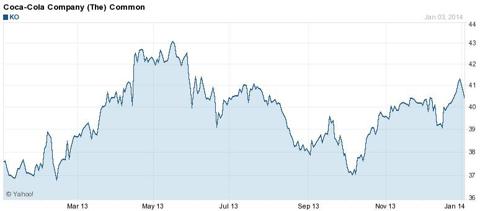 (Source: Yahoo! Finance)
Waiting for a dividend raise:
Back in November, I discussed the prospects for Coca-Cola's next potential dividend raise, which should be in mid to late February. This has certainly been a great dividend champion to be in over the years, with the dividend doubling from 2005 to 2013. In just three years, the dividend was raised from $0.22 to $0.28 a quarter. My personal prediction was a raise of 2 to 3 cents to $0.30 or $0.31 per quarter, which would be a percentage increase of 7.14% to 10.71%. The percentage increase of the raise in 2013 was 9.80%. It is certainly possible that the company could go with a 2.5 cent raise to $0.305 per quarter, a raise of 8.93%, but I think it would prefer to stay on whole cents for simplicity.
That being said, we have about 6 weeks or so until a dividend raise will come, and there will be an earnings report before that (more on this later). Coca-Cola's 2013 was not great, and if 2014 isn't shaping up to be too much better, the company may go a little conservative on the dividend raise. Why is this important? Well, investors obviously care about their dividends. But the other reason is that Coca-Cola seemed like a great investment early in 2013 because its dividend yield was a lot higher than many fixed income instruments (US treasury bonds). If Coca-Cola shares are yielding 3%, but a 10-Year Treasury is yielding 2%, you probably are going to want to own Coca-Cola shares more than the 10-Year. Well, as you can see from the 2013 chart below, the advantage has shifted to the bond side. As a point of reference, the Coca-Cola yield is based on the unadjusted close each day, as well as the dividend rate per that day, so the days before the raise (Feb. 21) use the $1.02 annual rate, while Feb. 21 and beyond use the $1.12 annual rate. That's the spike you see early in 2013.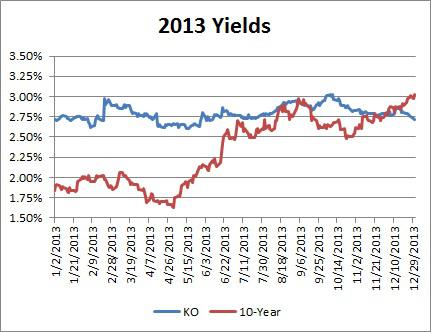 In the beginning of 2013, Coca-Cola shares had a yield that was 75 to 100 basis points higher than a 10-Year US Treasury bond. That's quite a large difference, reaching 110 basis points at its peak. However, that gap narrowed as the year went on, and by the end of 2013, the 10-Year actually had a 32 basis point lead. That lead is down to 23 basis points currently thanks to the recent pullback in Coca-Cola shares. I'm not suggesting investors should run out and buy Treasury bonds here, not at all. However, those that bought Coca-Cola for its income potential over bonds need to realize that the advantage is gone. Yes, a dividend increase should put these two yields back towards an even playing field. However, bond rates are rising, and that's something investors need to be aware of.
Growth expectations have come down:
My readers know that I've covered Coca-Cola for a couple of years now, comparing the company against Pepsico (NYSE:PEP), Dr. Pepper Snapple (NYSE:DPS), and SodaStream (NASDAQ:SODA). I have segregated the three big boys into their own category, as SodaStream is a growth company that doesn't have a dividend or buy back shares. As I mentioned above, Coca-Cola had a disappointing 2013. Here's how the growth profiles of these four names looked back in March of 2013, a few weeks after Coca-Cola's last dividend raise. The yellow line indicates a leader in that respective category, excluding SodaStream.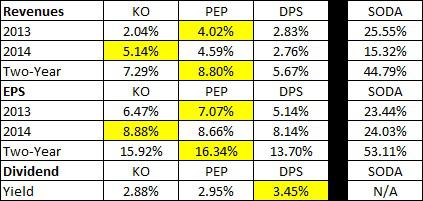 While Coca-Cola wasn't expected to show the best 2013, the company was projected for some revenue and earnings growth. Challenging macroeconomic issues were partly to blame, and currencies hurt a bit as well. While Coca-Cola has not reported full year 2013 results yet, analysts are looking for a decline of 1.6% in 2013 revenues. Since March, analysts have gone from expecting a 2% rise in revenues to expecting a decline of nearly that amount. The table below shows how current expectations stand for each of these four names.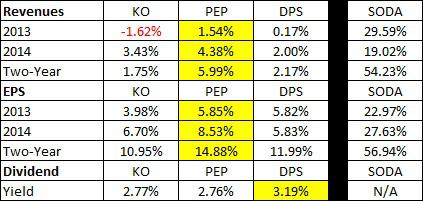 Coca-Cola went from having the second best overall growth profile of the established three names to the third best (last place). Back in March, Coca-Cola was expected to have the best 2014 of these three names. Now, Coca-Cola is in second place, as Pepsico leads all of the growth categories for 2013 and 2014. Right now, Dr. Pepper Snapple leads in terms of dividend yields, which it has for a while now. The key here is to notice that Coca-Cola's growth forecast has been cut a bit, which has major implications for the discussion in my next section. Again, if you are looking for pure growth, with no dividend but high risk, SodaStream is your name.
Looking at the valuation:
Why did I make such a big deal about Coca-Cola's growth profile being reduced so much? Well, it all comes down to valuation. The following table shows the P/E values for each name, based on Friday's closing prices and the expected earnings values for each year.

Despite the reduced forecast, Coca-Cola shares still trade at a bit of a premium to the rest of the space. The premium isn't too wide compared to Pepsico, but a couple of percent is big when you consider Pepsico's stronger growth profile and comparable dividend yield. Dr. Pepper has always seemed to trade at a discount to these two names. SodaStream's valuation has come down since the company missed on revenues at its latest report.
So how do you figure what's a good buying point for shares of Coca-Cola? Well, you could easily do it on a P/E value. Maybe you want to wait for Coca-Cola shares to come down to the current P/E value of Pepsi. That would equal $39.61 on 2013 earnings or $38.94 on 2014 earnings. The other way to look at valuation is by dividend yield. I put together a table of dividend yields versus price points. The table below has values for the current $1.12 annual dividend, plus a 2 and 3 cent raise. Remember, my dividend raise prediction was 2 to 3 cents, for a new annual total of $1.20 to $1.24.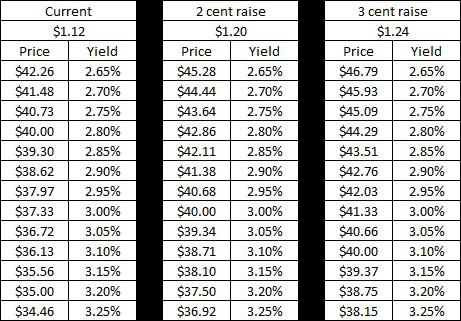 For me in the past, the 3.00% annual dividend yield has been the sweet spot for buying shares of Coca-Cola. Back in October, I thought that was a decent opportunity, and that's basically when shares bottomed. With the current dividend, that would require shares to fall to $37.33, more than $3 from Friday's close. I don't see that happening before the dividend raise in late February.
So that being said, I'm going to adjust my buy recommendation points to account for the raised dividend. At the $1.20 annual value, I'd be looking for the 3.05% yield point, which is roughly $39.34. Should Coca-Cola raise the dividend to $1.24 a year, I'd be looking at the 3.15% point, which is about $39.37. Both of those prices are a little more than a dollar below where shares currently trade.
Signs of trouble in the industry?
There seems to be a concern for soda companies when it comes to changes in regulation for vending machines. The FDA is requiring these machines to display calorie counts, which could pose a challenge to soft drinks names like Coca-Cola and Pepsico. Many people may not realize that a can of regular Coca-Cola contains 140 calories, and other soft drink products can contain even more than that. A 20oz bottle that's frequently found in vending machines will contain 240 calories. That doesn't sound like much on a 2,000 or 3,000 a day calorie diet, but it can add up. Eliminating one can of soda a day could perhaps save you 10-15 pounds a year. Will consumers think twice about buying soft drinks from vending machines now that calorie counts are out there? We will see as 2014 progresses.
This isn't the first regulatory battle over soft drinks, and I'm sure it won't be the last either. Recently, we saw New York City Mayor Michael Bloomberg as a big advocate for limits on sugary drinks. Apparently, there was an impact, with soda sales in the NYC area down 6.8% in 2013, according to reports. Juices and soft drinks also took a hit, although not as large. Perhaps the weakness in sales could also be a benefit for SodaStream, as more people shift to convenience and making their own soda at home. As I showed in an above section, SodaStream is one of the best growth stories out there.
Final thoughts:
A late 2013 run helped shares of Coca-Cola partially recover from a disappointing 2013. However, industry concerns and other issues have caused Coca-Cola's growth forecast to be reduced going into 2014. Revenues are expected to rebound after an expected 2013 decline, but both years will not be as good as hoped. With shares trading at a premium, I think Coca-Cola is a bit expensive at the moment. I'd like investors to wait for a pullback, until we get final 2013 results, a little more clarity on 2014, and the dividend raise in late February. Coca-Cola had a great run in late 2013, but I think investors are better served waiting for shares to come down a little more.
Disclosure: I have no positions in any stocks mentioned, but may initiate a long position in SODA, over the next 72 hours. I wrote this article myself, and it expresses my own opinions. I am not receiving compensation for it (other than from Seeking Alpha). I have no business relationship with any company whose stock is mentioned in this article.
Additional disclosure: Investors are always reminded that before making any investment, you should do your own proper due diligence on any name directly or indirectly mentioned in this article. Investors should also consider seeking advice from a broker or financial adviser before making any investment decisions. Any material in this article should be considered general information, and not relied on as a formal investment recommendation.