Summary
The expectations were mild for 2014 and a lot of questions highlighted most analysts' analysis. The question is are we too overvalued? Can we survive without the Fed? Will 2013 be the end of a multi-year rally? To us, we are in an environment now where we have to start to see some success from economic data or the market will not do well. Companies have to grow sales along with profits, data needs to stay strong, and employment needs to bounce back. With the Fed reducing their role that is a MUST. This week, therefore, appears to be perfect for the market to set its tone before earnings season as we have key data for employment and other key parts of the economy.
Chart Overview
The S&P 500 (NYSEARCA:SPY) broke out over 1800 but has failed at the 1850 level. There is some interesting support around the 1820 level followed by the 1800 level. For now, we are consolidating and breaking those support lines or resistance lines will be the key moving forward.
The Dow Jones (NYSEARCA:DIA) is similar in that it broke key 16000 resistance before being rejected at 16500. Support is pretty far below, but we are seeing mostly consolidation right now at these levels.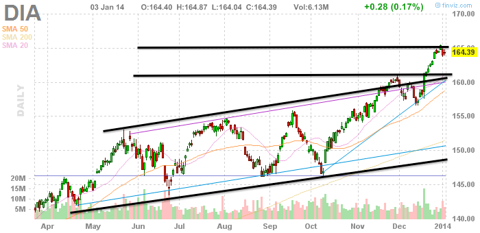 Economic Data
| | | | |
| --- | --- | --- | --- |
| Date | Data Report | Market Expectations | Previous Report |
| January 6 | Factory Orders - November | 1.7% | -0.9% |
| January 6 | ISM Services - December | 54.6 | 53.9 |
| January 7 | Trade Balance - November | -$40.4B | -$40.6B |
| January 8 | ADP Employment Change - December | 203K | 215K |
| January 8 | FOMC Minutes - 12/18 | N/A | N/A |
| January 9 | Challenger Job Cuts | N/A | -20.6% |
| January 9 | Initial Claims - 01/04 | 338K | 343K |
| January 10 | Nonfarm Payrolls - December | 197K | 203K |
| January 10 | Unemployment Rate - December | 7.0% | 7.0% |
It is a very busy week for economic data with a large group of employment reports to be announced this week that should give a lot of movement to the market. We get ADP Employment Change on Wednesday, Challenger Job Cuts and Jobless Claims on Thursday, and Nonfarm Payrolls and Unemployment Rate on Friday. NFP and ADP are not supposed to beat December numbers, so expectations are lowered. The unemployment rate is supposed to stay flat at 7%. Outside of that, we start the week with ISM Services, which should be a big report to start the week. On Tuesday, we get the all important Trade Balance as well as Fed Minutes on Wednesday. It is a busy week, but the market will be reacting mostly to the employment news throughout the week.
Foreign Markets
Outside of the USA, Europe and Asia may end up taking a bit of a backseat this week with such a busy economic data schedule at home. Europe is important to this market due to a lot of momentum needed in the market as well as China has been quite weak as of late. They need to start to see some improvements in data as well. This week, we get important data from China with their trade balance on Wednesday as well as CPI and PPI on Thursday. The latter is expected to show some lower inflationary signs, which will be important for the market. In Europe, we are going to be watching German unemployment as well as investor confidence reports.
Earnings
| | |
| --- | --- |
| Date | Key Company |
| January 7 | Micron (NASDAQ:MU) |
| January 8 | Monsanto (NYSE:MON) |
| January 8 | Bed, Bath, and Beyond (NASDAQ:BBBY) |
| January 8 | Constellation Brands (NYSE:STZ) |
| January 9 | Alcoa (NYSE:AA) |
| January 9 | Family Dollar (NYSE:FDO) |
It is a light week for earnings with the most important reports coming from Micron, Monsanto, and Alcoa. The only report that can really move the markets is Micron since it is very important for semiconductors. Micron is one of the most important companies in DRAM, and they will be able to move a lot of the companies in that sphere as well as in the tech industry as a whole. MON should be crucial for the agricultural industry, while AA has lost their overall importance since they got dropped from the S&P 500.
The report we will be watching this week is Micron. The company is slated to report earnings on Tuesday, and it is a very important report for the company. That report will be very crucial for the stock, as they have risen 50% in the past six months and 200% in the past year. The company has a 22 P/E and 9 future P/E, showing the market is not appropriately pricing for the 2015 FY EPS. Yet, there are a number of question marks surrounding the company that we will need to see answered in the coming report.
The problem for Micron is the volatile nature of semiconductors. The company has benefited from a tightening of supply/demand for DRAM that has seen a dramatic rise in DRAM pricing over the past year. That pricing is expected by many to continue to rise due to the increasing supply of mobile phone storage that is needed. The company's acquisition of Elpida last year was supposed to help solidify mobile, and the process of that acquisition is going to be a key part of the report.
The key will be how the company also sees DRAM pricing continuing in 2014 and beyond. If the company is positive about pricing, we believe they will start to see more upside in shares. Pricing is crucial to Micron. If it's not solid, the company will definitely see consolidation as the market is pricing in solid pricing. Some analysts believe the pricing will continue to be solid. Jeffries, for example, Samsung's relationship with TSMC (NYSE:TSM) will limit DRAM capacity, helping pricing. Drexel Hamilton noted that pricing would continue to move higher with supply/demand ratios tightening.
Other analysts, however, are not as positive. BofA/Merrill Lynch noted that the development of Hynix's DRAM fab is going to flood the market with more capacity weakening DRAM pricing. That, though, won't be seen until 2015.
Two questions from Brian Gilmartin in his latest article are spot on with what we need to understand from Tuesday's report:
There are two questions that I keep mulling as I ponder MU's stock within client accounts:

1.) Does the Elpida acquisition put MU firmly in a business where they are a supplier of a product with secular growth prospects (i.e. Mobile DRAM), and help temper the vicious cyclicality and boom, bust cycles of DRAM production?

2.) Is the current new paradigm around "structural supply constraints and more disciplined production" just more clap-trap and bullish investor relations speak, which has been heard near the top of every cycle, or is these some substance to the supply constraints?

To be honest, I don't have a good answer to either question, although the January 7 results and hopefully guidance will give us some direction.
Outside of pricing, the other key for the company is that they meet the quarterly expectations of 0.44 and see over $3.7B in sales. If they do not hit these levels, the company will likely see a bit of a pullback in pricing, as expectations are quite high at this point. If they are positive about the industry, it could help other semis in DRAM as well as other parts of the industry. If the report is positive or negative enough it could impact the entire Nasdaq (NASDAQ:QQQ).
Fed Outlook
The Fed has some potential to impact the market this week with FOMC minutes on Wednesday. These minutes will give investors a better look into the decisions behind the taper as well as what officials may be thinking for tapering moving forward. On Tuesday, we get two speeches from Rosengren and Williams that should have some impact as the market parses their speeches. Bullard will speak on Friday. Overall, the Fed has started to take a backseat in the market as they started to taper. We believe data and earnings are much more important now, but the market will still want to understand the pace of taper.
Conclusion
The market will be watching economic data very closely this week, as it should have a pretty strong impact on where we are headed throughout the week. The data does not start until Wednesday, so we expect a more consolidated move for the market to start the week that will then pick up in pace to end it. Good employment data should give the market quite a boost after some lack of confidence has been seen in the early going this week. Outside of that, we have key data overseas and FOMC Minutes that should give the market some movement as well.
Disclosure: I have no positions in any stocks mentioned, and no plans to initiate any positions within the next 72 hours.
Business relationship disclosure: I have no business relationship with any company whose stock is mentioned in this article. The Oxen Group is a team of analysts. This article was written by David Ristau, one of our writers. We did not receive compensation for this article (other than from Seeking Alpha), and we have no business relationship with any company whose stock is mentioned in this article.