Independent oil explorer Canadian Natural Resources Ltd. (NYSE:CNQ) reported weaker-than-expected fourth-quarter results, hurt by lower natural gas prices and volumes. Earnings per share, excluding one-time and non-cash items, came in at C$1.23 ($1.19), below the Zacks Consensus Estimate of $1.32. In the year-ago quarter, the company earned C$1.29. However, revenue of C$3.3 billion was up 32.2% from the fourth quarter 2008 level.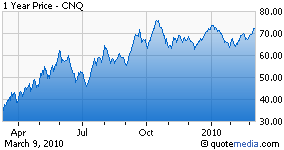 Production
Total production during the quarter was up 5.0% year-over-year to 574,857 oil-equivalent barrels per day (BOE/d). Oil and natural gas liquids (NGLs) production was up approximately 18.4% to 366,451 barrels per day (Bbl/d), reflecting the contribution of Horizon and the Offshore West Africa division. However, natural gas production fell 12.4% year-over-year to 1,250 million cubic feet per day (MMcf/d), as the company cut drilling to focus on more lucrative oil projects.
Realized Prices
The average realized crude oil price (before hedging) during the fourth quarter was C$68.00 per barrel, representing an increase of 48.4% from the corresponding period of the previous year. The average realized natural gas price (excluding hedging) during the three months ended Dec. 31, 2009 was C$4.75 per thousand cubic feet (Mcf), down 32.4% from the year-ago period.
Capital Expenditure & Balance Sheet
Canadian Natural's total capital spending during the fourth quarter of 2009 was C$694 million, taking the full-year total to approximately C$3.0 billion. As of Dec. 31, 2009, the company had cash on hand of C$13 million and long-term debt of approximately C$9.7 billion, representing a debt-to-capitalization ratio of 33.2%.
Dividend Hike & Stock Split
Canadian Natural announced a 43% increase in its quarterly dividend to 15 Canadian cents per share (60 Canadian cents per share annualized). The new dividend is payable on Apr. 1 to shareholders of record on Mar. 12, 2010. The company also proposed to split its shares on a 2:1 basis.
Guidance
Management is guiding towards production of 372,000 – 409,000 Bbl/d of liquids and 1,197 – 1,221 MMcf/d of natural gas during the first quarter of 2010. The company is planning to drill 47 net natural gas wells in this period. For 2010, Canadian Natural expects oil and NGLs production to be 400,000 – 445,000 Bbl/d, while natural gas volumes for the year are likely to be 1,117 – 1,185 MMcf/d. It plans to spend approximately C$3.9 billion on capital expenditures in 2010.