This year started off with a strange combination of trades. One of the more surprising was to watch the U.S. dollar index (NYSEARCA:UUP) start the year strong at the same time gold (NYSEARCA:GLD) experienced a rare bit of relief.
The U.S. dollar index has rallied over the last three days to a one month high and is finally at a new post-tapering high.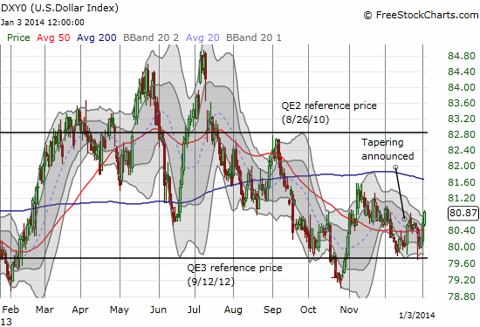 The dollar finally shows some post-tapering lift but it still trades just above its QE3 reference price
At the same time, GLD has rallied the last three days to close at a post-tapering high.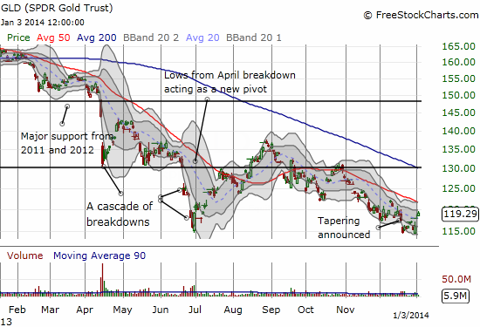 SPDR Gold Trust is suddenly showing some post-taper lift
Source for charts: FreeStockCharts.com
GLD's bounce is particularly important because it comes at a time when it surely should have cratered through 2013′s low in the wake of what some are interpreting as the beginning of monetary tightening by the Fed.
The Fed of course is eons away from tightening, at least rhetorically. The last Federal Reserve statement reminded the market that the Fed will remain extremely accomodative: "…the Committee today reaffirmed its view that a highly accommodative stance of monetary policy will remain appropriate for a considerable time after the asset purchase program ends and the economic recovery strengthens."
The Fed has also given itself a LOT of latitude in determining when to finally hike interest rates (emphasis mine):
"The Committee also reaffirmed its expectation that the current exceptionally low target range for the federal funds rate of 0 to 1/4 percent will be appropriate at least as long as the unemployment rate remains above 6-1/2 percent, inflation between one and two years ahead is projected to be no more than a half percentage point above the Committee's 2 percent longer-run goal, and longer-term inflation expectations continue to be well anchored. In determining how long to maintain a highly accommodative stance of monetary policy, the Committee will also consider other information, including additional measures of labor market conditions, indicators of inflation pressures and inflation expectations, and readings on financial developments. The Committee now anticipates, based on its assessment of these factors, that it likely will be appropriate to maintain the current target range for the federal funds rate well past the time that the unemployment rate declines below 6-1/2 percent, especially if projected inflation continues to run below the Committee's 2 percent longer-run goal."
The end result is what I call a "sample of tapering." The Fed's move is far from tightening, but it does officially put tightening on the radar of market participants. Moreover, the rhetoric from the Fed makes it appear it is ready, willing, and prepared to raise rates IF the inflation outlook heats up (given current trends, by the time official measures of inflation start flashing red, the stock market and housing prices could be a LOT higher than current levels!). I have long insisted that my bullishness on gold rests on the expectation that when time comes to tighten ahead of inflationary pressures, the Fed will be very reluctant and slow to do so; that when the time comes, the Fed will develop reasons for tolerating higher levels of inflation while it struggles to reduce its massive balance sheet in an orderly way. I maintain that view. Signs of complacency underline my view…
On January 1, 2014, CNBC ran a story headlined "Why gold bugs should brace for an 'awful' 2014." The international desk interviewed Dominic Schnider, Head of Nontraditional Asset Classes at UBS Wealth Management, who provided an end-of-year target for gold at $1050. Schnider points to a forecast for rate hikes going into 2015, ETF outflows creating a demand gap not yet filled by China, and price mean reversion. Schnider also talked to a supply glut for commodities and implied that inflation is not a threat. This forecast seems to contradict a bit an expectation for rate hikes since the Fed is highly unlikely to raise rates in the absence of inflationary signals much less nascent ones. Indeed, central bankers in major economies are doing all they can to reassure markets that rates will remain extremely low for as far as the eye can see.
My ears REALLY perked up at the following pronouncement: "Right now, you don't really need to have any insurance assets like gold against all kinds of economic or financial tail risks." This attitude seems to convey a form of complacency that intrigues the contrarian in me. Gold is "cheap" and getting cheaper, and the common hatred for the yellow metal is likely to rise to fever pitch levels this year as the reasons for holding gold appear to evaporate. After all, gold just suffered its worst annual loss since it was getting clobbered in the early 1980s in the wake of a major and swift run-up.
The good news is that these developments set up opportunities to accumulate gold at much better prices. It makes more sense to buy insurance for lower prices than higher prices. I hope to be well-positioned to accumulate at $1050, even $1000.
The soaring stock market is helping to breed more comfort with overall financial conditions. Schnider's opinion is one case in point. In fact, the gains in the stock market can easily be seen as a much better hedge against inflation than precious metals just reviewing recent performance. I truly made a mistake in past posts by assuming that the historic lows of the S&P 500 (NYSEARCA:SPY) priced in gold would soon give way to even lower lows. With some hindsight, it sure looks like a true bottom is the much more likely conclusion.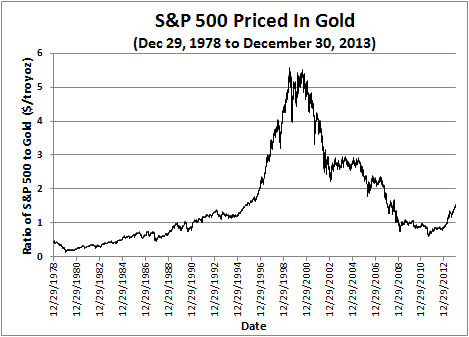 The S&P 500 priced in gold has the appearance of printing a bottom
Source for data:
World Gold Council
and
Yahoo Finance
The following close-up shows that the S&P 500 has finally returned to pre-panic levels (August, 2008)…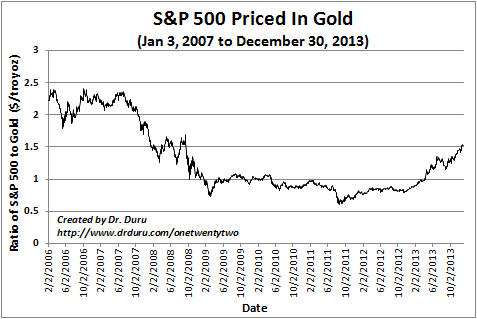 The S&P 500 has now reversed over fours years of losses relative to gold
Going forward, I suspect this run-up will continue with either the stock market leading the way and/or gold losing more latitude.
Finally, one of the hosts in the Schnider interview asked whether a reduction in the Fed's balance sheet would finally send the dollar higher and plunge gold to the $1050 target. He did not get a direct answer because the Fed is FAR from contracting its balance sheet. It has NO interest in tightening right now, just very slowly reducing the growth of its balance sheet. Even so, it is not easy to translate movements in the U.S. dollar index to movements in gold. (See "I Am Sticking With Gold: A Critique Of 'The Golden Dilemma" for a more detailed discussion of the difficulty in generating relationships for gold). The chart below shows how the dollar index has essentially reduced in volatility over the years in an apparent convergence around the 80 level. Meanwhile, GLD has both run-up sharply and come down sharply. I have highlighted the lack of a regular relationship by inserting vertical lines at various points where the dollar index hit the 80 level.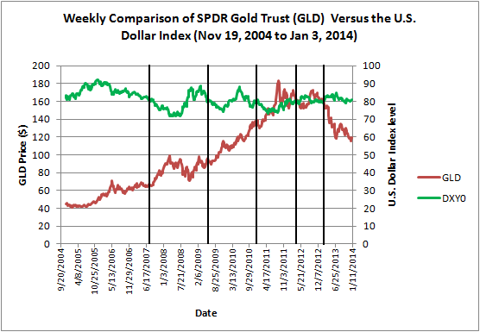 The ever changing relationship between the U.S. dollar and gold
Source for prices: FreeStockCharts.com
So, overall, I see every reason to believe Schnider's forecast even if some of the components of the forecast somewhat conflict. I will not be surprised if gold has one or two downward cascades much like the ones that occurred in 2013. Gold bugs and bulls have had it good for years trading on gold's urgent uptrend. It is now time to embrace the good news that the ultimate hedge against central bank missteps will be on sale at a steep discount.
Disclosure: I am long GLD, . I wrote this article myself, and it expresses my own opinions. I am not receiving compensation for it (other than from Seeking Alpha). I have no business relationship with any company whose stock is mentioned in this article.
Additional disclosure: I am also long SPHB, SPLV, and long SSO puts. In forex, I am net long the U.S. dollar