I've been a long time bull on Apple, Inc. (NASDAQ:AAPL), claiming that the company remains one of the most fundamentally sound companies on the board that you can invest in. Additionally, I've been critical of people like billionaire Julian Robertson - remember him? He was the guy that wanted to make a headline back in October of 2013 when he sold Apple because he had an epiphany that he thought Steve Jobs (who was, is, and will continue to not be either running Apple currently, or alive) was a meanie. The headline on October 7th looked like this:

Upon inception of this headline, I promptly penned this article, calling a sale of Apple at the time a poor trading strategy. I figured that since hedge fund managers and billionaires don't tend to be the moral compass of the country all the time, that it's more likely that Robertson just figured there wasn't another dime to be made on the company:
The facts are that if Julian Robertson thought he could make just one more dime on Apple, he'd still be in. This is simply how billionaires think. You don't make billions without stomping on a couple of people's heads in the process. The facts are that he's had it with the company as an investment, could be short, and needs some reasoning to pin that on - hence, we get this ridiculous Steve Jobs story.
Well, pardon me for rubbing this one in a bit.
You know what billionaires love? More money. That's why I like using Robertson as a cogent introduction to today's piece. I'd like to point out that on the day Robertson's decision was reported, Apple was trading around $486. Today, just three short months later, Apple has closed at $540. By doing a quick back of the napkin evaluation of the situation - carry the one, mind PEMDAS, cross multiply - that's an 11% gain! And, on the quadrillion shares he probably owned, he missed out on yet another - carry the one, mind PEMDAS, cross multiply - KAJILLION dollars in dividends in the process!
Anyways, the point of this article isn't to go after Robertson again, it's to induct another likely candidate for poorest Apple call of the year for 2014 - and it's only January!
From the International Business Times on January 4th (source):
Apple Inc shares dropped 1.12 per cent on Jan. 2 after receiving a "Market Perform" rating from a Wells Fargo analyst. Maynard Um downgraded Apple's stocks from an Outperform rating to Market Perform due to market concerns. He maintained the stock's valuation between $536 and $581. Wells Fargo has become skeptical of Apple Inc because of gross margin concerns.
Well, we are in two different worlds here, me and Mr. Um. We'll address why he could be wrong about the margins in a second. First, I'd like to just point out that Um seems to employ the "CYA" strategy of analysis, by offering a great argument as to why he's likely wrong:
Despite the downgrade rating of Apple stock, the analyst continues to be positive of the company's gross margins and the benefits of strong iPad and iPhone sales. Wells Fargo believes Apple Inc's growth will be triggered by the release of the iPhone 6, iWatch and the success of the iBeacon. The company can also stand to benefit from a larger buyback program or increase in dividends.
Notice anything funny about those two paragraphs? Read them again. Still don't notice anything? Let me see if I can make it a little clearer:

That settles it! He's bearish on gross margins!

Oh, crap! No he isn't! He's bullish!
Well, he's definitely one of the two. But wait, it's not only the manner in which this "downgrade" was delivered that was farcical, it's the actual substance of the downgrade as well.
Well, he has a point - with the shift in iPhone production to the 5S, which has poorer margins than the 5C - he could be right.
What? The 5S margins are astronomically higher than the 5C? Look at this handy layout graciously provided to us based on last quarter's metrics by Bryan M. Wolfe over at appadvice.com (source article is from 9/2013, but still worth a read):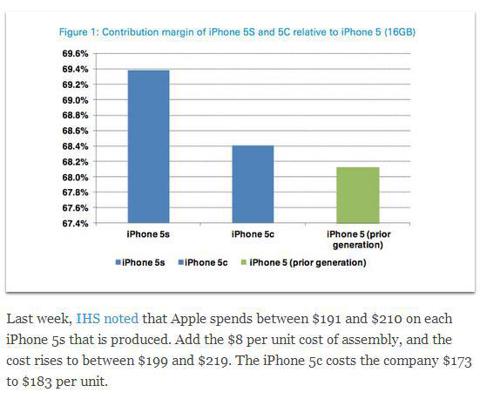 Alright, so Um's iPhone argument is off the table. But what about iPad and those pesky iPad Airs? There's no way they're going to be absolute margin monsters for Apple coming up, right?
Wrong.
Sources like IHS are pinning the Air, which requires basically the same internal getup as an iPhone 5S, as an absolute margin monster. Look, I wrote an article about just that, claiming that Air would catalyze great margins for Apple's holiday season:
The Air has a price tag of anywhere between $499 and $929. In addition, several sites have started to report that to build the Air, you're basically looking at what it takes to build a 5S -- with the addition of the large screen.
Click to enlarge image.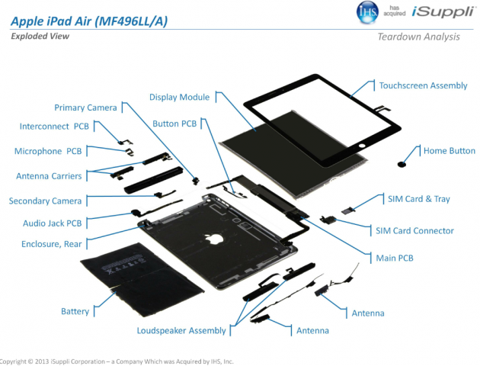 Source: IHS.
The cost estimates for building the iPad Air are between $274 and $361, depending on the model that's being built. So, you're potentially looking at margins between 45% to 61%. The display is being marked as the single most expensive part for the Air, coming in around $130. It's a bit pricier than it normally would be, because Apple has to pay for the thin design and the dropped weight.
Finally, it's likely that Um's downgrade is wrong due to the fact that he's seemingly up against every analyst that covers Apple right now.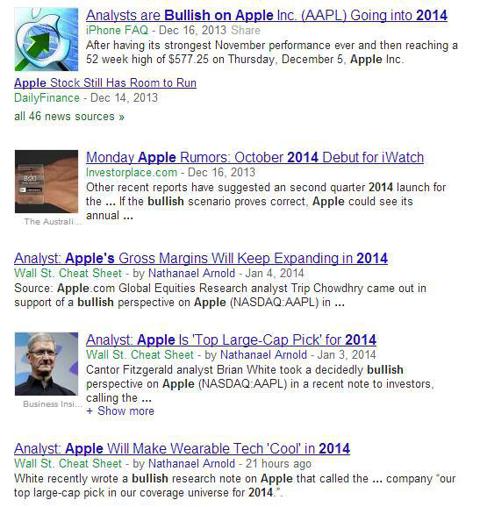 Don't get me wrong, I love a good contrarian investment and going up against the world - I'm doing it right now with Herbalife (NYSE:HLF) - but in this case, the lot of bullish analysts are right. Guys like Brian White of Cantor Fitzgerald sure don't think Maynard Um is right. He's one of the many analysts that think 2014 will be very bullish for the tech company (source appleinsider.com):
White, of Cantor Fitzgerald, declared that Apple is his firm's top large-cap pick for 2014, declaring that he believes the next 12 months will be a "year of innovation" for the Cupertino-based corporation.

"For 2014, we expect Apple to enter new product categories, re-accelerate growth in China and deepen its offerings in existing categories," White wrote in a note provided to AppleInsider.Brian White of Cantor Fitzgerald believes 2014 will be a "year of innovation" for Apple.

Specifically, he expects Apple to release a wrist-worn so-called "iWatch" this calendar year, while he also predicts that Apple will launch new, larger iPhone models in 2014. He also believes that recent rumors of a 12.9-inch iPad are not really for a new iPad, but instead a "hybrid device" that would be bigger than an iPad but more mobile than a MacBook Air.
And, if you're looking for a non-Apple-backed source, here's the analyst estimates compiled by Nasdaq.com:
- source link)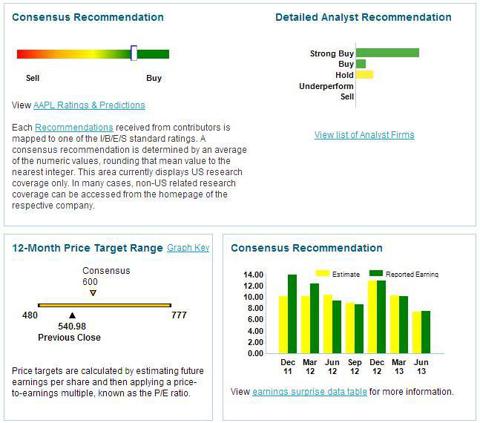 So, Mr. Um - the cards are up in the air for 2014. I wish you the best of luck for your call going forward, but I can't take it seriously - and the last thing Apple bulls should do is take it seriously. And, my readers know that I'm a guy that stresses perspective and taking all arguments into account when investing.
I look forward to hopefully using Mr. Um in my introduction, similar to how I used Mr. Robertson, to my next article about a bear that tries to stand in the path of the Apple freight train.
Best of luck to all investors.
Disclosure: I have no positions in any stocks mentioned, and no plans to initiate any positions within the next 72 hours. I wrote this article myself, and it expresses my own opinions. I am not receiving compensation for it (other than from Seeking Alpha). I have no business relationship with any company whose stock is mentioned in this article.