Hewlett-Packard (NYSE:HPQ) is a well-known brand in the diversified computer system industry. The company operates through several business segments: personal systems and printers, HP support services, enterprise servers, storage and networking segment, HP software segment, HP financial services and lastly the corporate investments segment. The company earns almost 80% of its revenues from its PC & printer, servers and storage and HP support services segments.
In this article I will present a case for HP highlighting its recent historical results, future prospects and stock valuation. Before getting into that discussion let us analyze the year to date performance of the stock.

Year to date HP's stock has earned 88.48%, clearly outperforming the broad based S&P 500 index and its peer IBM (NYSE:IBM). Many factors played a role in the whopping increase in the stock price among those factors were the announcements of strategic partnerships, cost cutting initiatives in line with the restructuring efforts and rating upgrade by analysts.
Growth opportunities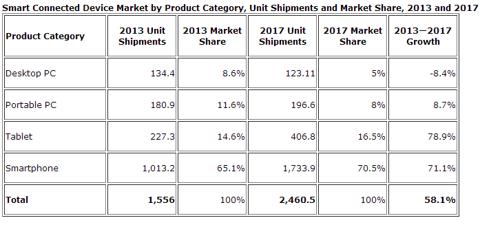 According to the report issued by IDC, PC shipments are expected to increase from the current level of 315.3 million units to 319.71 million units during 2013 to 2017. An 8.4% decline is expected in the demand for desktop PCs whereas an 8.7% increase is expected in portable PC demand. These forecasts are daunting for PC manufacturers and especially for HP as its PC segment is currently the company's biggest source of revenue.
Tablets and smartphones are expected to see rapid growth. The demand for tablets is expected to grow from the current level of 227.3 million units to 406.8 million units during 2013-2017. Last year HP abandoned its smartphone manufacturing venture but recently they are hinting at may re-enter the market. The company still offers Android and Windows operated tablets. If HP improves its tablet manufacturing to some extent it can offset decreasing PC demand but we should not forget the high concentration of manufacturers and competitive environment of the tablet market.
HP has shifted its focus to enterprise business as it considers this segment to be the most pertinent for its survival. Growth in this business segment was held back by weak economic conditions over the globe otherwise the company has achieved meaningful milestones in improving its offering and upgrading the technology. When the economic environment turns supportive HP is likely to see good results in this segment
Sub segments like server and storage systems are cornerstone to HP's enterprise segments. HP is a market leader with a 22% market share in sever system sales while facing tough competition from its rivals in storage system sales. Currently HP has an 11.9% market share in storage system sales.
Moreover, HP and Salesforce (NYSE:CRM) have recently announced a strategic cloud partnership which is being considered a tailwind. Under the partnership agreement Salesforce will be able to use HP's converged infrastructure hardware to enhance its data center capabilities. This partnership is expected to attract business for both companies as they will be able to offer complete and dedicated services.
The company also announced a partnership with DBI software and through this partnership HP will offer DBI's tools to improve the service level of IT-managed customers and it will also be a reseller of these products to non-outsourced clients. This partnership will increase the quality of HP's CRM services.
Next generation HP cloud systems and HP 900 series multifunctional printers are some of the other technological advancements which have increased the quality of HP's offerings.
Brief History

During fiscal year 2013 HP reported revenues of $112.3 billion reflecting a 7% decrease year over year. The company's personal systems segment was the worst performer during the year with revenues falling 10% whereas its iconic printer unit's revenue fell 3% during the same period. Enterprise group fell 5%, the software segment saw a decline of 4% and the enterprise unit declined 8% on a year over year basis. As I already mentioned, the company aims to build its enterprise, software, storage and other businesses to offset its declining PC and printer business but failed to achieve its objective in fiscal year 2013.
During the year HP reported net income of $5.113 billion compared to the net loss of $12.650billion in fiscal year 2012. Losses in fiscal year 2012 were mainly nonrecurring unusual expenses. Growth in net income can be attributed to the company's cost-cutting initiatives and workforce downsizing efforts. Earlier this year the company announced it would cut down 34000 jobs and year to date it has completed 24,600 layoffs. This initiative is expected to reduce employee cost by $3.5 billion on an annual basis.
Undervalued Based on Multiples

The table presented above shows the fair value of HP derived through using the multiple based valuation approach. In the calculation I have used the trailing twelve month figures of earnings, book value, sales and cash flows per share. Moreover, HP is a technology stock so I have assigned more weight to price calculated by P/E and P/CF ratios.
On the basis of given multiples of the industry and the company the fair value of the stock should be $58.60 reflecting an upside potential of 107%.
Conclusion
HP currently draws almost half of its revenue from its PC and printer units and the growth prospects of these two segments are not bright. Moreover the company is restructuring and it will take time to realize any significant impact from these initiatives.
Despite the stock being undervalued I would not suggest long term investors take any position in the stock merely on the basis of recent developments because these developments will provide some support to the company but are unlikely to create a turnaround.
Disclosure: I have no positions in any stocks mentioned, and no plans to initiate any positions within the next 72 hours.
Business relationship disclosure: The article has been written by a Blackstone Equity Research research analyst. Blackstone Equity Research is not receiving compensation for it (other than from Seeking Alpha). Blackstone Equity Research has no business relationship with any company whose stock is mentioned in this article.