2013 was a big year for U.S.-listed companies in China's private education sector. Xueda Education Group (NYSE:XUE) increased approximately 141%, New Oriental Education and Technology Group Inc. (NYSE:EDU) moved upwards 58%, TAL Education Group (XRS) increased by 134%, and China Distance Education Holdings Limited (NYSE:DL) popped upwards by 340% in 2013.
The graph below shows the performance in 2013 of these four companies, and that of the Shanghai Composite, which decreased by approximately 7%.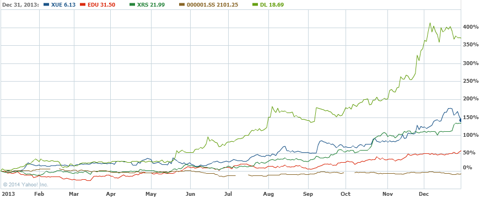 (Chart source: Yahoo! Finance)
This article will examine the two smallest by market capitalization, XUE and DL, and analyze whether they will have equally impressive runs in 2014.
XUE
Xueda was founded in 2004 and provides private tutoring services to primary and secondary students in China.
Looking at its historical chart from IPO until now shows that XUE hit its all-time highs early on after its IPO and then drastically slumped. After an extended period in which share prices of the company were depressed, XUE only started to see a rapid increase in share value in the second half of 2013.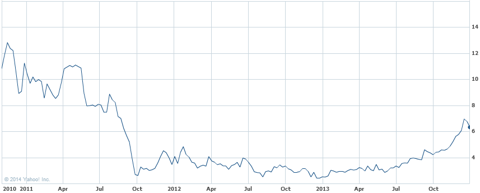 (Chart Source: Yahoo! Finance)
Some aspects on the company's financial statements have been improving.
After several quarters of falling liquidity, the company's current ratio (current assets divided by current liabilities) has consistently increased in 2013, as can be seen in the chart below.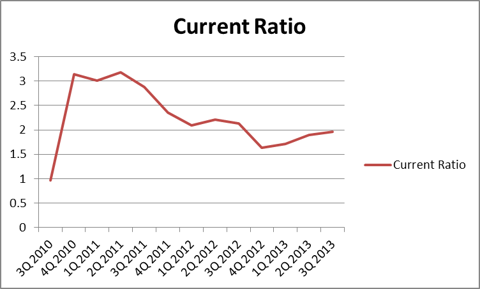 The company's net profit margins have also been improving. Net profit margins for the first three quarters of 2013 have been better than the first three quarters of 2012. In the 3rd quarter 2013 financial results, the CEO and co-founder of the company credited this in part to the more efficient operation of the company's nation-wide learning centers and a focus-on-profit strategy. One way of improving efficiency involves instructors that work for the company. Each full-time instructor in the first nine months of 2013 taught an average of 842 hours of class compared with 765 hours in the first nine months of 2012. Teaching staff costs were 49.1% of net revenue in the first nine months of the year, in comparison with 52.3% for the same period in 2012. However, there is obviously a limit to how many hours a single teacher will work for the same salary before they will quit and decide to work elsewhere, so the company will have to eventually rely on other ways to improve profitability going forward.
(Source for margins and balance sheet figures are found on the XUE investor relations website)
Investors should also be aware that the company's earnings are seasonal, with net profit margins that have been widest in the 2nd quarter of each year. This could be attributed to the fact that China's college entrance exam is administered once a year on June 7th-9th and students may be more inclined to attend private preparation classes in the preceding months. Likewise, the fact that the company's second highest margins have been in the 1st quarter could be attributed to parents sending their children to private education centers during the long Chinese New Year vacation from school, which occurs in January or February each year depending on the lunar calendar.
The 3rd quarter has always been the second weakest quarter of each year. In fact, since the company has been public, the 3rd quarter had always seen negative net profit margins until this year. At a slim 1%, the company's net profit margin in the 3rd quarter of 2013 was positive in this quarter for the first time in XUE's history. Around the time of the 3rd quarter 2013 earnings report on November 19th, the stock, which was already trending upwards, began to increase at an even steeper pace. There was a steep sell-off on December 24th, but the stock price did not dip below its current trend line. This is shown in the chart below.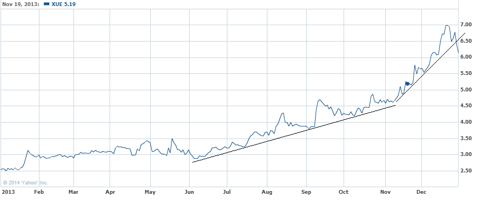 From this chart, investors can also gather that in the last few days of December, XUE dipped below its trend line. This could be an indication that the current rally has ended.
The company's next earnings report may prove decisive in setting the tone for the stock in 2014. In the past two years, the 4th quarter was the weakest of the year and net income and net profit margins have been negative. When the company reports fourth quarter earnings, which can be estimated to be at the end of February if the company follows a timeline similar to past years, the stock could gather steam for another run upwards if the net profit margins are positive. It would be the first year in which the company does not experience at least one quarter with negative net income.
However, is positive net income for the 4th quarter a realistic expectation? To assess this we can first observe that for the 4th quarter, the net profit margin in 2011 was -21% and then -14% in 2012. Then we can make note of the trend for the 3rd quarter, wherein there was a net profit margin of -12% in the 3rd quarter of 2011, -5% in the 3rd quarter of 2012, and positive 1% in the 3rd quarter of 2013. Estimating at the pace of improvement in profit margins from these two observations shows that perhaps the best investors can hope for in the 4th quarter is a negative net profit margin of -7%, and that if the company can do better than that in its financial statements, it may provide fuel for another uptrend. Investors should also consider the risk that the market is already pricing in this achievement and driving up the value of the stock in the belief that the company has turned a corner and knows how to smooth out its cyclical negative net income problem. In this case, investors interested in buying may want to consider waiting for the stock to break decisively above its short-term high of approximately $7.
DL
DL is a provider of distance education in China and specializes in professional education. The company offers online courses for college entrance exam preparation, language learning, and occupational certification training for several industries.
DL's overall increase of roughly 340% in 2013 has been impressive, but in December, the stock has stagnated. In fact, it only increased by approximately 1.3%.
The company has been publicly listed in the US for longer than XUE, and as can be seen from this chart, in July of 2013 the stock surged past its historical highs that were reached back in mid-2009.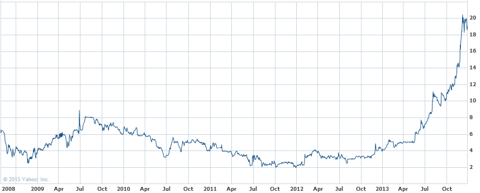 (Chart Source: Yahoo! Finance)
The company has also announced that it will begin paying a cash dividend to shareholders of record as of the close of trading on January 8th, 2014. The dividend will be .60 cents per American Depository Share (minus a fee of .02 per share to the depository bank) and will be paid on or around January 10th.
(Information found on DL's investor relations website)
From the date the dividend was announced on November 20th, 2013, on which date the company also announced its financial results for the 4th quarter and fiscal year ending on September 30th, to the record high the stock closed at in early December, the stock increased by nearly 45%.
The dividend announcement gave the stock fuel for a quick increase, but DL has formed a level of resistance at $20 per share since then, which it encountered on five days in December.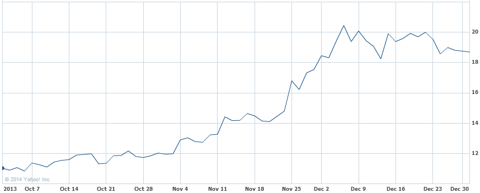 (Chart Source: Yahoo! Finance)
On December 27th, 2013, the company submitted its audited annual report to the SEC for the fiscal year ending on September 30th, 2013. Like the earnings announcement that was issued in late November, the report showed that Earnings per share have increased by almost 67% from last year, and that the net profit margin has increased from 16% to 19%.
A contributing factor was that selling expenses increased by only 38% while operating income increased by 69%. Although it is positive news, since the information in the audited annual report was already released in November, it is unlikely that it will have much of an impact on the stock.
For now, shares appear to be trading sideways. Investors holding the stock may want to consider cashing some gains at this stage and waiting for news on fundamentals. However, an argument could be made that a rectangle pattern is forming, as shown in the chart below, which after an uptrend is a bullish indicator.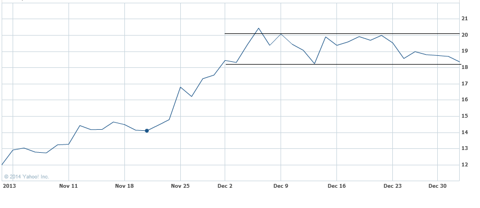 (Chart Source: Yahoo! Finance)
If that is the case, investors looking to get into this stock may want to consider waiting for it to make a significant move over $20 per share before thinking about buying and consider a significant break below $18 to be a negative sign.
Disclosure: I have no positions in any stocks mentioned, and no plans to initiate any positions within the next 72 hours. I wrote this article myself, and it expresses my own opinions. I am not receiving compensation for it (other than from Seeking Alpha). I have no business relationship with any company whose stock is mentioned in this article.