It's always a good sign to see some of the REITs in my portfolio bring in the New Year with a smoke signal. Oh yeah, smoke signals are one of the oldest forms of long-distance communication, and they can transmit messages to signify that either something good or bad is going to happen.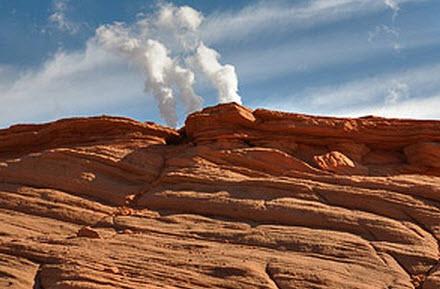 Of course I'm not talking about lighting a fire on the side of a mountaintop or even launching a roman candle left-over from my New Year's celebration. Instead I'm referring to the most recent announcement last week from Healthcare Trust of America (NYSE:HTA).
On Thursday, HTA announced it had closed $156 million of acquisitions in the fourth quarter of 2013. This was significantly beyond many analysts' expectations and brought HTA's total 2013 investment activity up to almost $400 million.
While this amount would be a typical amount for one of the "Big 3" healthcare REITs - Ventas (NYSE:VTR) , HCP, Inc. (NYSE:HCP) and Health Care REIT (NYSE:HCN) - this represented an expansion of almost 15% for HTA, demonstrating one of the strengths of investing in mid-cap REITs. REITs that are smaller in size also have the ability to grow significantly faster while buying arguably higher quality assets that improve the company's portfolio.

The Latest Smoke Signal from HTA
Let's take a look at the quality of assets that HTA bought (given their size, they actually provide details of all their acquisitions on their website). For the year HTA stayed true to their stated investment principles and invested entirely in medical office buildings (MOBS) affiliated with leading health systems, with 92% of them located directly on or adjacent to health system campuses.
Almost 80% of the properties were located in Florida or Texas, two states experiencing tremendous population and economic growth, especially in the demographic groups that will require more healthcare services in the long term. The quality of the properties was further demonstrated by the 95% occupancy at closing.
When competition for high-demand real estate, such as MOBs, is high, it becomes convenient for REITs to invest in lower quality buildings to meet their targets. It is good to see HTA has kept its quality standards high and still was able to execute its growth strategy. That's the sign of a good management team.
As impressive as the company's investments was their ability to execute this external growth while maintaining and improving its already strong balance sheet. During the course of the year the company was able to raise equity at accretive prices. This allowed it to maintain its overall low leverage position and keep its powder dry to pursue additional growth opportunities in the future.
I'm not the only one that noticed this balance sheet strength. On December 19th, Moody's announced that they were upgrading HTA's credit rating to Baa2. This should lower its cost of capital in the future as it competes for investment opportunities. It also has the benefit of lowering HTA's existing borrowing costs by almost $2mm per annum, through the ratings-based pricing grid on its bank loans. That is significant and represents almost a full penny of earnings per share.
As much as I believe in the HTA story (I'm a shareholder), I have also focused investors on the company's ability to raise their dividend in the future (something they have not done recently). However, the recently announced activities certainly give me confidence that the company is growing cash flows for investors which will eventually flow through to their dividends.

I'm Not Blowing Smoke
HTA listed shares (on the NYSE) on June 6, 2012. Throughout the course of 19 months the Scottsdale-based REIT has climbed from $10.00 to a high of $13.34 (on May 8, 2013). Then, during the last several months the valuation has fallen by almost 24% to a close of $10.08.
HTA is currently trading at a Price to Funds from Operations (P/FFO) multiple of 15.7x ... translating into a fairly valued dividend of 5.70%. Like most health care REITs, the cause of the price decline was not attributed to individual stock performance but more of a broader decline due to the threat of rising interest rates.
As evidenced by the latest smoke signal, HTA has taken steps to ensure that consistent growth continues, and that is also evidenced by the REIT's steps to internalize management and create a more efficient leasing platform. The latest acquisition gives me more confidence that HTA's interests are aligned with mine.
As an investor in HTA I am also encouraged after seeing the company acquire such a solid portfolio that's poised to grow cash flow through rent bumps and occupancy gains. I like the dividend yield, and I think the latest acquisition news is just the tip of the iceberg - better yet - a sign that dividends are coming!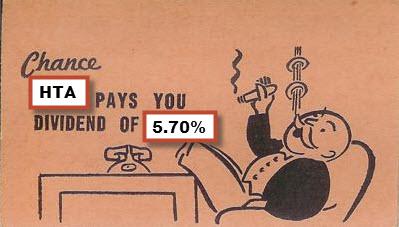 For more information on REIT Investing, check out my monthly newsletter, The Intelligent REIT Investor.
REITs mentioned: (NYSE:SNH), (NYSE:OHI), (NYSE:HR), (NYSE:MPW), (NYSE:NHI), (NYSE:LTC), (NASDAQ:SBRA), (NYSE:AVIV), (NYSE:UHT), and (NYSE:DOC).
Source: SNL Financial.
Disclaimer: This article is intended to provide information to interested parties. As I have no knowledge of individual investor circumstances, goals, and/or portfolio concentration or diversification, readers are expected to complete their own due diligence before purchasing any stocks mentioned or recommended.
Disclosure: I am long O, DLR, VTR, HTA, STAG, UMH, CSG, GPT, ARCP, ROIC, MPW, HCN, OHI, LXP, KIM. I wrote this article myself, and it expresses my own opinions. I am not receiving compensation for it (other than from Seeking Alpha). I have no business relationship with any company whose stock is mentioned in this article.