WPCS International (WPCS)
Recommendation: Strong Sell
WPCS International is an infrastructure provider for electrical power, wireless communication, and specialty construction. A couple of weeks ago the company announced that the company was purchasing a Bitcoin trading application. An article published on Seeking Alpha by "Small-Cap Momentum Advisors" said the following:
My most recent blog post accurately forecast that WPCS International would imminently announce a transformational "shareholder value proposition." I conjectured that WPCS may be bought out at a significant premium, given its exceptionally low valuation. Last night, WPCS indeed made a game-changing announcement that should provide a significant catalyst for shares. Rather than being the target of a buyout, WPCS announced something perhaps even more exciting: the acquisition of BTX Trader, the developer of a proprietary trading platform for the Bitcoin industry. Why is this so significant? As a prominent Bitcoin newsletter attests, the first and only stock for investing in the Bitcoin sector is now officially WPCS International.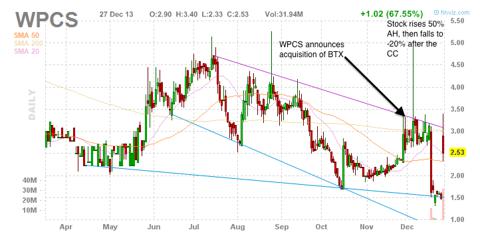 WPCS popped 50% in after hours trading, but then fell hard during the conference call. The shares ended up down 20% on the session. Traders and investors who saw "Bitcoin" and a way to play it with a stock, got slaughtered when it turned out the fundamentals were not so good. The same pattern repeated itself on December 27th, when the BTX Trader platform was announced. Shares of WPCS again soared 65% after it announced the launch of its Bitcoin trading platform. There are a litany of red flags and issues here, and we will address the issues below.
The Bitcoin Trading Platform
You can visit the BTX Trader website here.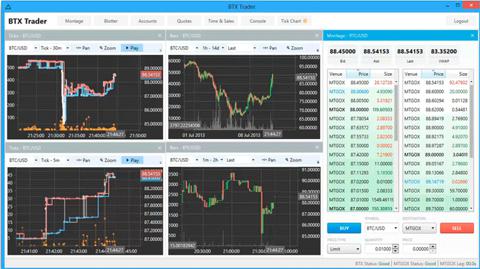 WPCS acquired BTX Trader in an all stock deal on December 17th. WPCS claims that BTX Trader will be generating revenue for the company by mid-2014.
"Now that we have completed this pioneering acquisition in the emerging Bitcoin industry, we intend to hit the ground running," WPCS interim CEO Sebastian Giordano said in a statement. WPCS said it's on track to release the web and mobile versions of its platform by early 2014. Giordano expects the service to generate revenue by the middle of 2014." Source: Fox Business
But can BTX Trader really generate revenue by mid-2014? Ludicrous. Several things on the BTX Trader website suggest that revenue for this company is still a long ways off. Under "FAQ":
What are your fees?
We do not charge a free to end users who would like to use our software and infrastructure to send trades. Website
Despite the typo where they said "charge a free" (assuming they meant charge a fee) they will not be generating any revenues from trading commissions. In the two other articles on the FAQ section of the website, they give absolutely no indication of how they plan to generate revenue.
BTX Trader was incorporated in the state of Delaware on 12/04/2013. It is truly amazing that just two weeks after incorporation this company was purchased by WPCS International.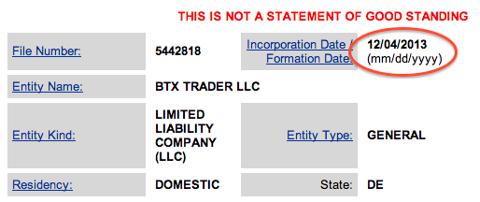 Additionally worrisome is that the founders of BTX Trader seem to have very limited experience. We are only given their first names, but "Ilya's" bio says he has two years of experience after graduating from Johns Hopkins and "Divya's" bio simply says he is a developer with no credentials given. Of course, people have started many very, very successful companies with little experience but the odds are never good. It simply seems that there is no way this company will be able to generate revenue given the current information we have.
Auditor Resigns, That's A Red Flag
It's never good news to see an auditor or CFO resign, but how a company handles the situation often speaks volumes about the quality of the management. WPCS International handled the situation terribly.
WPCS International was informed by their auditor CohnReznick LLP that they were resigning on December 20th, It took seven days for WPCS International to inform investors about the resignation, and when they did inform investors, it was in an 8-K late on a Friday evening. That is the classic "Friday night dump." The 8-K read:
On December 20, 2013, WPCS International Incorporated (the "Company") received a notice of resignation from CohnReznick LLP, the Company's independent registered public accounting firm (the "Former Accountant"). The Former Accountant's reports on the Company's financial statements for the past two years do not contain an adverse opinion or a disclaimer of opinion, and are not qualified or modified as to uncertainty, audit scope, or accounting principles, except as that the reports of the Former Accountant for the past two fiscal years ended April 30, 2013 and 2012 indicated conditions which raised substantial doubt about the Company's ability to continue as a going concern.
Partnership with TD Ameritrade? Don't Count On It?
There has been some chatter online about the fact that BTX Trader could partner with TD Ameritrade to trade bitcoins. People on Twitter and on the Yahoo Finance message boards have been claiming that TD Ameritrade will be partnering with BTX Trader.
From Twitter.

And from the always reliable Yahoo Finance message boards.

This rumor appears to have been started by Sierra World Equity Review. Judging by their prior picks and articles it seems that they are involved with pumping numerous sketchy OTC and microcap stocks. Here is the original article saying that Sierra World's "leads" were saying that TD Ameritrade was going to announce a joint venture with BTX Trader.
Sierra's leads indicate that following the release of it's beta version which is now available to the public, WPCS International will be announcing a new joint venture with TD Ameritrade as it upgrades it's software trading platform beyond the beta version. Shares of WPCS International surged over 67% in Friday's session in what Sierra anticipates is the likely coming partnership TD Ameritrade.
There is no credible online source reporting this, and a lady I spoke to at TD Ameritrade said that she knew nothing about it. It's possible that this is true, and that she just does not know about it, but considering who started the rumor originally the probability is very, very low.
Dilution- It's Eventually Going To Come
To acquire BTX, the Company entered into a securities purchase agreement with certain investors in which WPCS sold 2,348 shares of a newly designated 12% Series E Preferred Stock, and Warrants to purchase up to 1,500,000 shares of its common stock, for 100% of the membership interests of BTX. Each share of Preferred Stock has a stated value of $1,000 and is convertible into shares of the Company's common stock equal to the stated value (and all accrued but unpaid dividends) divided by the conversion price of $3.50 per share. The Preferred Stock accrues dividends at a rate of 12% per annum, payable quarterly in arrears. The Warrants have an exercise price of $5.00 per share.
Source: Conference Call
And then,
Between December 17, 2013 and December 19, 2013, WPCS International Incorporated (the "Company") received conversion notices to issue an aggregate of 4,153,179 shares of its common stock, par value $0.0001 per share to six investors upon the conversion of $827,000 of principal face value secured convertible notes issued December 5, 2012. The shares were issued pursuant to the exemption from registration provided by Section 4(a)(2) of the Securities Act of 1933, as amended.
Management Gets Rich While Shareholders Suffer
Over the last several years, management has been paid handsomely while shareholders have suffered.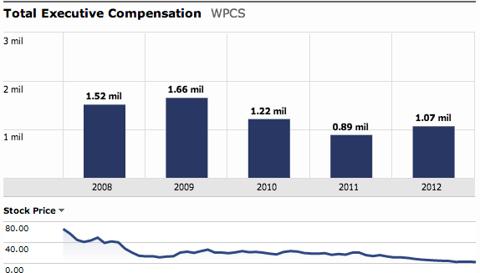 Take a look at this chart comparing total executive compensation with market cap at the beginning of the year.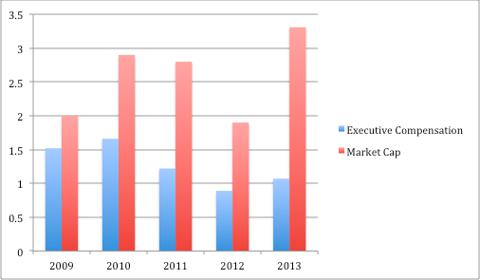 Source: Bull Harbor Analysis, YCharts, Morningstar
The market cap has hovered between 2.5 and 3.5 million, and the executive compensation has been between 1 and 1.5 million. It gets worse, look at the terms of former CEO Andrew Hidalgo's separation:
Andrew Hidalgo Separation, Shareholders Hurt Again
On July 24, 2013, the Company entered into a separation agreement (the Separation Agreement) with Andrew Hidalgo (Hidalgo), the Company's former President, Chief Executive Officer and a member of the board of directors. Pursuant to the Separation Agreement, Hidalgo resigned effective at the close of business on July 30, 2013 (the Termination Date), as the President, Chief Executive Officer and a member of the board of directors of the Company and from all officer and director positions with all of the Company's subsidiaries. As a result of the Separation Agreement, the Company recorded a one-time charge for severance expense of $1,474,277 for the six months ended October 31, 2013.
As a result of the CEO's departure/resignation the company was forced to charge a one-time expense that was around half of its market cap at that time, in July.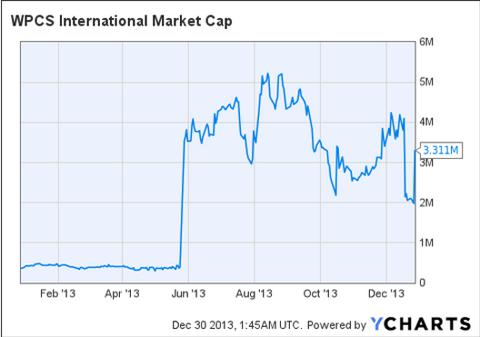 Summary
WPCS International's recent history indicates that the company uses announcements to drive up the stock price and then make announcements that are detrimental to shareholders. It had a horrible conference call after it announced that it was buying BTX Trader, and the stock reversed from +50% AH, to -20% AH. On Friday they announced the launch of BTX Trader, and the stock went up 60%. Then Friday night they announced the resignation of their auditor after knowing about it for seven days. There is a clear track record here and we think that there is approximately 75% downside in the shares of WPCS International.
Note: We have contacted the company about our concerns but have not received a response. If and/or when we receive a response we will provide an update.
Disclosure: I am short WPCS. I wrote this article myself, and it expresses my own opinions. I am not receiving compensation for it. I have no business relationship with any company whose stock is mentioned in this article.