Burger King Holdings Inc. (BKC), the second largest hamburger chain, hinted that adverse weather conditions in the Central and Eastern part of the U.S. dragged down the U.S. & Canada segment comparable sales.
Comparable sales for the segment dropped 8.2% in the two-month period ended February 28, 2010, versus an increase of 3.1% in the prior-year period due to the presence of 75% of the segment's company- and franchise-owned restaurants in the affected region.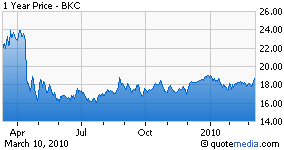 Miami, Florida-based Burger King notified that bad weather hurt the U.S. & Canada segment's comparable sales metric by about 3%.
Although some signs of improvement in sales and traffic were witnessed in the first week of March, Burger King has forecasted a fall in third-quarter 2010 revenue, company restaurant margin and income from operations from the year-ago quarter in the U.S. & Canada segment.
Worldwide comparable sales for the two-month period shrunk 5.4% compared with a rise of 2.5% in the same period last year. Comparable sales at other geographic segments were: EMEA/APAC segment was up 0.6% and Latin America segment was down 2.3%.
The fast-food restaurant operator reported weaker comparable sales results compared with its nearest rival
McDonald's Corporation
(NYSE:
MCD
), where global comparable sales rose 4.8% in February 2010 after climbing 2.6% in January.
The quick service restaurant operators are waging a price war to lure budget-constrained consumers, who now prefer to dine out less given the economic constraints. Recent data from the NPD Group, a market research firm, pointed out that traffic at fast food restaurants dropped 3% in 2009.
Burger King currently operates more than 12,000 restaurants world-wide.