"Be fearful when others are greedy and greedy when others are fearful"
-Warren Buffett
2013 was a great year for stocks with the Dow and S&P 500 both hitting historical highs. The Dow was up (26%), S&P 500 (29%) and the NASDAQ (38%). While the economy is still recovering and it looks to be fairly healthy, 2014 will not be as kind to investors as it was in 2013. Investors with big profits should think about securing some of those profits in quality stocks that are poised for growth in 2014. Here are my stock picks for 2014 that have decent downside protection and have good growth prospects in 2014.
Corning (NYSE:GLW)
Corning was up over 40% in 2013, but is still moderately priced at 14.4x earnings, 1.16 P/B and a 2.25% yield. This specialty glass and ceramics maker has been in business since 1851 and continues to produce innovative products that are found in some of the hottest tech trends. Corning operates under 5 business segments: display technologies, telecommunications, environmental technologies, specialty materials and life sciences. The company is the industry leader in all these areas and sees market growth continuing through 2014. Corning's most recent product success story has been Gorilla Glass, which is found in all kinds of products from mobile phones to car rear windows. Growing from $0 to over $1 billion in annual sales in just 5 years, Gorilla Glass is found in over 2 billion devices world-wide. Apple, Dell, LG, Samsung, Motorola, Google and Nokia are just some of the companies that use Gorilla Glass in their products. Most importantly, Corning doesn't get complacent with its products. It continues to invest in Gorilla Glass. They claim Gorilla Glass 3 is 40% more scratch resistant and 50% stronger than its previous version. Corning is also working to put an antimicrobial coating on Gorilla Glass products in the future.
In October 2013, Corning and Samsung (OTC:SSNGY) strengthened their strategic partnership. Under the agreement, Corning obtained full ownership of Samsung Corning Precision Materials Co., Ltd. (SCP), an unconsolidated equity venture with Samsung Display that manufactures LCD glass in Korea. The transaction should add approximately $2 billion in annual sales; $350 million in incremental profit before special items; and approximately $500 million in additional cash flow. Corning expects core earnings per share to increase 20% in 2014 and 2015 from the agreement alone. To offset the $2.3bn investment in Corning by Samsung, Corning announced a $2 billion share repurchase program.
Plains All American Pipeline (NYSE:PAA)
Plains All American Pipeline is a master limited partnership engaged in the transportation, storage, terminalling and marketing of crude oil and refined products, as well as in the processing, transportation, fractionation, storage and marketing of natural gas liquids. PAA operates fee based pipelines and storage facilities, so the company is more insulated from commodity fluctuations than other MLPs. The company is also extremely well diversified with infrastructure throughout North America in all the major crude oil and liquid rich areas.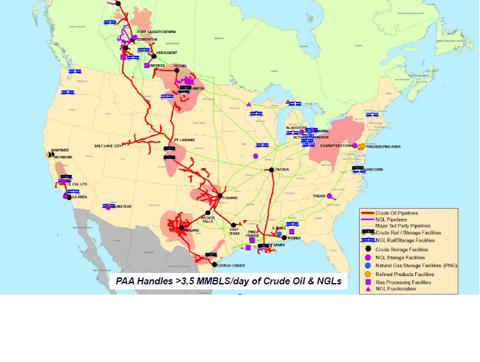 Plains All American Pipeline most recently decided to invest $120 million in the Eagle Ford area. The money will be used to construct a new NGL fractionator and expand its existing condensate stabilization facility. The new fractionators will have a capacity of 15,000 bpd of NGL. In early December, the company announced a $400-$500 million investment in 4 projects in the Permian Basin that will increase and expand its Permian Basin pipeline infrastructure over the next few years to keep pace with rising production volumes. The projects will be completed in stages throughout 2014 and early 2015.
PAA has consistently stuck to its growth strategy and has raised distributions in 36 of the past 38 quarters. The company has an attractive yield at 4.7% and management projects 2014 distributions to increase by 10%. Of the 21 analyst covering Plains All American Pipeline there are; 8 strong buys, 9 buys and 4 holds with a consensus price target at $60.52, or 18% above current levels.
Dollar General (NYSE:DG)
Dollar General is the largest of the three "dollar stores" (Dollar General, Dollar Tree (NASDAQ:DLTR), Family Dollar (NYSE:FDO)) with 11,061 stores in 40 states. The company had a successful 2013, but 2014 is shaping up to be even better. Dollar General recently announced plans to open 700 new stores in fiscal year 2014 and remodel or relocate 525. This ambitious plan will increase store selling square footage by 6-7%. In the Q3 2013 quarterly report, the company increased their FY 2013 EPS guidance to $3.18-$3.22 from $3.15-$3.22. They also expect 2013 store sales in increase 10% over 2012 sales.
On December 4, 2013 the company announced approval of an additional $1.0 billion for share repurchases, increasing the total authorization for future repurchases to $1.2 billion. The company has a strong track record of stock repurchases with 27.1 million shares totaling $1.3 billion repurchased since December 2011. With the aggressive share buy-back program and aggressive expansion program set to kick off in 2014, the company is clearly confident in their continued success.
What makes Dollar General a strong buy is their ability to have strong sales regardless of economic conditions. Company spokesman, Dan MacDonald, recently said, "Our business model is solid in good times and bad and is probably more relevant to customers when times are bad". It's never a bad idea to own a stock in your portfolio that performs well in any economic environment.
Conclusion
2013 was a record year and many investors saw huge profits. It's easy to get a little greedy when times in the market are good. What separates the good from the great investors, is knowing when to take out profits. While I don't think there's a market crash on the horizon, there's a good chance returns will be hard to come by in 2014. Corning, Plains All American Pipeline, and Dollar General are all set up to have a successful year. They aren't sexy or exciting, but they'll save you sleep knowing your profits are locked up in quality companies with limited downside.
Disclosure: I have no positions in any stocks mentioned, and no plans to initiate any positions within the next 72 hours. I wrote this article myself, and it expresses my own opinions. I am not receiving compensation for it (other than from Seeking Alpha). I have no business relationship with any company whose stock is mentioned in this article.