In my previous Neuralstem (NYSEMKT:CUR) article, we covered the company in-depth. Please refer to that article if you want to know more about the company's overall pipeline and the reason why investors seem to be excited. This article is going to focus purely on NSI-566, Neuralstem's potential treatment for those suffering with Amyotrophic Lateral Sclerosis (ALS), also known as Lou Gehrig's Disease in the U.S. The stock, as of 1/3/14, is trading 60% higher ($2.97) than the price at which my previous article was released back in early September 2013 ($1.85). We believe this stock has potential to continue to accumulate rapid gains for investors as the ALS trials move closer to producing data. If Neuralstem indeed has a treatment for a multi-billion dollar market, the recent stock offering should be welcome by investors because those funds can help Neuralstem position itself as the only significant player in a very large ALS market and further develop one of the most exciting pipelines in the biotech sector.
We'd like to reference some of what Seeking Alpha contributor Jason Napodano highlighted in his recent article "4 Bold Biotech Calls for 2014." His article highlighted the potential for NSI-566 to receive the FDA's "Breakthrough Therapy" designation for the treatment of ALS. To be eligible, Neuralstem would have to demonstrate that the treatment, "may have substantial improvement on at least one clinically significant endpoint over available therarpy." The currently (first and only) available therapy, as discussed in my original Neuralstem article, is Sanofi's (NYSE:SNY) Rilutek whose U.S. rights were sold to Covis Pharma during 2013. Rilutek extends a patients life by 60-90 days on average and offers no improvement to a patient's quality of life.
We agree with Mr. Napodano's assessment of the potential for NSI-566 to be designated a "breakthrough therapy" for ALS, and to help see why, we'd like to take a more detailed look at information available from the on-going phase 2 trial which demonstrates that Neuralstem's NSI-566 treatment may be effective in improving the quality of life of ALS patients.
Background of the NSI-566 Phase 2 Trial for ALS
Before discussing some of the potentially positive results in the Phase 2 trials, let's highlight how the Phase 2 trial is set up. The Phase 2 trial is set up to test 15 ambulatory ALS patients. Ambulatory ALS patients are those that are capable of walking, and they are usually in the earlier stages of the disease. In addition, upper spine injections are an area of focus with the hope being that there is an impact with muscles controlling the lungs. For those unfamiliar with ALS, let me explain why this area is important. In ALS, atrophy in the muscles causes many ALS patients to struggle to breath. Approximately 50% of patients die within 18 months of diagnosis, most from respiratory failure.
Although the primary objective of this Phase 2 trial is to evaluate the safety of larger doses of cells, the secondary objective is to evaluate for the following:
attenuation of motor function loss
maintenance of respiratory capacity
stabilization of the ALS Functional Rating Scale - Revised (ALSFRS-R)
Reduction of spasticity/rigidity if present
graft survival at autopsy if and when there is mortality
What Can We Learn About Phase 2 ALS Trials Prior to a Press Release?
Jason Napodano briefly mentioned a link where a patient in the trial was sharing information about her experience. We actually would like to point readers to a separate link that contains a complete listing of updates since the link provided in his article is missing a December entry that contains very promising insights. The patient's name is April, and her blog can be located here.
In her December update, April provided some key comments that might actually give interested parties some insights into how the ALS trial might be progressing. April stated the following:
If you have followed my blog for a while, you know my son, Tyler, is deaf and we communicate with sign language. He has been living in Indiana and planning to move back close to me. We thought it would be longer before he was able to move but he was able to move permanently when he came for my surgery. While he's been away, with every visit it was more noticeable that my right hand had declined and signing was more difficult. Without intention my left hand become the dominant hand I would sign with and my right started playing the left's old role, just not as well. As days and weeks passed post surgery, I started noticing my right hand naturally taking over more. I didn't say anything. Tyler mentioned it first. He said, "Mom, you're signing with your right hand more and better." I can't put into words how this feels. It is the best gift to have this ability back for however long. No, it's not pre-ALS better at this time, but a huge difference.
In her first update of 2014, April shared even more impressive news that directly affects an ALS patient's quality of life and ability to survive.
I'm in no way meaning to send a message that I've been cured. I believe I've been given more time and quality of life. How long or if I will continue to feel more improvement is something I can't answer. I can say before this Neuralstem study, nothing else came close to these results.
Within this same blog, April proceeded to describe one of the benefits she has received as a result of treatment.
The breathing scores while on my back were low enough to qualify for needed assistance. I was lucky enough to have a Trilogy 100 ordered. I won't get too into it now, I believe I did in the blog about my Trilogy, but it has an AVAPS setting that I found much better and easier to use than the BIPAP setting. You can have two settings only at once. I chose AVAPS for mask use and for the Puff System of Ventilation for when I just need a few breaths.

Now for the news on my breathing. I haven't used a mask in weeks. I'm very grateful for the Sip and Puff because I do still use it as needed. I have no doubt my ability to move air in and out has improved though. A part of me can't wait to show it and it's also one of the things I always dream about being worse.
Many ALS patients require breathing assistance from machines such as the Trilogy 100 referenced by April above (and pictured below). The ability to avoid using a mask is a huge increase for the quality of life of an ALS patient and improvements in breathing should extend the lives of patients.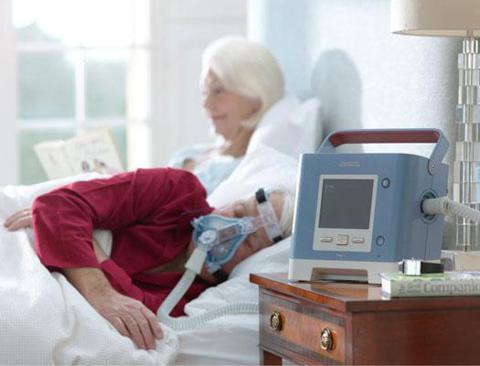 This is Still Only a Trial
We've been following the Phase 2 trials closely as evidenced by the quotes from Neuralstem as well as a patient participating in the trial. We are confident that, despite the very promising comments above, all parties involved want to provide a warning.
In his blog, Neuralstem CEO Richard Garr acknowledged April is in fact a patient in the ALS trial. Mr. Garr encouraged hope and also provided a warning.
People are also surprised to find out, that the information in these patient blogs is as new to me as it is to them. April has not had (as of her last blog) her official quarterly check up and measurements. Getting a kind of minute by minute, day by day accounting is indeed a gift. We do not know how April's story will end; the Phase I trial has left us hopeful, but this is still very much a "trial," not yet a treatment.
Further, April, in her December blog, highlighted the uncertainty that remains at this point.
I want to say again, the last thing I want to do is give false information and hope about any results of my surgery, at the same time what I've said is true even though I have no idea of how long, and it hasn't been proven through testing yet.
Conclusion
Looking Forward to Phase 2 Results
The news about potential improvements in an ALS patient in Neuralstem's Phase 2 trial for NSI-566 is excellent! A more effective treatment for ALS is something that is long overdue. We believe positive results will ultimately be demonstrated when the data from Phase 2 is released to the public. There are several reasons for this.
1. Use of Ambulatory ALS Patients
Ambulatory patients were a focus in Phase 2 because those are the patients that showed the greatest benefit in Phase 1 of the NSI-566 trials. Since Phase 2 is focused entirely on the patients that showed the greatest benefit in Phase 1, many believed Neuralstem would be able to demonstrate a greater effectiveness in Phase 2. This may be happening right now.
2. Focus on Maintenance (or Improvement?) of Respiratory Capacity
As mentioned earlier, the cell injections in Phase 2 have a focus on improving respiratory function. We may be receiving first word that this is now happening. April is only one patient, but she is one of only 15. If just a few other patients demonstrate a similar response when data is ultimately gathered, Neuralstem's trial will be an extraordinary success and "breakthrough therapy" status will easily be obtained.
3. Patients May Demonstrate an Increase in the ALSFRS-R
The ALS Functional Rating Scale is helping to identify whether patients are able to maintain certain bodily functions or whether they deteriorate during the course of the study. The ALS Functional Rating Scale evaluates areas such as speech, swallowing, handwriting, walking, and breathing as described in greater detail in this scoring document. Note that higher scores mean better functionality.
An increase in hand functionality or breathing, as described above, could ultimately be a sign of higher ALSFRS-R scores. If other patients are experiencing similar results, ALSFRS-R scores should either be maintained if not improved. Stabilization in scores would be excellent because ALS is a disease where patients deteriorate over time. Improvement in scores would be extraordinary and unprecedented.
Neuralstem's ALS Phase 2 Trial Will Continue to Drive Share Price
Although nothing is official yet, and this is by no means a release of data on the trial, we believe there is cause for excitement and that Neuralstem remains greatly undervalued by the market. At a market cap of only $228 million (approximately) as of 1/3/14, and with Phase 2 potentially having incredible results for a multi-billion dollar market, we anticipate Neuralstem moving toward a price target of $12 throughout 2014 to be more in line with the market it may be able to treat. Progress in other trials, such as NSI-189 for depression, may further add value for shareholders, but a failure in NSI-189 would not likely slow shares of Neuralstem from accumulating during the year. The market for ALS is simply too large and completely lacks a useful treatment.
I do want to note that results from NSI-189's Phase 1B trial should be released anytime now as the data is currently under review by Neuralstem. Investors should keep this in mind as they consider whether an investment in Neuralstem is right for their portfolio.
Final Thoughts
We, like many investors, ALS patients, and those in the healthcare community, will continue to follow the story of April and other patients in Neuralstem's Phase 2 trial. It takes courage to be willing to participate in a trial without knowing what could happen as well as to share one's thoughts, feelings, and fears with the world. As Mr. Garr noted, many people believe these patients have nothing to lose, but these patients still have a certain quality of life that they are risking when they participate in a clinical trial. Through sacrifice, perhaps an effective treatment for ALS can be identified.
Neuralstem is the first of the stocks we recommend for 2014. As the Phase 2 story unravels, shares of Neuralstem appear to have a massive upside. The recent registered direct placement of 6.7 million shares in exchange for approximately $20 million resulted in shares being placed "on sale" on Friday as investors quickly reacted to the news. However, investors need to consider that Friday's dip may have created a buying opportunity in what we believe will be one of the best performing stocks of 2014.
Disclosure: I am long CUR, . I wrote this article myself, and it expresses my own opinions. I am not receiving compensation for it (other than from Seeking Alpha). I have no business relationship with any company whose stock is mentioned in this article.