To the investors in AudioCodes (NASDAQ:AUDC) patiently holding since my Seeking Alpha coverage, I believe the best is yet to come as its strategy is well recognized and its results should now drive the share price into double digits in 2014. AudioCodes has now completed its 4th quarter and I believe it'll confirm its strategy and update us on its 2014 outlook now that it has BroadSoft (NASDAQ:BSFT), Microsoft (NASDAQ:MSFT) Lync, Dell and a mobile cloud offering under its belt to show strong growth.
Upcoming Conference Call:
AudioCodes should be ready to embrace its cloud offering in order for enterprises to enable its mobile users and for service providers to offer its retail customers. This is an area that will bring large institutional investors and more momentum type investors to the stock than the value investors that long took hold of AudioCodes for most of 2012 and 2013. Here is what I want to hear:
Hosting: I want to see new partnerships on One Voice for hosting or hear very positive feedback on the initiative with the potential to see new partners in short order. This is a very fast growing part of VoIP and would alert institutional investors that AudioCodes is becoming a strong diversified player in the space.
Services: This division is a lagging indicator as the large contracts AudioCodes has been receiving get rolled out in phases. I believe we may see an incremental increase in Q4, but more positive feedback that services will grow faster than the overall growth of the company in 2014 which bodes well for gross margins, profits and the attractiveness for a Dell or a Hewlett Packard (NYSE:HPQ) to come knocking to acquire the company in 2014 or early 2015.
Microsoft Lync: AudioCodes will be releasing results in front of Microsoft's annual Lync conference on Feb 18-20, in Las Vegas where I'm confident Microsoft will release important data that supports market share gains. I want to hear that AudioCodes is covering larger deals than ever before and that it is supporting these deals in all areas around the globe.
Dell: This will be the first opportunity for shareholders to listen to where AudioCodes see itself within Dell's enterprise group. This is sure to bring larger deals and support more revenue upside in 2014 and beyond.
Cloud & Mobility: The CEO unexpectedly offered us 2 cloud mobility announcements "in due time" on the last conference call, as a result some have voiced displeasure in his poor execution. AudioCodes will be forced to address these offerings as the Mobile World Congress is held on Feb 24-27 and Microsoft Lync Conference is Feb 18-20. I have been early and bold on its mobility upside and its desire to attack mobile via OTT vs. VoLTE. This is a very high gross margin business and more importantly a very highly leverageable business. I believe the company will deliver excitement and enthusiasm when these platforms are released and understood in the weeks to come.
Quarterly Estimates:
| | | |
| --- | --- | --- |
| | My Estimates | Street Consensus |
| Revenues | $36.4M | $36.25M |
| Earnings Per Share | $0.06 | $0.05 |
| Gross Margins | 57.5% | 56.5% |
| Cash Flow | $4M | $3M |
| Debt Reduction | $4M | $3M |
Chart: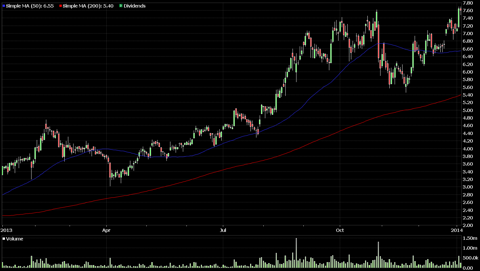 On Friday, AudioCodes made a new 52 week high, popping above its recent trading range. It is poised to make a move higher on a confirmation of this breakout with the next stop being $9.75.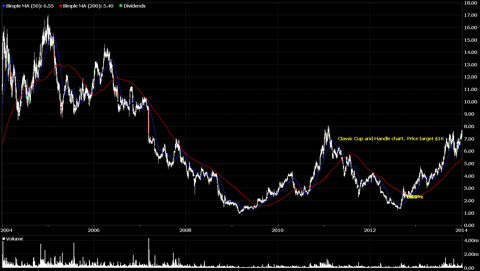 Looking at a long term chart of AudioCodes we can see a text book cup and handle pattern along with an inverse head and shoulders pattern both very bullish patterns. This chart is one of the best charts I've seen and its only a matter of time before technical traders are all over the stock. The next move higher by AudioCodes should last 6 to 9 months and should take it to $14-$15.
Acquisitions:
Over the past year we have seen a number of acquisitions in the United Communications (UC) space. We saw Oracle's (NYSE:ORCL) purchase of Acme Packet, Sonus Networks (NASDAQ:SONS) purchase of Performance Technologies and a merger between Mitel (NASDAQ:MITL) and Aastra. In September, 2013 Genband purchased Fring, an Israeli Over the Top (OTT) provider for $50 million. From what I'm hearing, AudioCodes has a superior OTT offering than Fring's and as a pure play in the UC space, I believe that AudioCodes is on the radar screen of a number of companies including Dell, Microsoft, Hewlett Packard and Polycom (NASDAQ:PLCM).
Upcoming Conferences:
AudioCodes will be busy on the PR front over the next two months as it attends a number of conferences. Up first is Needham's 16th Annual Growth Conference on January 14th - 16th. AudioCodes' presentation will hopefully bring it to the attention of institutional investors. In February, AudioCodes will attend Microsoft's Lync Conference, February 18th - 20th in Las Vegas and the Mobile World Congress, February 24th - 27th in Barcelona. At these conferences, we should expect some announcements out of the company with regards to Lync deals and its mobility platform.
2014 Estimates:
| | | |
| --- | --- | --- |
| Full Year 2014 | My Estimates | Street Consensus |
| Revenues | $152 - $155M | $148.6M |
| Earnings Per Share | $0.25 - $0.30 | $0.20 |
| Gross Margins | 58% - 59% | |
| Cash Flow | $11 - $15M | |
Conclusion:
AudioCodes initiated a turnaround in late 2012, it then set the stage with a return to profitability and a solid game plan in 2013. I believe that as we enter 2014 it is now ready to deliver concrete results with it being strong in Lync, UC and networking, while its legacy business is under control at less than 15% of revenues. To my loyal Seeking Alpha followers, I'm the most enthusiastic and excited about the stock since we have owned it and I believe that AudioCodes is set for its best trade yet as we see a move to $14-$15.
Disclosure: I am long AUDC, . I wrote this article myself, and it expresses my own opinions. I am not receiving compensation for it. I have no business relationship with any company whose stock is mentioned in this article.