Sears Holding Corporation (NASDAQ:SHLD) is still a highly overvalued retail company with deteriorating fundamentals on all levels in a competitive environment with slowing growth prospects for this individual company. Below is our introduction into the business model, the company's weaknesses, and the new selling or shorting opportunity that exists for Sears Holding Corporation while the company is still in business. Investors will soon realize that there is no value in this company as it has missed analyst expectations the last 4 years. The company is now amidst a major struggle as asset sales and spin-offs continue to affect operations. The company is in no position to thrive going forward. Sears Holdings has a market cap of $5.22 Billion and reports its next quarter around February 26, 2014. With this in mind, we value SHLD at $40.00 by June 1, 2014 and $20.00 year-end 2014, a decrease of 59% from current levels.
We hope that potential investors are presented with a thorough and comprehensive view of Sears Holding Corporation, and at the end can look at the facts presented in order to support a decision to sell shares in the company. The discussion begins with an overview of the Sears business and the significant changes that have occurred over the course of the last year. We will later highlight:
1) Better understanding the struggling SHLD business model
2) The failed opportunities and investments for SHLD
3) The economics of the SHLD business and company overview
4) Recent struggles and consumer trends for the future
5) Cash/Valuation to peers
Sears Holding Corporation in Layman's Terms
Sears Holdings Corporation operates as a specialty retailer in the United States and Canada. The company's Kmart segment operates stores that sell merchandise under Jaclyn Smith and Joe Boxer labels and Sears brand products, such as Kenmore, Craftsman, and DieHard. The Sears stores provide appliances, consumer electronics, tools, sporting goods, outdoor living, lawn and garden equipment, home fashion products, apparel, footwear, jewelry, accessories, health and beauty products, pantry goods, household products, and toys, as well as automotive services and products.

Continued Struggles for Sears in 2013 - No Turnaround Likely in 2014
There are over 4000 Sears and Kmart retail stores in the US and Canada, yet Sears continues to struggle to achieve profitability. Struggling sales, poor management decisions, and no clear attempts to improve branding strategies have led to major declines in the company's share price recently. Sears has reported dismal earnings this year, posting large net losses down from a profit in the first quarter of 2012. The steep slide far exceeded analysts' consensus estimates. Revenue has dropped over 6%, while unfavorable weather was partly to blame for soft sales of spring seasonal merchandise, it fails to account for the overall weakness.
Sears continues to be a tough situation: For 2013, the company reported a year-on-year same-store sales decline of 3.2%, which means that there have been seven straight years of same-store sales declines. The company took a $3 billion loss in fiscal year 2012, and is expected to lose considerable amounts at least through fiscal 2016. The company has been able to survive over the past few years mainly due to sales of real estate and other assets. Massive store closures, especially at Kmart, and tighter inventory controls have also helped. Yet Sears lacks the one thing it truly needs to bounce back: a viable plan to reverse seven consecutive years of declining same-store sales. This is a very similar situation to the one that J.C. Penney (NYSE:JCP) has faced, and we believe that shares will continue to decline over the course of 2014. The following reasons are why Sears Holding Corporation will continue to struggle:
CEO Edward Lampert's goal is to slowly sell off pieces. When looking at this past year's results, there is further proof that too many pieces have been removed from the Sears portfolio and the remaining structure may be too weak to exist as a viable economic model. Further asset sales of profitable stores/divisions like Lands' End will not lead to the company's salvation, but instead, add to the long-lasting struggles.
Sears most recently reported another disappointing quarter, with EBITDA losses hitting new highs and cash flow declining even more, as the company continues to lose share in its core retail operations. There was nothing positive to pull out of the report, with even apparel turning negative again, and JCP giving up less share than past quarters. Sears seems to be operating extremely poorly, with very strong results from its most direct competitors Home Depot (NYSE:HD) and Lowe's (NYSE:LOW), while Sears reported negative comps and larger losses.
The retail outlook for Sears remains challenging. Starting with Canada, it is selling off some of its best locations in the country, raising the issue of whether the Canadian operation will gradually close and try to monetize the remaining real estate. In Canada, Target (NYSE:TGT) and Nordstrom (NYSE:JWN) expansion offers an out for Sears Canada, something that is not available in America. At Kmart, the only good news is that the comparables decline is not that steep. Wal-Mart (NYSE:WMT) has waged a price war and that will not make sales and margins easy for Kmart's Q4. The Kmart division is the most challenged at this point.
Cash flow was also surprisingly weak in 2013. It appears that despite generating over $300 million from lower inventories minus the impact in payables y/y, cash flow usage was ~$1.6 billion through Q3 of 2013, an amazing loss of cash in a nine month period.
Sears plans to spin off Lands' End and when this was announced, the stock traded higher. The spin-off announcement should point to a number of negatives instead of positives, including an inability to find a buyer, when Lands' End planned to be an asset that the company would monetize. Lands' End's numbers have been weak, with EBITDA having declined by 50% in a two-year period, a period where JCP was losing tons of market share as a competitor. This segment should have had stronger results. EBITDA fell from over $200 million in 2010 to $107 million by the end of 2012. And without Lands' End, potential investors can add another $100 million to the EBITDA loss projection. In 2012 when Sears had positive EBITDA, Lands' End was about 25% of the combined results.
Yes, Sears can sell off more and more profitable businesses, but to what extent. The bulls continue to point to the underlying asset values, but this too needs to be questioned at this point. If the assets have so much value, and now that JCP is giving up less market share, why does the company continue to operate given it is losing about $1 billion a year from its operations?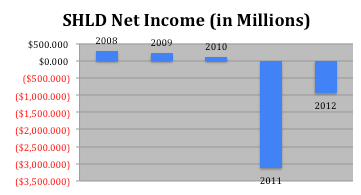 Focusing on Sears Holding Corporation Financial Situation - And the Remaining Pieces of the Puzzle
Sears' fundamental stock quality is worse than its peers. This is mainly due to weak revenue growth, decline in net income, poor profit margins, and weak financial standing relative to its peer group. Though Sears' results haven't been as poor as J.C. Penney's, the retailer has been experiencing a similar decline in fundamentals.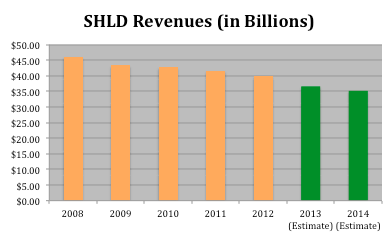 Over the past four fiscal years, revenue at the company has dropped 9.5% from $44 billion to $39.9 billion. Meanwhile, the company's net income has dropped from $235 million to a net loss of $930 million. The company is also carrying a significant amount of debt, as well as substantial pension fund liabilities. Sears has an equity to debt ratio of 0.26, which is lower than the industry average of 0.67, indicating weak financial standing relative to its peer group. Additionally, interest coverage ratio of -0.83 is lower than the industry average of 3.11, indicating the firm's weak ability to meet its short-term obligations.
Over the course of 2013, the situation has only become worse, as demonstrated by the 6.6% drop in revenue from $8.9 billion in the third quarter last year to $8.3 billion this year and the company's net loss has widened from $498 million to $534 million.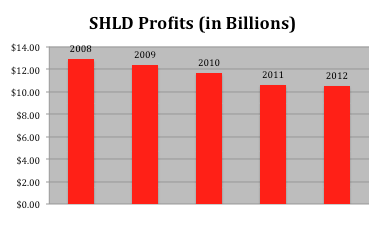 Kmart Revenues and Comparable Store Sales
Kmart's revenues decreased by $718 million to $14.6 billion as comparable store sales decreased 3.7% in 2013. The decrease in revenue was due to the impact of Kmart having fewer stores in operation during 2013. These declines were also partially offset by the inclusion of approximately $190 million of revenues recorded in the 53rd week of the fiscal year.
The decrease in comparable store sales of 3.7% reflects decreases in a majority of its categories such as consumer electronics, pharmacy, grocery and household, and drug store categories. Excluding the consumer electronics category, Kmart comparable store sales decreased 2.8%. The large decrease in consumer electronics sales continue to be negatively impacted by lower price points as well as market shifts to smartphone technology and away from digital cameras, GPS devices, MP3 players and camcorders. The decrease in the grocery and household category was due to competitive pressures in this category.
Sears Domestic Operations
Sears Domestic's revenues decreased by $672 million. The decline in revenue is mainly due to the impact of having fewer Sears full-line stores in operation. The separation of the Sears Hometown and Outlet businesses resulted in a net decrease in revenues of approximately $100 million.
The decrease of 1.4% in comparable store sales was driven by decreases in the consumer electronics, lawn and garden and home appliances categories, as well as at Sears Auto Centers. Electronics continues to be negatively impacted by pricing, as well as market shifts such as moves to smartphone technology and away from digital cameras, GPS devices, MP3 Players and camcorders.
Sears Canada
Sears Canada's revenues decreased $323 million for the year. Revenues decreased predominantly due to a 5.6% decrease in comparable store sales because of poor sales in the tools, lawn and garden, electronics, bed and bath, women's apparel and menswear categories.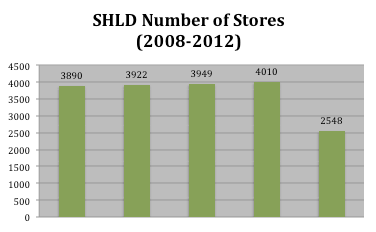 The Most Recent Quarter
Sears Holdings reported a third-quarter net loss of $534 million or $5.03 per share, compared with a prior-year loss of $498 million or $4.70 per share
The company reported an adjusted loss of $306 million, or $2.88 for this quarter
Revenues fell 6.6% to $8.27 billion, which was less than the $8.4 billion projected at the beginning of the quarter - Domestic same-store sales declined 3.1% from the prior-year quarter
Sears Domestic was down 4%, while Kmart was down 2.1%

One of the largest concerns for SHLD is the significant decline in Sales Growth and Same Store Sales over the course of the last year, and the high rate at which it is occurring. The company's current strategy is failing and trying to transition at this point could be devastating over the course of the next two years. The company has sold off some of its most profitable assets and is attempting to sell off property and other real estate holdings that it considers damaging to the overall business. The Sales Growth of -4.12% Sales Growth is just the beginning of a negative trend for Sears Golding Corporation and we believe that the company is heading in the direction of a J.C. Penney as opposed to a Wal-Mart.

To determine SHLD earnings quality, investors can look at operating cash flow. The quality of the most recent earnings was very poor overall, negative. This is not a good situation for the company to be in for a long time. At some point, the banks will stop lending and want to be repaid and right now SHLD has some long-term debt that will need to be dealt with in the future. The negative cash flow also indicates that there is a fundamental operating problem: either inventory is not selling or receivables are not getting collected. "Cash is king" on Wall Street, and companies that don't generate cash are not around for long. SHLD will continue to struggle going forward and is stuck in a position that requires some cash to improve.

The use of leverage can be a double-edged sword for companies. In the case of SHLD, the company has tried to generate returns above its cost of capital, for investors' benefit. However, with the added risk of the debt on its books, this is a company that has been hurt by this leverage and is unable to generate returns above the cost of capital. The company's losses have been and will continue to be magnified by the use of leverage in the company's capital structure. With $2.86B of long-term debt and a large debt to equity ratio of 1.53, SHLD will need to significantly overhaul the capital structure in order to become a sound investment.

Obviously when looking at these measures, SHLD is struggling on all fronts. When specifically focusing on the ROA of -7.54%, the company is failing when it comes to the operating efficiency for the company based on the firm's generated profits from total assets. The negative ROE of -52.34% shows the poor performance in terms of the shareholders rate of return on investment in the company. The ROI of -14.57% shows the firm's failing efficiency in utilizing invested capital. These are not the numbers investors want to see for a supposed "turnaround story" and the trends look even worse for the future. Again, these are trends that are following in the footsteps of a J.C. Penney, and even recent asset sales and improved liquidity measures are not helping the company significantly.
So Who is Shopping at Sears Holdings? - A Similar Story to the Struggles at J.C. Penney
Retailers love two things in a customer base: Youth and Money. Nearly 43% of the people shopping at Sears' 4,000 or so stores are older than 55. In comparison, only one-quarter of high end retail competition customers fall into that same demographic. At closer competitors, Wal-Mart and Target, just 28% of customers are older than age 55. Only 21% of Sears customers are under the age of 35, while 29% of the crowd at Wal-Mart and 36% of Target's customers fall in that age demographic.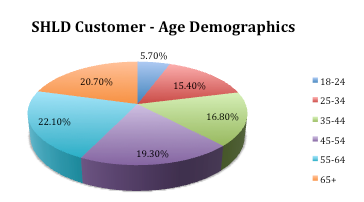 When looking at the spending habits and income levels of SHLD customers, there are some interesting facts as well. Only 10.2% of its shoppers have an annual household income of more than $100,000. At competitors Kohl's (NYSE:KSS), Target, Wal-Mart, and Macy's (NYSE:M), the target demographics are much stronger. At the other end of the spectrum, 27.5% of Sears customers make less than $35,000 a year, compared with 19% at Target and 20% at Macy's.
Sears Holding Corporation Management and Looking Forward
While the deterioration at Sears appears similar to the situation at J.C. Penney, the underlying reasons for Sears' decline are slightly different. After a poorly conducted merger with Kmart in 2005, Sears began seeing its revenue decline because of financial mismanagement. This can be blamed on Eddie Lampert's belief in cost savings at the expense of investing in the company's operations.
Sears is stuck in the middle of a department store market that has separated into high-end and low-end competition. As a mall-based mass merchant (like J.C. Penney), Sears has failed to specify a niche and identity necessary to compete with high-end rivals like Nordstrom Inc., Macy's, and Saks Inc. (NYSE:SKS). Its mall-heavy real estate portfolio has suffered as customers have moved to stand-alone big boxes like Target Corp., Wal-Mart Stores Inc., and Costco Wholesale Corporation (NASDAQ:COST).
Troubled Outlook
Customer traffic depends upon the company's ability to successfully market merchandise as well as present an appealing shopping environment and experience to existing customers and new customers. In fiscal 2012, store customer traffic significantly decreased and that trend continued into 2013. The new strategy has not only pushed away old customers, but also failed to attract new customers. With increased competition from Wal-Mart, Target, and Costco, eBay.com (NASDAQ:EBAY) and Amazon.com (NASDAQ:AMZN), among other online marketplaces, maybe SHLD has become the Best Buy (NYSE:BBY) of the consumer retail segments as simply a showplace for the competitors and other online retailers.
Another major issue for SHLD lies in the ability to manage appropriate inventory levels and respond quickly to shifts in consumer demand patterns. The company has continued to overestimate customer demand for products and will likely need to record inventory markdowns and move the excess inventory to be sold at clearance prices, which would negatively impact gross margins and operating results.
This will also impact financing for the future. If the company fails to produce better results in the near future, lenders will continue to develop a negative perception of the company and SHLD may not be able to obtain additional financing, on favorable terms or at all. Eddie Lampert has chosen to run the company as a financial asset rather than a retail business. Slipping sales, questionable strategies, and tight finances doesn't warrant investment in this company unless it turns profitable or shows signs of a turnaround.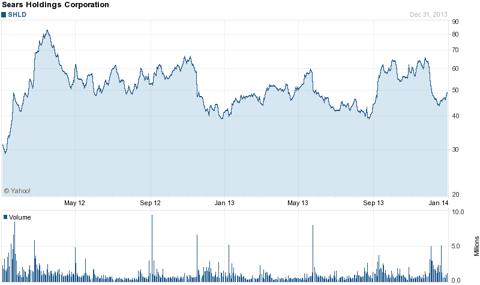 What Investors Need To Know
Sears Holdings Corporation faces serious competitive challenges and those pressures are well recognized by the market. Although the company has high-quality brands, including Kenmore, Craftsman, and DieHard, we believe that the company will continue to struggle with profitability and the productivity of its assets. On the negative side, Sears faces stiff competition on every front, at a time when consumers are not sentimental about where they shop. The company has very good brands, but we think that consumers could find adequate replacements from Stanley Black & Decker (NYSE:SWK), John Deere (NYSE:DE), General Electric (NYSE:GE) and L.L. Bean. Lowe's corporation hopes to unseat Sears as the number-one seller of appliances in the near future. Best Buy is also working to gain market share in appliances as it defends its leading position in consumer electronics. We still believe that Sears has substantial real-estate value, but there may not be as many potential buyers as there once were. We also believe that the supply of mall-based store space could exceed demand for the next several quarters, if not for years. In the end it is also a problem when one of the largest values to be found is the real estate and not the operation of the business.
Sears Holding Corporation reports the next quarter around February 26, 2014 and will give a clearer picture on the overall retail market and trends going forward. Investors need to consider the potential long-term lingering effects from current management's decisions.
In the end, Sears Holding Corporation is still a highly overvalued retail company with deteriorating fundamentals on all levels in a highly competitive environment with slowing growth prospects. We presented a struggling and confused business model, weaknesses, and the continued selling or shorting opportunity that exists for Sears' shares as the company attempts to make a turnaround. Investors will soon realize that there is little to no value in this company and that there are much better opportunities in this retail space. With this in mind, we value SHLD at $40.00 by June 1, 2014 and $20.00 by year-end 2014, a decrease of 59% from current levels.
Disclosure: I have no positions in any stocks mentioned, and no plans to initiate any positions within the next 72 hours. I wrote this article myself, and it expresses my own opinions. I am not receiving compensation for it (other than from Seeking Alpha). I have no business relationship with any company whose stock is mentioned in this article.
Additional disclosure: AlphaStreetResearch is a team of Investment Research Analysts. This article was written by Mr. Hunter Orr, Director of Research, with research assistance from Mr. Aaron Zander, Junior Research Analyst.