Annaly Capital (NYSE:NLY) investors are well-aware of the real estate relative security's troubles in 2013. The mortgage REIT came up against a headwind of concern about Federal Reserve fueled rising interest rates and an aging and changing asset portfolio that led to lower dividend payouts and security price decline. However, with the New Year comes new opportunity that I expect will be born of a shift in capital flows. We have already seen evidence of it in the first two days of trading, within which NLY held its ground while the SPDR S&P 500 (NYSEARCA:SPY) fell by a percentage point. Given that the mREIT trades at a discount to book value already, it might continue to preserve territory more meaningfully moving forward. It may even appreciate as capital flowing out of the richly rewarded stocks of 2013 finds new destinations in securities like NLY.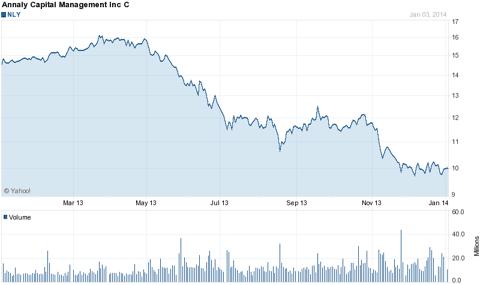 As you can see via the chart here, NLY declined significantly in 2013. Precisely speaking, the mortgage REIT fell by 20% after adjusting for dividends, which are important for this company. Likewise, fellow mortgage REIT, American Capital Agency (NASDAQ:AGNC) fell by a dividend adjusted 25% last year. However, the SPDR S&P 500 gained by an adjusted 32% on the year. Now, as the year turned so did the tide apparently, because while the broader market is down through the first two days of trading, the beaten down and forgotten mREITs have posted gains.
| | | |
| --- | --- | --- |
| Security | 2013 Adjusted Performance | Year-to-Date |
| SPDR S&P 500 | +32% | -1.0% |
| Annaly Capital | -20% | +0.3% |
| American Capital Agency | -25% | +1.6% |
In a recent article, I discussed how tax consequences should affect the broader stock market, recommending investors sell the SPY on high. In another piece, I talked about one place capital seems likely to continue to run to over the short-term, gold and relative securities like the SPDR Gold Trust (NYSEARCA:GLD). Likewise, I expect Annaly Capital and hard hit mREIT peers like American Capital Agency could benefit from capital inflows after tax loss selling in these shares exhausted itself in 2013.
Now, in contrast, investors may be selling other stocks now in which big gains have accumulated. They would do so in order to push forward tax responsibilities to the start of this year so as to avoid paying taxes on capital gains until 2015. Sellers of securities need a new place to park money, and one perfect spot might be the beaten down, dividend paying and deeply discounted NLY. There are few options, given that a great breadth of the market appreciated in 2013 and thus falls into the same tax pool. That was evidenced by the fact that only 38 of the S&P 500 stocks declined on the year, and the fact that even the poorest performing stock sector, telecommunications, appreciated in 2013.
NLY is also an option for capital now because the factor that drove it lower all year - fear that the Fed would sharply alter its monetary policy, has faded. The Fed acted brilliantly when it offered a very measured start to tapering and qualified future increases to flowing economic data. I talked about how investors seem to have over-penalized the security in my article, The Annaly Capital Paradox. Therein, I suggested that the security's rise on the day of and days after the Fed action were contrary to what most had expected would occur, and that the Fed should be credited for its navigation around the sensitive issue as a result; at least in how it enacted tapering. The way it went about getting there in the months before the actual action was still questionable though and cost securities like NLY.
NLY trades at 0.8X book value, a discount which may already adequately incorporate future dividend cuts. If so, the security value may hold here or rise, especially given the favorable tax driven capital flow factor working against the market now and in NLY's favor; and also because 2013 tax loss selling is over in NLY itself. So, NLY shareholders who have suffered as the tide went out but held on to the real estate relative security anyway, may now benefit as the tide returns in 2014.
Disclosure: I have no positions in any stocks mentioned, and no plans to initiate any positions within the next 72 hours. I wrote this article myself, and it expresses my own opinions. I am not receiving compensation for it (other than from Seeking Alpha). I have no business relationship with any company whose stock is mentioned in this article.