Last year on June 6, I wrote an article called Asset Play: Frisch Restaurants, Inc (NYSEMKT:FRS). Since that day the stock has surged ~59% and left the general market far behind. My original thesis relied heavily on the safety of understated book value. The company itself is a mediocre holding at best.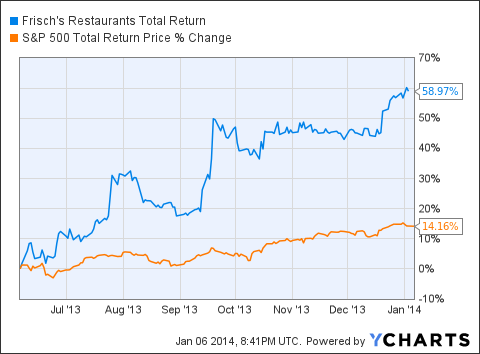 FRS Total Return Price data by YCharts
At the heart of the original thesis there is the company balance sheet that carries 95 restaurants and a warehouse location.
All of the Company's Frisch's Big Boy restaurants are freestanding, well-maintained facilities. Older restaurants are generally located in urban or heavily populated suburban neighborhoods that cater to local trade rather than highway travel. A few of these restaurant facilities are now more than 40 years old. Restaurants that have been opened since the early 1990's have generally been located near interstate highways.
The restaurants are carried on the balance sheet at cost and subsequently subjected to years of depreciation and amortization.
On average, the approximate cost to build and equip a typical restaurant currently ranges from $2,500,000 to $3,400,000.
Accumulated depreciation and amortization adds up to $118 million. Net property and equipment ends up being only $102 million. For 95 locations that cost an average $3 million to build and equip that's not a steep number. Especially given that the company weeded out and sold underperforming locations over the past few years.
Still, the stock has run up 60%. At the time, I wrote my original article price to book ratio was only 1.1 and this has gone up to 1.5 now. An investment doesn't come at the same level of safety anymore.
Circumstantial Evidence
Peter Lynch wrote in his classic: "One Up on Wall Street": "There's no better tip-off to the probable success of a stock than that people in the company are putting their own money into it."
There is no book or investor who had such an impact on how I evaluate insider buying. He added to the above that the thing he likes most is to see a wide range of officers (with normal wages) buying heavily into their own company. I have to add that the family company has a CEO and a marketing officer with large holdings, none of the insiders receives an excessive salary.
Over the last year, insiders have been adding to their positions and that's true for a wide range of officers within the company. Check the stats out on Morningstar.
Royce Special Equity Investment, a small-cap value fund managed by Charlie Dreifus owns almost 10% of Frisch. The fund is operating based on a classic value approach a la Benjamin Graham as well as the accounting cynicism of Abraham Briloff, a professor at the City University of New York, who published several books on financial accounting practices. In total Royce Funds (which are generally headed by savvy managers in my experience) own 25% of the company.
In 2012 the board authorized the company to buy back up to 450.000 company shares. About which the CEO remarked:
"It reflects our belief that the current share price represents a significant discount to the intrinsic value of the Company and that our stock is an attractive investment opportunity."
Margins
In the original article I addressed operating margins that have been quite low historically, compared to competitors, although I did argue the low levels left room for improvement.
I also noted that CEO compensation is tied to earnings before tax and the CEO is especially motivated to get margins to a 5% level according to the company's latest proxy statement.
I expected management to attempt to improve operating margins significantly and expected this could be a catalyst for the wider market to discover the value of the stock. Well the CEO succeeded into getting margins to that 5% level. Perhaps it was the catalyst to unlock the value in the stock, who knows? In any case, with this goal attained and the market having revalued the company, there is little firepower left in my original thesis.
Buy and Hold
Actually I do try to invest for the long term. However, sometimes you get lucky and a scenario plays out quickly and to your advantage. The catalyst has played out, with margins improving according to plan. The downside protection is gone...
What is there left to hold out for? Well, according to the company's most recent 10-K, "The company has reported a profit every year since going public in 1960." Frisch's added, "Through July 10, 2012, the Company has paid 206 consecutive quarterly cash dividends during its 52-year history as a public company. The Company currently expects that regular quarterly cash dividends will continue to be paid for the foreseeable future."
In addition there is a stock buyback policy in place. Perhaps there won't be a lot of growth potential but management does return a lot of the cash it generates to shareholders. Royce is still a large shareholder and even in the last few months, insiders have been buying.
Valuation
When I set up a discounted cash flow model to value Frisch, even with generous assumptions, I can't get net present value much above $20. I'm assuming the company doesn't have a competitive advantage (as I can't identify one) and discounting against the S&P 500 historic return.
Conclusion
At this time I much prefer other options to Frisch. For example here are 5 reasons to buy into the story about McDonald's (NYSE:MCD), but there are also other interesting options outside of the restaurant industry. Frisch ran up ~60% according to the original thesis. Now the downside protection is not as strong and there is no serious growth story, a DCF model shows the stock to be overvalued, it's time to look for better risk/reward prospects.
Disclosure: I have no positions in any stocks mentioned, and no plans to initiate any positions within the next 72 hours. I wrote this article myself, and it expresses my own opinions. I am not receiving compensation for it (other than from Seeking Alpha). I have no business relationship with any company whose stock is mentioned in this article.