It's Wrong to Like Mortgage REITs
I started looking into REITs because back in early 2013 it seemed like they were starting to melt down. Like Emperor Palpatine in Star Wars, I could feel the hate and fear in the market.
I also quickly learned from Brad Thomas that:
"Mortgage REITs are extremely sensitive to market conditions and rates as they employ leverage from 5 to 9x and require constant repurchase agreement financing."
With the threat of rising rates, mortgage REITs seemed toxic to me. They still freak me out. I won't be looking in that space any time soon.
But, equity REITs are not the same as mortgage REITs. Once I figured that out, everything started to fall into place with my research.
My money won't flow into mortgage REITs any time soon. (NYSE:DX) and (NYSE:NLY) pop up from time to time on my radar, but I shall stand firm. They will continue to get "The Heisman" from me. Stay back. Talk to my hand, because I'm not going to listen.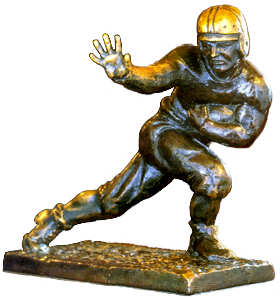 It's Right to Investigate Equity REITs
I started finding value in Ventas, Inc. (NYSE:VTR), Healthcare Trust of America (NYSE:HTA), Omega Healthcare Investors (NYSE:OHI) and a few other equity REITs.
They seemed to have been unfairly punished by the market. I also found out that I had been overlooking REITs in general on David Fish's Dividend Champion spreadsheet. Companies like NHI, WPC, HCP and others started catching my eye for their long-term dividend growth and their relative value given the punishment from Mr. Market.
For the most part, I had ignored REITs simply because they seemed overpriced to me. But, I wasn't using the right metrics. Without getting into all the details, using ratios like P/E is nearly useless whereas using funds from operations is much more appropriate. And, I found this FASTgraphs video which helped me enormously:
Not only does it explain how to use Fast Graphs to quickly analyze REITs, it also gives suitable background for understanding FFO and P/FFO.
In any event, I went back to David Fish's Dividend Champion spreadsheet and started looking closer. Before long, I landed on Digital Realty Trust (NYSE:DLR). It was actually the highest rated REIT that I found using my "Super Dividend Champion" approach; see an example here.
The 35,000 Foot "Brain Dump"
I spent at least 9-10 hours heads down reading everything possible about DLR. I specifically focused on original source documents like 10-Qs, 10-Ks, earnings call transcripts and the like. I also read quite a few articles.
Then, on an airplane, I furiously scribbled notes on the back page of The Manual of Ideas by John Mihaljevic, an excellent book in case you were wondering. It was the only place I could find to write my notes!
This was the result: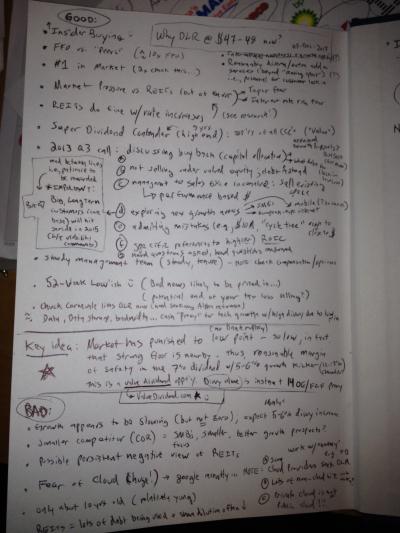 Below is an easier to read, consolidated version of those notes.
The Bad
Growth appears to be slowing. Management stated as much in the 2013 Q3 earnings call although that appears short term.
Smaller competitors like COR are moving fast. They are working hard to win market share from DLR.
All REITs are being lumped together. They are seen as poor investments going forward due to tapering and rising interest rates.
The cloud will kill DLR. (Read my rebuttal here.)
DLR is relatively young. It's about 10 years old.
REITs always use a lot of debt; I don't like debt.
Some people might say that a low share price is a bad thing. However, since I bought DLR at just over $45, I'm thrilled with the low price. My margin of safety is higher and my yield is higher.
I'm not worried much about growth. Even at 4-6% in 2014, DLR is moving in the right direction and the roadmap into 2015 and beyond is positive. DLR isn't dying off, or decaying.
Smaller companies are a threat, and they will always be a threat. But DLR has a moderate moat because they provided excellent value added services that are somewhat difficult to replicate, they custom build space for their customers and control that part of the value chain, and they are staying on top of technology change better than anyone (e.g., Digital Open IX).
DLR is young, but they have paid growing dividends for 9+ years now. That means they made it through the financial crisis while paying higher and higher dividends.
The Good
Insider buying has been happening since August 2013. I haven't seen any selling during that time.
P/FFO is about 9 right now compared with a normal P/FFO of around 12.
DLR is a market leader. They are large and old, comparatively speaking.
DLR management tenure has been good. Michael Foust has been there from the start.
DLR's videos on YouTube do a great job explaining DLR's value, how they operate, why customers love them, etc.
DLR authorized a stock buyback program, although they are unlikely to execute any time soon (boo, hiss!)
They are exploring and starting to execute growth opportunities in mobile, SMBs, and Digital Open Internet Exchange.
When I bought at about $45, I was getting in near the 52-week low for DLR.
Management put new performance-based incentives into place to drive up sales and leasing up of inventory.
Management has mentioned ROIC several times in recent past, for example in the Q3 2013 earnings call. They're using data and metrics to track progress, not wishes and hopes and loose ideas.
DLR continues to get more and more shareholder friendly with greater visibility into current leases, future leases, incentives, lead times, cycle time, investments, capital allocation and more.
Chuck Carnevale singled out DLR here.
There's actually more but I trust that those 12 points above give you a clear idea about why I got excited, and where my head was at in late 2013 as I scribbled my notes.
Now, here's what really made my brain explode: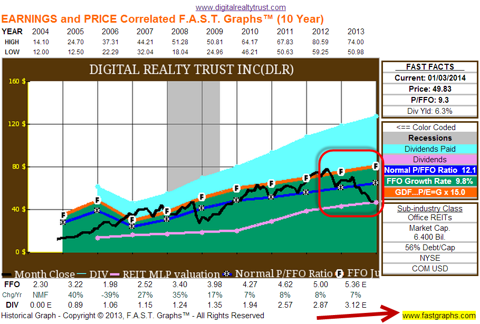 I have still not seen a REIT nearly this strong with this much price punishment. It's deep into the green, indicating it's undervalued.
I understand the future might not be as bright as the past and growth might be slowing, but this level of punishment looked insane to me. This is why I invested at $45 in late 2013.
Remember, DLR is not cutting its dividend. It's not going bankrupt. It's not under incredible competitive pressure. It's not obsolete, or slow, or dumb. There's simply nothing I can find that accounts for the dramatic 35-40% haircut.
The Future
Right now, as I write this article, DLR is still under $50 and it seems to represent a price that's below intrinsic value with a very fair margin of safety. We're right around 2008 and 2009 financial crisis pricing.
This was such a "no brainer" to me, that I didn't do any sort of discounted cash flow analysis or anything like that. I looked at the margins, the return on investment, the ratios, and so on. This one smacked me between the eyes.
I'm happy to say I'm already up about 10% in about one month. But, this one isn't speculation. I'm planning to hold this for a while for the capital appreciation and the solid 6.92% dividend I locked in.
Even if the stock doesn't budge, and even if the dividend stagnates, I'm feeling pretty good here. With a $3.12 dividend (which is extremely likely to grow by a bare minimum of 5% going forward), and my purchase price of $45, I'm getting all my money back in less than 15 years. In just 5 years, I'll get almost 40% of my money back, from dividends alone. Again, this assumes no capital appreciation and no dividend increases.
Would I pay $80 for DLR? Not a chance. Would I pay $70? Nope. How about $60? Maybe. At $50, this is still worth investigating if you're on the fence. Do some due diligence. Learn how the CEO can be a clown from time to time. Learn about the possible threat from AMZN and GOOG due to the cloud. But also learn more about DLR's long term plans, their current customer footprint and their market flexibility. If you're "into" REITs but you haven't looked at DLR, now is the time to act before this one gets away.
Disclosure: I am long DLR. I wrote this article myself, and it expresses my own opinions. I am not receiving compensation for it (other than from Seeking Alpha). I have no business relationship with any company whose stock is mentioned in this article.