Sales of Arena Pharmaceuticals' (NASDAQ:ARNA) anti-obesity drug Belviq closed out 2013 on an expected modest note by ringing in consumer sales at a bit over 3,000 according to sales tracking source IMS Health. Symphony Health, another tracking service had sales at just over 3,700. The numbers were modest because the week reported included a Christmas holiday that fell smack in the middle of the week. As 2013 closes in a modest fashion, we look to 2014 for the real potential of the sector.
The weight loss sector already has some bustling happening. Non-prescription weight loss solutions such as Weight Watchers (NYSE:WTW), and NutriSystem (NASDAQ:NTRI) are already hitting the airwaves hard with television ad spots. Weight Watchers went so far as to be the sponsor of the highly viewed 'Dick Clark's Rockn' New Years Eve coverage with Ryan Seacrest. The television coverage featured a sponsored spot during the live event at Times Square as well as advertising during almost every ad break. Certainly, Weight Watchers is looking to capitalize on consumers looking to lose weight with the new year.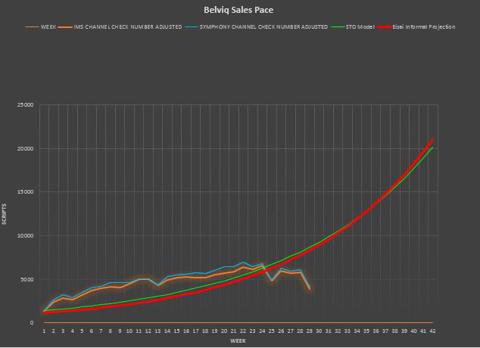 While the activities of Weight Watchers may be frustrating to some Arena investors, I look at it as a positive. Weight loss is getting a lot of attention. That attention can translate to Arena and Belviq over the longer term. Weight loss is on the minds of consumers, doctors, legislators, as well as insurance companies. Arena has a potential solution for obesity with Belviq. It should get a share of the action. The question is how big that share will be. Over time, this attention can only serve to benefit any participant in the sector. That being said, it is important for Arena's marketing partner Eisai (OTCPK:ESALY) to ramp up the exposure to consumers, doctors, and insurers.
As we close out 2013, I have estimated gross sales to consumers at about $27,046,394 million since the launch on June 7th. This number falls well shy of initial expectations, and just shy of the $30 million I have been discussing as the potential in 2013. With a sales goal of about $60 million by March 31st, it would appear that we will need to see sales to consumers of about $11 million per month in the current quarter. That is somewhat of a tall order. That being said, we need to remember that Arena is booking sales revenue at the "wholesale / distribution" level rather than to consumers. Essentially, the mere practice of stocking the shelves can get Arena into the neighborhood of expectations fairly quickly.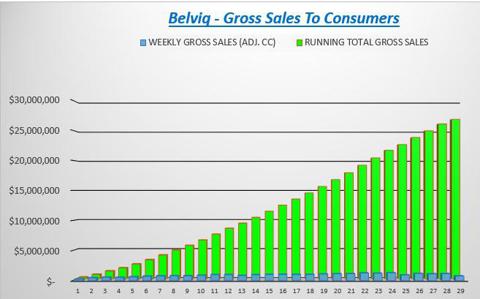 One key element that Arena investors are looking for is television advertising. As yet, marketing partner Eisai has been silent on the matter. There is a lot of speculation that an ad campaign may start here in January, but as of this writing, I have heard of no ads yet.
Moving forward, we need to remember that the script numbers that will be reported on January 10th will include the New Year's Holiday. Essentially, you should expect another modest number before seeing better improvements on a weekly as the months progress. The first half of the year is the best time of the year for weight loss related issues.
Investors will want to watch the insurance industry as well for developments that can be positive for the space. Last week, competitor Vivus announced a better tier placement with Caremark. Prior to this latest development both Belviq and Qsymia required pre-authorization for patients. Getting into a better tier removes that hurdle for consumers. There are to keys to watch for with the insurance sector. One is the number of covered lives. Covered lives is the percentage of insured people that have a benefit. Right now, about 40% of covered lives have an anti-obesity benefit of some sort. A second is the tier of coverage offered. A prime example of this was illustrated with the Vivus (NASDAQ:VVUS) announcement. The new news did not really add to the number of covered lives, but did improve the ability for a group of those covered lives to get a prescription much easier.
Summary
Look for weekly script numbers to become more of a focus two or three weeks from now when the holiday lag has been digested by the market. Between now and March 31st, we want to see week over week climbs of about 5% at a minimum and 10% to show meaningful traction that can meet expectations of $60 million in sales by the end of the current quarter. Follow the sector news, even outside of prescription medications. The anti-obesity space is a big market, and any positive news in the sector can impact the entire sector in a positive way. Active traders will still jump in and out of this equity based on things like technicals.
Disclosure: I am long ARNA. I wrote this article myself, and it expresses my own opinions. I am not receiving compensation for it (other than from Seeking Alpha). I have no business relationship with any company whose stock is mentioned in this article.
Additional disclosure: I have no position in Vivus, Weight Watchers, or NutriSystem.