Carpe Diem, 5 Blue Chip REITs on Sale
As Ralph Block explained in his book, Investing in REITs, "The blue chip REITs take you safely through the ups and downs in the sector's cycles and deliver consistent, rising, long-term growth in FFO (funds from operations) and dividends. Because they are financially strong and widely respected, they will always have access to the additional equity and debt capital that fuels the engine. They will not always provide the highest dividend yields or even, in many years, the best total returns, nor can you buy them at bargain prices - but they should provide years of double-digit returns with a high degree of safety.".
It's clear to see that the blue chip REITs that managed to maintain their dividend payments during 2008 and 2009 should be even better prepared for the uncertain times that are ahead. That's the primary reason that I have been consistently researching the core earnings strength of the equity REITs and looking for those outliers that demonstrate solid credit metrics and durable and repeatable sources of income.
As the overall US economy continues to improve, it's clear to see that REITs are getting stronger today, especially the blue chip REITs. They are like battleships and they are better prepared for the future risks perhaps even stronger after experiencing the effects of the latest Recession. Overall, the blue chip REITs continue to strengthen their portfolios as evidenced by the key metrics or, as we/some say, their vital signs.
The Best Way to Be Prepared for the Times Ahead
As Warren Buffett says:
Only when the tide goes out do you discover who's been swimming naked.
If a stock is priced way over intrinsic value, it may become vulnerable to the "naked man swimming" syndrome. It's true, even blue chip REITs can be a valuable measure of stamina; however, when you overpay for any stock, the outcome can be devastating.
As any intelligent investors know, the "margin of safety" strategy of buying stocks at below their calculated value came from Benjamin Graham, noted economist who is considered to be the Father of Value Investing. Graham's philosophy was framed around the notion that investors must wait patiently for storms to subside, while waiting on a sunnier and more plentiful time to resume investing activities.
As Graham believed, buying companies trading below intrinsic value leaves a cushion for error, thus providing a margin of safety in case your analysis of the stock's value is too high. Because Warren Buffett advises holding stocks for the long-term, an investor with a cheap blue chip stock pick has the luxury of waiting it out until the price goes up again.
Most investors - though not all - should own blue chip REITs. Those seeking a well-established, financially sound blue chip REIT are much less likely to face serious threats that involve deteriorating dividend safety and even cuts (which make any price too high).
In a Seeking Alpha article I wrote last April (2013) I warned that "Blue chip REITs are trading at outrageous pricing levels" and I posed this questions: "Should we wait for a correction before we put money to work?" I closed with this suggestion:
…there is a demand for high quality REITs and intelligent investors should be ready to "seize the day" when there is a fluctuation in pricing.
Guess what? It may be time to "seize the day"
Carpe Diem - 5 Blue Chip REITs on Sale
Dr. Seuss said:
Waiting for the fish to bite or waiting for wind to fly a kite. Or waiting around Friday night or waiting perhaps for their Uncle Jake or a pot to boil or a better break or a string or pearls or a pair of pants or a wig with curls or another chance. Everyone is just waiting.
Simply put, Dr. Seuss was explaining the concept of "seizing the day". Alternatively there also a time when an investor must be prepared to "seize the day" to buy sound securities where he (or she) knows this his (or her) principal is safe and he is getting a fair return on his money. By adhering to a tactical "margin of safety" strategy and investor gains an edge over just blindly buying stocks and it provides assurance that the company will survive during good times and bad.
The most valuable lesson to learn is that getting in at the bottom can produce the highest returns. Accordingly, I look for REITs with consistent profit margins as they can tell me a lot about the impact of future earnings. As I mentioned at the outset, I admire the blue chip REITs since they typically provide the most consistency and are more likely to weather the storms.
My first blue chip REIT is Realty Income (NYSE:O). Trading at $37.93 and a dividend yield of 5.76%, Realty Income has one of the most diversified revenue platforms in the REIT sector. Since May (2013) the shares have fallen from a high of 55.48 and the current P/FFO is 15.8x. That represents "fair value" especially when considering the recent credit upgrade (S&P) to BBB+. Realty Income has paid and increased annual dividends for over 19 years in a row, The company increased its dividend by over 20% in 2013 and the average dividend increase over the previous three years is around 8.4%. Here is a snapshot of the dividend history over the last ten years: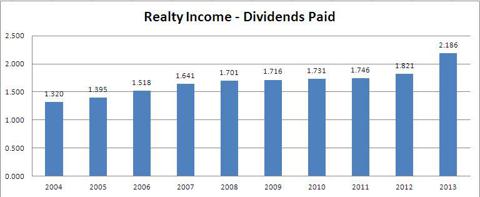 The next blue chip REIT is Ventas, Inc. (NYSE:VTR). Yesterday I wrote an article on the company and the current price is $58.20. Like Realty Income, Ventas also had an S&P credit upgrade recently to BBB+. The current dividend yield is 4.98% and the shares are also trading at "fair" value with a P/FFO of 14.1x. Ventas increased its dividend by over 10% in 2013 and the average dividend increase over the previous three years is 8.5%.

My third blue chip REIT is HCP, Inc. (NYSE:HCP). Although I've gotten cold feet with regard to the CEO drama, I must admit that the shares have become highly attractive at $36.81. The valuation has become almost a bargain at 12.4x P/FFO and the dividend yield of 5.70% is something special. One of deeper concerns has to do with the dividend growth and that's one the primary reasons I favor VTR. In 2013 HCP grew its dividend by 4.8% and over the previous three years the company has grown its dividend by a modest 2.8%.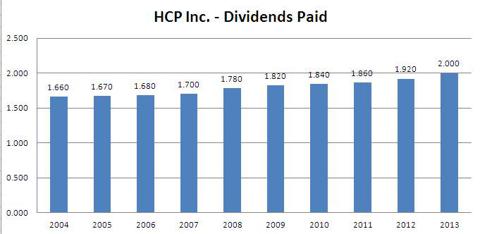 Some would argue that Digital Realty (NYSE:DLR) is not a blue chip; however, I believe that the company's impressive dividend record and conservative balance sheet (BBB) earn the label of distinction. I won't bore you with the history that pushed the shares to the current $49.83 "bargain" valuation level (you can read my latest article here); however, the 10.8x P/FFO is the lowest valuation in the peer group that translates into one of the highest dividend yields (of 6.27%). Digital grew its dividend by around 7.4% in 2013.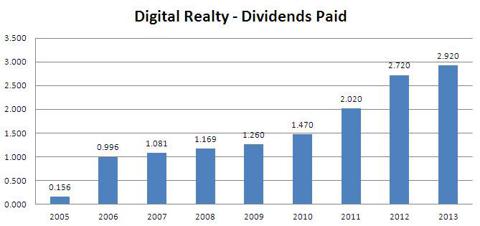 My final blue chip REIT on the list is W.P. Carey (NYSE:WPC). Although somewhat pricey based on current P/FFO metrics (20.1x), Carey is set to close on Carey intends to close on CPA:16 (non-traded REIT) early next year in a transaction valued at $4 billion. The transaction is expected to be accretive to Adjusted Funds from Operations (or AFFO) per share and Carey anticipates that the transaction will allow it to increase the combined company's annualized dividend to a minimum of $3.52 per share. Carey is trading today at $60.92 with a dividend yield of 5.71%. The company's dividend grew by over 11% in 2013 and the average dividend growth over the previous three years was over 7%.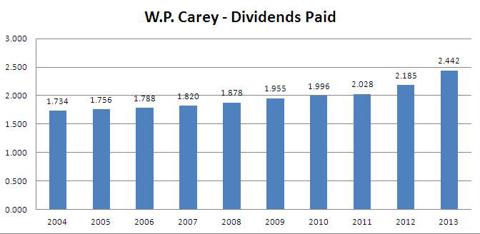 It's not Market Timing, It's Value Investing
It's pretty close to impossible to consistently make money timing, and you are better off investing for the long-term, riding out the bumps. Value investors have the extra security of knowing that they own stocks that have one or more of the characteristics of long-term winners and that they have paid careful attention to investing with a margin of safety.
As Howard Marks (in The Most Important Thing) explains, "risk is the potential for loss if things go wrong" and by owning or investing in blue chip REITs that are bought with a reasonable margin of safety, one should be better prepared for risk or the potential for loss when things go wrong. As Marks" explains:
Great investing requires both generating returns and controlling risk and recognizing risk is an absolute prerequisite for controlling it.
Carpe Diem!

REIT Newsletter: Check out my REIT newsletter and learn more about SWAN (sleep well at night) investing.
Source: SNL Financial.
Disclaimer: This article is intended to provide information to interested parties. As I have no knowledge of individual investor circumstances, goals, and/or portfolio concentration or diversification, readers are expected to complete their own due diligence before purchasing any stocks mentioned or recommended.
Disclosure: I am long O, DLR, VTR, HTA, STAG, UMH, CSG, GPT, ARCP, ROIC, MPW, HCN, OHI, LXP, KIM. I wrote this article myself, and it expresses my own opinions. I am not receiving compensation for it (other than from Seeking Alpha). I have no business relationship with any company whose stock is mentioned in this article.