First Solar (NASDAQ:FSLR) dropped almost 10% yesterday amid Goldman Sachs' (NYSE:GS) downgrade of the solar company from Buy to Sell. Goldman Sachs analyst Brian Lee argued that growth is shifting away from utility-focused solar companies to companies that focus on rooftop solar products. Correspondingly, Goldman Sachs reduced its price target from $62 to $45 per share (a decrease of more than 27%).
Clearly this shift in opinion is quite interesting because the dynamics in the solar industry haven't changed over night and the growth opportunities in the solar rooftop retail market are not new information. The massive reduction in First Solar's price target from $62 to $45 per share also raises questions why Goldman Sachs issued a positive opinion and a Buy recommendation previously.
In my experience, it is best if investors ignored Wall Street analysts altogether since they are usually more interested in selling advice to institutional investors and care little about the retail investor striking out on its own. Moreover, Wall Street analysts are the centre of the herd which, if you are a contrarian investor, should be avoided at all costs. Unfortunately, vast amounts of people listen mindlessly to analysts and sell-offs, just like the one with First Solar, happen as investors merely react to analyst opinions. Fortunately, sell-offs offer a decent chance to pick up a good business with proprietary semiconductor technology at an artificially lower price.
Share performance
First Solar shareholders experienced somewhat of a rollercoaster ride during much of 2013. However, First Solar shares are up a whopping 63% despite yesterday's sell-off.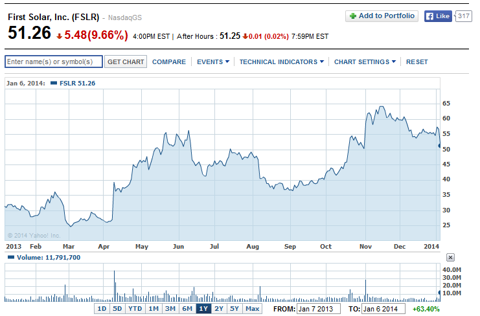 For the two-year measurement period I compare First Solar against a variety of solar companies with similar market capitalizations. Canadian Solar (NASDAQ:CSIQ) gained 1,204% which is the best peer return by a wide margin. SunPower (NASDAQ:SPWR) returned 400% and SolarCity (SCTY) 440% over the same time period. First Solar, however, has been lagging its peers with a still decent return of 45%. SolarCity also just recently made the cut onto Goldman Sachs' Conviction Buy List.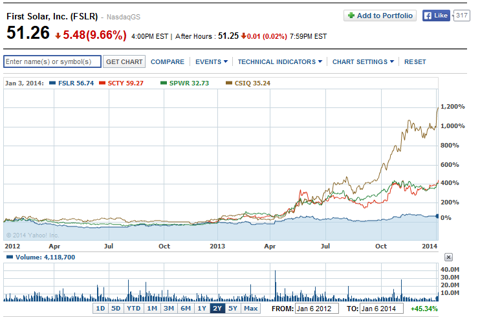 Background
First Solar offers investors now the opportunity to pick up a free cash flow strong company with very decent operating results. The company increased production to 426 MWdc in Q3 2013: Up 10% q-o-q and 8% y-o-y. Q3 2013 net sales came in at $1.3 billion up 143% q-o-q and 51% y-o-y. First Solar's gross profit margin stands at nearly 29% with improvements throughout the year. Q3 2013 net income stood at $195.0 million compared to $33.6 million in Q2 2013 and $59.1 million in Q1 2013. In addition, First Solar has strengthened its balance sheet by reducing debt and increasing its cash position. With decent financial metric growth rates, a better balance sheet, strong incremental YTD bookings and a relatively low valuation for its growth prospects, I find it difficult to comprehend Goldman Sachs' drastic and sudden change of heart for First Solar.
Peer comparison
First Solar just has become 10% cheaper and now trades at 15x forward earnings even though First Solar has achieved much higher revenues, gross profits and net income in Q3 2013. Canadian Solar presently trades at 15.42x forward earnings and SunPower at 27x forward earnings. In terms of P/S ratio, First Solar trades at 1.40x sales which compares to 1.19x for Canadian Solar and 1.54x for SunPower.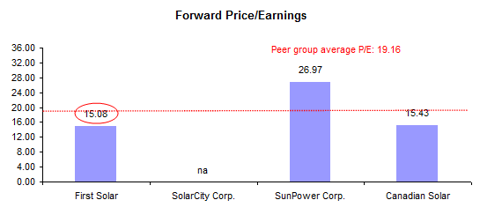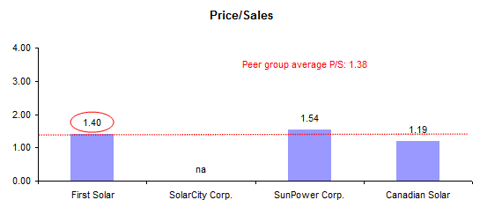 The table below summarizes results for First Solar, SolarCity, SunPower and Canadian Solar.

Conclusion
Any high-growth business model faces challenges and headwinds. First Solar has adjusted its 2013 revenue- but increased its EPS guidance: While 2013 net sales are now expected to land somewhere in between $3.4-3.6 billion (prior: $3.6-3.8 billion), the company has also increased its 2013 EPS guidance to $4.25-4.50 from $3.75-4.25 earlier. First Solar has presented promising Q3 2013 results with strong growth in net sales, operating and net income. The company also improved and strengthened its balance sheet and remains committed to pursue growth opportunities as an integrated photovoltaic solutions provider. Contrarian, long-term BUY.
Disclosure: I have no positions in any stocks mentioned, and no plans to initiate any positions within the next 72 hours. I wrote this article myself, and it expresses my own opinions. I am not receiving compensation for it (other than from Seeking Alpha). I have no business relationship with any company whose stock is mentioned in this article.