In Part I of this series I discussed 3M company (NYSE:MMM), showing the bulk of the surge in price during 2013 was due to an expansion in the trailing PE ratio (from 15x to 22x).
Since the PE ratio is, among other things, a measure of how aggressive and optimistic investors are about a company's future, I suggested this was one piece of evidence that the cyclical bear market was well into its 3rd phase.
A natural question to pose at this point: are there any stocks (in the Dow Jones Industrial Average, to be specific) where the earnings outlook is also bright but which have not seen a surge in trailing PE? These might be "diamonds in the rough;" companies delivering earnings (and dividend) growth that so far have not caught the attention of investors.
There were a couple contenders: Cisco Systems (NASDAQ:CSCO); International Business Machines (NYSE:IBM); Coca-Cola (NYSE:KO) and United Technologies (NYSE:UTX). I chose Cisco as my example. The chart below shows why. Notice that even though CSCO earnings have fully recovered from softness during the crash and tech adjustments caused by delayed orders for routers, the trailing PE remains at levels typical of periods when the share price was on the cusp of a major advance.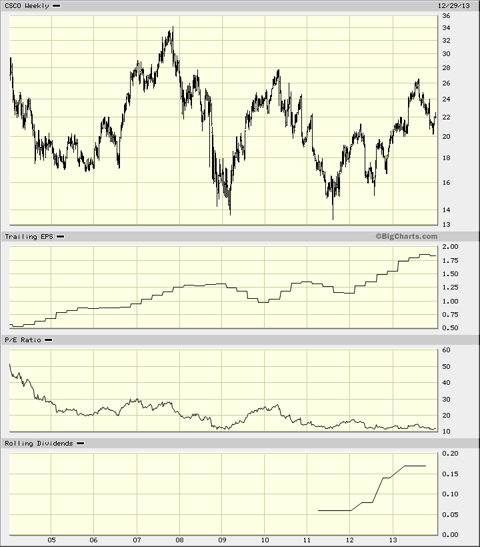 source: www.bigcharts.com
My point in showing this chart is not merely to suggest CSCO is an attractive purchase at these prices, although I do, in fact, believe that. As the Value Line Investment Survey states, the company is doing very well managing factors under their control. Once the world economy picks up steam EPS growth should pick up smartly. Crank a more typical PE ratio of 17x those higher earnings and see what stock price you get!
Rather, I wish to point out CSCO shows there is still evidence investors clamor for growth/tech/internet stocks has not reached fever pitch. Since such "buy at any price" manias are typical of the third (and final) stage of bull markets, we can conclude that there is more mettle still left in this bull market before we get concerned about excessive valuations and rampant bullishness. In the next few articles of this series I will look at other market based statistics and indicators which might give us a clue about how much time this cyclical bull market has left.
Disclosure: I am long SPY, IHI, XLV. I wrote this article myself, and it expresses my own opinions. I am not receiving compensation for it (other than from Seeking Alpha). I have no business relationship with any company whose stock is mentioned in this article.