Introduction
With the sale of Nokia's (NYSE:NOK) smart and mobile phone division to Microsoft (NASDAQ:MSFT), Nokia's largest business division is now Nokia Solutions and Networks - also known as NSN. The company/division has often been overlooked since it historically hasn't been very profitable and because it is less glamorous than the smartphone division.
However, over the last year, NSN has successfully implemented a restructuring of the company, and is today, according to my estimations, Nokia's most valuable asset.
The restructuring of NSN
Back in late 2011, it was clear that changes were needed. As can be seen in the below diagram, the division had not made any real money over the past 8 quarters.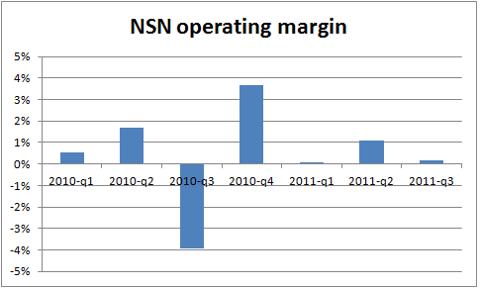 Therefore a restructuring process was implemented with the intention of returning NSN to a healthy level of profitability. While the plan consisted of a lot of elements, the most notable changes were;
A reduction of the global workforce to 17,000
A new organizational structure
A reduction of the numbers of suppliers
Divestment of non-core businesses
Over a 2 year-period, NSN expected that the restructuring would reduce operating costs by 1B Euro on an annual basis. Some may be critical of management for not fully accomplishing the target, as OPEX (so far) has just been reduced by 510M Euro, but I believe that number actually underestimates total savings related to the restructuring.
According to a research report by Morgan Stanley (from 29th November), some costs have been moved from COGS to OPEX, which has resulted in a larger-than-expected increase in gross margins. This can easily be seen by looking at Nokia's financial statements as gross margin has increased from 27% (pre-restructuring) to 36% over the past twelve months.
Therefore, I believe the most important metric to look at when assessing the efficiency of the restructuring is the operating margin.
As can be seen in the below diagram, the operating margin has increased significantly throughout the period. Over the last twelve months, NSN has averaged an operating margin of 10.8%, which is better than the majority of its closest competitors. Therefore, I believe the restructuring has been a huge success.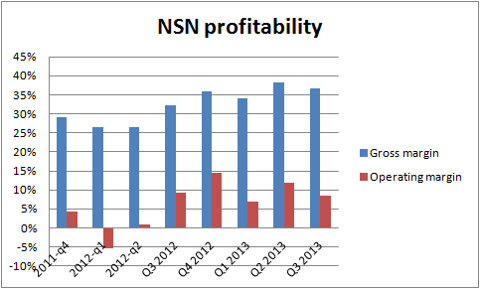 One should, however, be aware that the higher profitability has come at the expense of declining revenue. The decline, can be explained by two factors;
1) NSN has divested some of its non-core business in order to focus on mobile network infrastructure.
2) It has been more selective on new contracts, which has led to a lower market share. (see the graph below)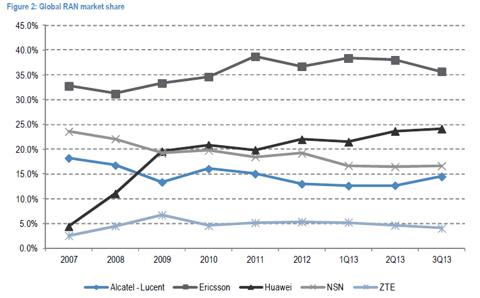 Source: Dell'oro
Future growth expectations
With the parent company (Nokia) improving its balance-sheet after Microsoft's acquisition of the device-business, it is no longer necessary for NSN to maintain the "safe" cash-cow oriented route. Instead, it is now willing to trade-off slightly lower margins for long-term growth. For reference, check out the below quote by CEO Rajeev Suri.
We have made some choices recently in terms of taking a long-term view of profitability and saying 'trade some of that profit for top line.
As an example of what to expect more of from NSN in the future, it recently announced a deal with China Mobile (NYSE:CHL) to implement a significant share of its TD-LTE network. Today, NSN's share in the Asian market is very strong; however, it lacks presence especially in North America (below diagram), and I estimate that it will try to increase its share in that region over the next couple of years.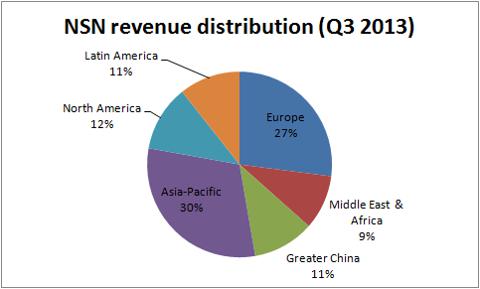 In the LTE market, NSN has a strong position with a 20% market share (approximately), which puts it behind the market-leader Ericsson (NASDAQ:ERIC). The market for LTE is expected to become a $20B industry by 2016, and it is therefore instrumental that NSN maintains a solid position with its LTE services.
I believe that NSN has a strong portfolio of LTE products and services, which puts it in a solid position for future growth. IDC seems to share that view as it in a recent report made the following comment in regards to NSN.
It has established strong momentum after a slow start and is earning a reputation for strong technical performance of its LTE products as well as a strong vision for the future portfolio of LTE products, particularly small cells.
Thus, it seems fair to assume that NSN has the infrastructure in place for long-term growth prospects. However, chances are that new deals will take a while to work through to the topline. So in 2014, we may still see the effects of the restructuring of the past 2 years. Therefore, I estimate that revenue will continue to decline in 2014 - though at a less steep rate than previously. From 2015, we should expect to see growth of roughly 5% annually.
Management forecasts long-term operating margins between 5-10%, which seems realistic given that it today is slightly above that level, but in the future will be more aggressive in seeking new contracts.
Valuation
Over the next year, I forecast an 8% operating margin and a revenue decline of 7%. This will result in a non-IFRS operating profit of 905M Euro (below table). Given my expectations of annual growth prospects of around 5%, it seems fair to use an EV/EBIT multiple of 10, which makes the company/division worth 2.4 Euro per share ($3.3).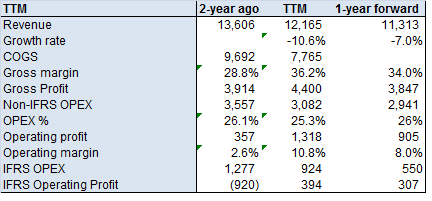 Given that Nokia trades at a share price of roughly $8, it means that NSN alone accounts for 42% of the value of the company. When you add up net cash (post Microsoft acquisition), HERE and its IP business, I believe that Nokia is a very attractive investment. However for the time being, I am still a bit reluctant to invest in it due to the high risk involved.
Disclosure: I have no positions in any stocks mentioned, and no plans to initiate any positions within the next 72 hours. I wrote this article myself, and it expresses my own opinions. I am not receiving compensation for it (other than from Seeking Alpha). I have no business relationship with any company whose stock is mentioned in this article.