Being a contrarian investor can be very rewarding but it is easier said than done since it often involves buying unloved or even "hated" asset classes. In late 2013, many investors felt that there was little to love about Hewlett-Packard (NYSE:HPQ) shares and the stock was taken to new 52-week lows of just about $12. However, investors who went against the very bearish sentiment against Hewlett-Packard and the PC industry in general were rewarded as the stock went on to double by March of 2013. Those are some very compelling gains in just a few months and it leads me to think about buying opportunities in what might be the most hated asset class of 2013, which is quite possibly the gold sector. One market strategist recently said on CNBC that: "I wouldn't buy gold with my worst enemy's cash." This seems to sum up the extreme levels of negativity in the gold sector and it reminds me very much of the "PC's are dead" mentality that was so pervasive at this time last year. However, Hewlett-Packard shares and the buyout of Dell show that this was far from the truth.
In another sign of what seems to be extreme pessimism, it is not hard to find predictions for gold to drop to $1,000 per ounce in the investment world. This seems to be almost everyone's favorite target price for the precious metal and why not since it is a very nice round number. However, the investment world is full of $1,000 price targets that never quite worked out, like the multiple analysts who were near certain that Apple (NASDAQ:AAPL) shares would trade at that level. This just shows that when so many analysts and investors are thinking the same way (as a "herd"), chances are probably good that it won't happen. Not all analysts are thinking with the herd and as detailed in a recent CNBC article, at least one makes a compelling case for gold and believes it will rebound to (at least) $1,400 per ounce, as easy money policies create inflation and as other global concerns put a bid under gold. The article states:
"The consensus is that the price of gold will grind lower in 2014, at best, as the support from loose U.S. monetary policy gradually weakens," said Julian Jessop, head of commodities research at the firm. "In contrast, with investor sentiment already so heavily negative, our view is that the risks for the coming year are firmly skewed to the upside."
According to Jessop, although 2013 is broadly agreed to have been a terrible year for gold, the fact that the latter half of 2013 was less catastrophic for gold than the first half, suggests the worst of the slump may be over.
Indeed, gold prices dived from $1,675 per ounce to less than $1,200 in the first six months of the year, while in the second half of the year gold staged a partial recovery, rising to $1,400 before dropping back to current levels of around $1,198.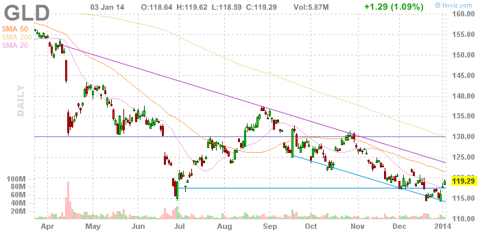 As the chart of the SPDR Gold Shares ETF (NYSEARCA:GLD) shows, it's been a tough year for this precious metal. However, as mentioned above, the rate of decline at the end of the year was significantly less and it is also now right around the lows made in July. This could mean that gold has bottomed out and is putting in a bullish "double bottom". When you consider that gold is holding around the lows set in July even as the Federal Reserve has announced in December that it will taper, and even in the face of the 10-year Treasury Bond hitting 3%, this could also be another indicator that gold is done going down.
While gold has tumbled, the gold mining stocks are down (in most cases) far more significantly. Many of these stocks are down by far more than 50% and most have experienced a significant amount of tax-loss selling which has possibly created one of the best buying opportunities this sector has seen in a long time. Some stocks are trading at ten year lows and at levels that have not been reached since gold was trading for just $500 an ounce. Many investors have dumped gold mining shares due to capitulation, margin calls, pure frustration, and for tax-loss reasons. All this leads me to believe that once again, the herd will be proven wrong and that being a contrarian investor might pay off big in the coming year. With this in mind, I have been carefully researching the gold mining sector for what could be the two most undervalued stocks, one is a well known gold mining giant that trades for just about 8 times earnings and the other is a much smaller gold company that has a strong balance sheet and trades for a dirt-cheap price to earnings ratio of just 5.5 times.
Barrick Gold (NYSE:ABX) shareholders have had a very rough year. This stock has a 52-week high of about $36, and it now trades for less than half of that. It was not just the drop in gold prices that tarnished this stock, it was also the ensuing dividend cut and a secondary offering that came late in the year and helped to push the stock towards 52-week lows. After so much bad news, it just might be so bad that it cannot get worse. In fact, the drop in gold prices might have created a wake up call for management since it has now made the tough choices that have caused short-term pain (like the dividend cut and the capital raise which helped to pay down debt). However, all of this recent short-term pain might be setting the company up for a better future and there are still many positives to consider including the fact that Barrick Gold is one of the largest and lowest-cost producers in the world.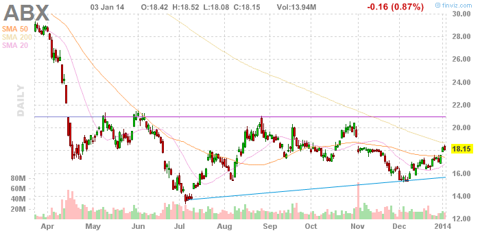 As the chart above shows, Barrick Gold shares were trading for about $28 in April, but it has almost been all downhill ever since. As gold prices declined, so did shares of Barrick Gold and towards the end of the year the downside was exacerbated by the $3 billion secondary offering, a dividend cut and tax-loss selling pressure. Amazingly, the stock was still able to hold above the lows set in July and that is probably a major sign that the worst is over. At this point, the stock looks incredibly cheap as long as gold does not go much lower. The price of gold is no doubt the biggest potential downside risk for investors and the other downside risk is the debt load. Barrick Gold has about $15.4 billion in debt and around $2.28 billion in cash. This debt load is one reason why the company did a secondary offering and it could become more of a concern if gold prices fall and reduce profit margins. Because of this, another significant drop in gold prices and the debt load appear to be the biggest potential downside risks to consider with this stock.
In spite of all the woes in 2013, this stock looks cheap. Analysts expect the company to earn $2 per share in 2014 and with the stock at about $18 now, that implies a price to earnings ratio of just 9 times earnings. This is a major discount to the market as the S&P 500 Index (NYSEARCA:SPY) now trades for around 16 times earnings. Barrick Gold shares also look undervalued when compared to Newmont Mining (NYSE:NEM) which trades for about $24 and is expected to earn $1.77 per share (which is less than Barrick Gold), in 2014. Furthermore, few companies can compare to Barrick Gold in terms of scale and production costs. It also has high-potential projects around the world which adds geographical diversification that can reduce risks for shareholders. It has projects in Canada, Australia, the United States, Peru, Argentina, Chile, just to name a few.
Even with lower gold prices and all the recent challenges Barrick has faced, analysts at Deutsche Bank reiterated a buy rating on November 1, and set a $28 price target. In December, Barron's released a list of its top stock picks for 2014 and Barrick Gold made the list with suggestions that the company could get the attention of activist investors due to a very undervalued share price. While there could be balance sheet risks if gold slides too much, Barrick Gold's cheap valuation, world class mines and its scale make it a stock to consider now.
Here are some key points for Barrick Gold:
Current share price: $18.15
The 52 week range is $13.43 to $36.08
Earnings estimates for 2013: $2.58 per share
Earnings estimates for 2014: $2 per share
Annual dividend: 20 cents per share which yields 1.1%
Rio Alto Mining Limited (NYSE:RIOM) is a Canadian company that has a gold mining project called "La Arena" which covers about 21,000 hectares in one of Peru's most resource-abundant regions. Barrick Gold has its "Lagunas Norte Mine" nearby (just about 15 kilometers away) and Newmont has its "Yanacocha Mine" about 100 kilometers north of La Arena. Rio Alto's mine is estimated to contain 5.5 million ounces of gold and 3.7 billion pounds of copper. This mine has been in operation since May of 2011, and in 2012, it produced about 201,000 ounces of gold. Unlike many smaller gold mining companies, Rio Alto has a cash-rich balance sheet, very little debt and it is very profitable, yet the weight of investor pessimism has pushed this stock from a 52-week high of $5.72 to just about $1.70 per share today. If you like to buy low and sell high, this appears to be an incredibly good time to invest in this company.
By looking at some key numbers, it shows that this stock is too cheap and that the company has a very strong balance sheet, which greatly reduces downside risks for shareholders. For example, it has annual revenues of about $282 million and the shares trade near book value which is $1.42. It has nearly $30 million in cash on the balance sheet and only $3.4 million in debt.
Rio Alto has been reporting strong profits which seem to be largely ignored (for now) by the market. For the third quarter of 2013, the company earned $15.9 million or 9 cents per share and the company reaffirmed production guidance of 190,000 to 210,000 ounces of gold for 2013. (I would like to note that there are not many stocks trading for just $1.70 that are earning 9 cents per share on a quarterly basis.) During the quarter, the company produced about 59,157 ounces of gold (which was a new production record) that was sold at an average price of $1,310 per ounce. This gold was produced at all-in costs of just $961 per ounce, which shows that Rio Alto is a very low cost gold producer. This is extremely important because it shows that even with gold at about $1,200 per ounce, Rio Alto can still produce profits. This greatly reduces risks for shareholders, as does its very strong balance sheet. Of course, investors should consider that if gold were to drop below this company's all-in costs of about $961 per ounce, this could be a potential downside risk. However, gold is nowhere near that level now and any rebound in gold could add exponential profits for this low cost producer. Furthermore, production is expected to increase in the future as permitting for its phase two project is underway and a feasibility study is to be completed by the second quarter of 2014.
Some analysts are seeing major upside potential in this stock even in spite of the weakness in gold prices. For example, just recently analysts at Raymond James gave this stock an outperform rating and set a $3.50 price target. This $3.50 price target is in Canadian Dollars but since it almost trades at parity with the U.S. Dollar there is not much of a difference. With the shares currently trading at just around $1.70, this implies a potential double for investors who buy now. A less optimistic analyst at BMO Capital has a market perform rating and a $2.50 price target (also in Canadian Dollars), but even that price target would give investors huge upside from current levels. Overall, the consensus (or average of all analysts) price target is $3.30 per share (Canadian Dollars), or nearly double the current share price.
Analysts expect this company to earn 25 cents per share in 2013 and 30 cents in 2014. The estimates for 2014 were as high as 35 cents, but it appears that analysts have recently reduced estimates by about 20% due to the drop in gold price. However, if it even earns "just" 30 cents per share in 2014, the stock is incredibly cheap as it implies a forward price to earnings ratio of just about 5.5 times while the S&P 500 Index trades for roughly three times as much at about 16 times earnings. Based on this earnings potential, it is easy to see why this stock could be worth $3.50 per share. If the company earns 30 cents in 2014, a price to earnings multiple of just about 12 would support that valuation. Many gold stocks trade for much higher multiples and this also shows this company is very undervalued.
On January 2, 2014, a Bloomberg article detailed the bullish view on Rio Alto Mining by one analyst. The analyst said the shares were now poised to rise and the article stated that Rio Alto Mining shares trade at a 74% discount to global peers on a price to earnings basis (based on data compiled by Bloomberg). This deep discount might entice a takeover offer or the shares could rise to a more reasonable valuation to close that discount. Indeed, when you compare some well-known junior gold companies like Iamgold Corp. (NYSE:IAG), it's easy to see what a bargain this stock is. Iamgold shares trade for about $3.50 and it is expected to earn 29 cents per share in 2014. Iamgold is a larger and well-known company and as such, it gets more coverage and investor attention. Iamgold has about $369 million in cash and around $640 million in debt. By contrast, Rio Alto Mining has little debt and its cash exceeds the debt by a factor of almost nine times. I recently bought a small position in Iamgold after it plunged, but when you can buy shares of Rio Alto Mining for about half the price and get a cash-rich balance sheet and roughly the same earnings estimates of 30 cents per share for 2014, it's hard to stop myself from selling Iamgold shares in order to buy more Rio Alto Mining. It's not that Iamgold is too expensive when making this comparison, it's just that Rio Alto Mining is extremely undervalued when compared to many of its peers in this sector, which is exactly the point made in the Bloomberg article above.
Even though many investors are more familiar with junior mining companies like Iamgold Corp. or Yamana Gold, Inc. (NYSE:AUY), Rio Alto Mining is a very high quality gold company and it is also a top holding in the Market Vectors Junior Gold Miners ETF (NYSEARCA:GDXJ). This ETF has 69 holdings and Rio Alto Mining is one of the largest positions as it represents about 2% of this fund's portfolio. Now let's take a look at the chart to see where this stock could be headed in a rebound.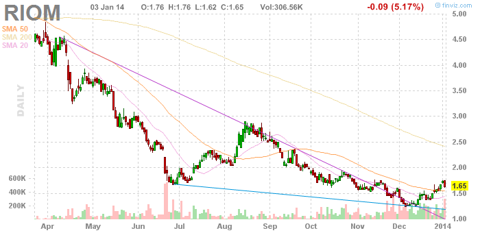 As the chart above shows, this stock was trading for about $4.50 per share in April, and ever since, it has been an almost steady decline. However, more recently, the velocity of the decline has slowed significantly even as tax-loss selling has probably put a lot of downside pressure on the stock. Also, in recent days it has even started to show some strength which could be another sign that this stock is too cheap and has bottomed out. The recent strength in the stock could be indicating that it is ready to rally, perhaps back towards the 200-day moving average which is right around $2.48 per share. That would still be significantly below the consensus price target of $3.30, and at $2.48, the shares would still be very cheap and only be trading for about 8 times earnings estimates. Again, one final thought to consider is that a number of junior gold mining companies like Rio Alto Mining are trading at such cheap valuations that there could be takeovers in this sector. The commodities research team at Cowen and Company believes that a number of major gold miners will seek to take advantage of depressed valuations and buy junior gold miners. That is just one more potential upside catalyst for this sector since one or two buyout deals could lift the shares of all the junior mining companies.
Here are some key points for Rio Alto Mining:
Current share price: $1.70
The 52 week range is $1.26 to $5.72
Earnings estimates for 2013: 25 cents per share
Earnings estimates for 2014: 30 cents per share
Annual dividend: n/a
Here are some key points for Iamgold Corp:
Current share price: $3.50
The 52 week range is $3.15 to $11.22
Earnings estimates for 2013: 35 cents per share
Earnings estimates for 2014: 29 cents per share
Annual dividend: n/a
Data is sourced from Yahoo Finance. No guarantees or representations are made. Hawkinvest is not a registered investment advisor and does not provide specific investment advice. The information is for informational purposes only. You should always consult a financial advisor.
Disclosure: I am long ABX, IAG, RIOM, . I wrote this article myself, and it expresses my own opinions. I am not receiving compensation for it (other than from Seeking Alpha). I have no business relationship with any company whose stock is mentioned in this article.