On December 29th, I wrote an article on American Tower Corp. (NYSE:AMT) emphasizing the growth in mobile data usage and its favorable position to be able to capitalize on the need for carriers to improve coverage and data quality.
This is no truer than in the emerging market economies that just a few decades ago, communicated in ways that we in the developed world could not imagine. Now, these nations are constructing a wireless communication infrastructure that completely bypasses the traditional developed market landline system. With each new subscriber, sometimes with multiple devices, the need for data transmission grows and the expectation of high quality and consistent coverage rises.
American Tower Corp. is one such company that is providing the infrastructure that can provide high quality communication to areas around the globe that have never had it.
International Markets
More than half of American Tower's towers are outside the US. American Tower has partnered with some of the biggest telecommunication companies in both the fastest growing and most stable communication markets around the world. Its tenants include AT&T(NYSE:T), Sprint (NYSE:S), Verizon (NYSE:VZ), T-Mobile (NASDAQ:TMUS), Telefonica (NYSE:TEF), MTM Group (OTCPK:MTNOY), Vodafone (NASDAQ:VOD), America Movil (NYSE:AMX), and Millicom (OTCPK:MIICF). The chart below highlights the breadth and depth of AMT's international exposure, the tenants in each market, and the percentage of total revenue from each of those tenants. The chart indicates decent diversification across tenants and exposure to several markets with high data demand growth.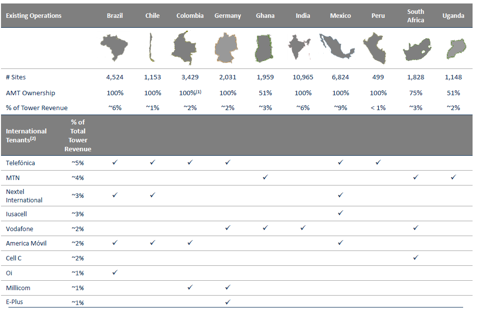 Source: American Tower Semi-Annual International Market Overview
Within the wireless emerging market space, it has been able to penetrate four of the nine markets with high market penetration potential. See chart below.
So far, it has only been able to penetrate markets in Uganda, India, Ghana, Peru, and Mexico, and these markets each have their own favorable characteristics. The table below shows several key metrics for each market.

As the chart shows, the characteristics vary considerably from country to country. Within each of these markets, growth may come from tenant growth, wireless penetration, or revenue per user. Based on these criteria, India seems to offer the biggest opportunity for growth. India has a population of over 1 billion people and current wireless penetration is just 71%. In addition, the revenue per user is only $3, the lowest of the markets shown. Finally, American Tower has only a 68% market share of telecom carriers in India. If wireless penetration grew to just 90%, revenue per user increases by $1, and it was able to sign additional carriers on its towers, the revenue potential is over $1 billion.
In countries like Germany and Mexico, on the other hand, tenant market share is 100% and revenue per user exceeds $13 in both markets. While growth may be seem limited in these markets, it is underestimated by the strong demand for more data required for higher quality videogames, software, and additional smartphone and tablets.
American Tower's strategy isn't without risks, however. There are other technologies used for telecommunication that may displace towers as a means to facilitate signal transmissions. And there is also the risk that its global strategy will not be executed properly or that it will require higher levels of capital than originally anticipated.
Risks
Substitute Products
There are two types of technologies that are likely to replace the use of towers, Distributed Antenna Systems (DAS) and Satellite.
DAS
A distributed antenna system is a network of spatially separated antennas connected to a common source via a transport medium that provides wireless service within a small geographic area or structure. They are a compelling solution for many of the carriers because they are scalable and can be used to target specific areas. In most cases, they are used to either improve the quality of coverage in a densely populated area or fill a gap in coverage where coverage may be weak or non-existent. The DAS antenna elevations are generally at or below the clutter level can provide a high quality transmission.
There is definitely a need for DAS networks as part of a comprehensive communications network, however, we do not think it will displace towers any time in the near future. For starters, it requires significant upfront capital and will take considerable time to deploy because nodes in the system will need to be connected via fiber optic cable. This process not only requires financial capital, but could involve regulatory challenges at the federal, state, and municipal levels. To further limit the rapid adoption of DAS, is the trend in emerging markets to bypass developed world communication networks entirely. In emerging markets, for example, communication networks skipped over the landline system that has been long established in developed countries and wireless has been the technology of choice.
Satellite
According to Wikipedia, A communications satellite or comsat is an artificial satellite sent to space for the purpose of telecommunications. They are usually composed of transponders, antenna, switches, engines, stabilization systems, power systems, power subsystems, batteries, command and control subsystems, etc. We can't begin to explain how these components work together to send and receive transmissions but we do know that it is an expensive option for a unreliable technology.
The limits of satellites as a replacement for towers involve both costs and quality. According to GlobalCom, it costs approximately $300 million to build a satellite and you can add another $100 million if want that satellite to have a missile-warning device. It will then cost an additional $50 million to $400 million to launch the satellite into orbit. And finally, another $1.5 million per year to run it.
In the US, it may be worth it for a satellite company with a capital investment of this magnitude because as we highlighted in the table above, revenues per user are much higher and data demand is growing. In emerging markets, however, where data usage is still very basic and revenue per user is low, it would not justify such a large investment. More satellites will eventually be launched, but it will be a slow process and as long as towers are readily available at reasonable prices, there will be no incentive to launch them.
Furthermore, the quality of a satellite transmission, while much improved, is still not at the level of a tower or DAS transmission. I'm sure most readers have experienced an outage on their satellite TV transmission even during just a mild thunderstorm that hovers over our southern skies.
Of the two technologies, we think only DAS may steal market share away from towers and AMT has already begun investing in that space.
Analyst Opinions
Analysts estimate full year 2013 funds from operations to be $1.70, followed by strong growth in 2014 to $2.18 per share. At a current price/FFO of 47, if we assume no multiple expansion, we would reach a potential price target of $102.50, consistent with Morningstar.com's fair value estimate of $100.

Source: USAA, Zacks
Of the 16 analyst opinions provided by Zacks, 14 have a buy recommendation on the stock and 2 others have a moderate buy.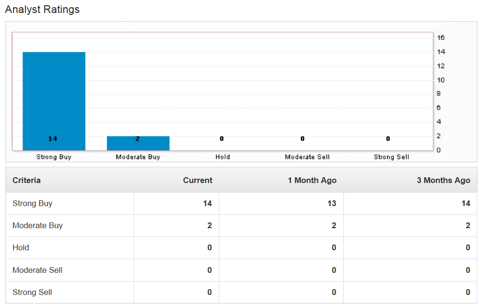 Source: USAA, Zacks
Conclusion
We continue to like the theme regarding the need for greater wireless coverage and higher quality data as data consumption grows from 15mb today, to 1GB per day per user by 2020. A brief pictorial highlights the explosion of data use. As one of the largest tower operators in the US and with a strong presence in emerging markets, American Tower looks interesting.
Disclosure: I am long AMT. I wrote this article myself, and it expresses my own opinions. I am not receiving compensation for it (other than from Seeking Alpha). I have no business relationship with any company whose stock is mentioned in this article.