This is a new portfolio of BDCs with companies that have underperformed and/or are riskier than many of the other BDCs that I follow. Risk is not necessarily a 'bad' thing as long as the returns are higher as well and I believe that this portfolio could outperform the others in a strong economy and bull market. However I personally would not own any of these BDCs due to the increased risk with the exception of Fifth Street Finance (FSC) that I consider to be one of the safer companies but has underperformed due to its recent dividend cut. Currently the five BDCs in this 'Underdog' portfolio are FSC, Gladstone Capital (NASDAQ:GLAD), KCAP Financial (NASDAQ:KCAP), Apollo Investment (NASDAQ:AINV) and MCG Capital (NASDAQ:MCGC).
In my article, "A BDC Investment Philosophy And 4 Portfolios," I discussed what BDCs are and why I see them as good investments as well as different approaches to investing, taking into account various investor needs. I have selected the best BDCs for each portfolio type along with recommended weightings. The other five portfolios that I cover are:
Below is a chart showing the relative performance of the BDCs in this portfolio over the last three months with FSC, KCAP and MCGC underperforming the average. GLAD and AINV have been outperforming most likely due to beating EPS estimates recently as well as gains in net asset value ("NAV") per share.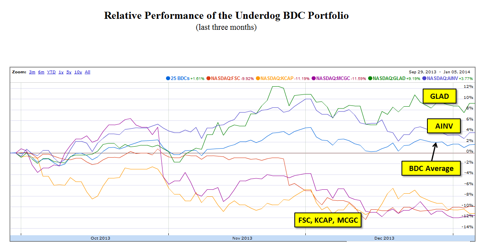 Prior to reporting Q3 2013 results, both GLAD and AINV were underperforming (shown in the chart below) due to missing EPS projections and/or declining NAV per share values. Currently they are outperforming and good examples of underdogs that fit the profile for this portfolio.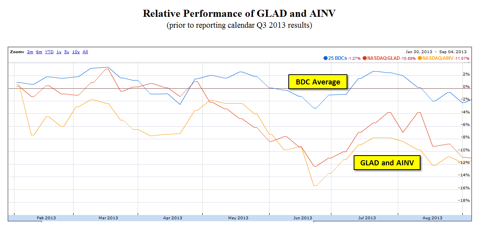 The Underdog Portfolio
This portfolio is for investors who are willing to take on a higher amount of risk for higher returns and in many ways this is more of a contrarian style of investing. Some of these BDCs have made changes in management such as MCGC and are starting to see results with stabilized or growing NAV and EPS. All of these BDCs are projected to eventually cover dividends and most of them have portfolios at discounted values compared to cost.
The key considerations for this portfolio were:
Higher risk profile (except FSC)
Poor stock price performance
Dividend yield and coverage
Discounted portfolio values (except FSC)
The following allocations for the underdog BDC portfolio are used for the remainder of the information in this article, and all metrics are weighted accordingly.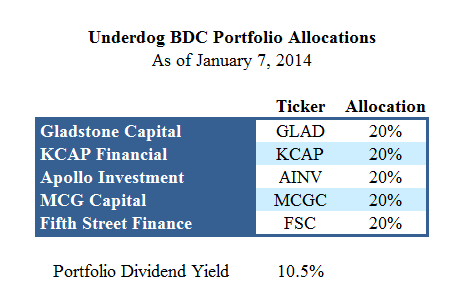 Other BDCs Considered
While trying to come up with this portfolio there were other companies that I considered. American Capital (NASDAQ:ACAS) is a good example of the potential for underdog BDCs that had large issues with impaired portfolio values during the financial crisis. These discounts and its stock buyback program ultimately led to NAV per share growth and stock price appreciation following the crisis but this growth has been slowing as discussed in "American Capital: Is It Time To Get Out?" and shown in the chart below. Four years ago ACAS had a portfolio value at around 60% of cost basis but it is now at 96% and is just below the average BDC at around 97% (discussed later).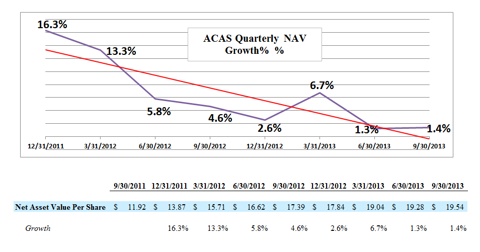 Other riskier BDCs such as BlackRock Kelso Capital (NASDAQ:BKCC) and Full Circle Capital (FULL) have had issues covering dividends and I believe they might have to cut dividends soon. FULL is expected to cover but I will wait for upcoming results before considering for this portfolio. TICC Capital (TICC) and Horizon Technology Finance (NASDAQ:HRZN) have higher than average risk profiles but have performed better than most BDCs in the last three months.
BDC Rankings
These are the five general criteria I use to evaluate BDCs followed by my most recent BDC ranking table. I have included the updated portfolios as groups in the table indicating how a portfolio with my recommended weighting would compare to the other BDCs.
Profitability (dividend coverage, fees, NAV and EPS growth)
Risk (portfolio quality and vintage, rate sensitivity, diversification, volatility)
Return (sustainable, consistent, growing)
Analyst Opinions (outlook, price targets)
Valuation (NAV, P/E, growth rates, total return)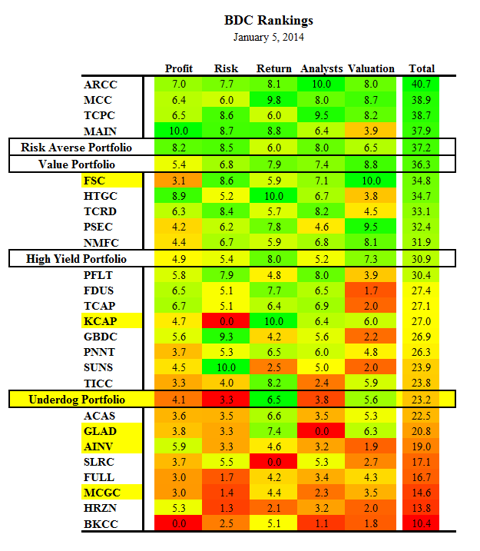 As you can see the underdog portfolio has much lower rankings for all categories except for valuation and return compared to the average BDC.
Profit
When evaluating BDCs, it is important to understand if the dividends are sustainable, ideally through net investment income ("NII") and special dividends covered by spillover taxable income or realized capital gains. The table below shows projected EPS and the current dividend for the calendar Q4 2013 for each BDC, with my personal projections for FSC that are lower than the analysts. In Q4 FSC might fall short of covering dividends due to the timing of new originations but by calendar Q1 2014 it should be able to cover using moderate amounts of leverage with much safer than average investments as discussed in "FSC: Time to Buy or to Sell?". This is most likely why FSC is one of the most undervalued BDCs at this point and I believe after it reports results over the coming quarters its pricing will return. MCGC is also expected to not cover in Q4 but hopefully will by Q1 as well. I will be working on my projections for each of these BDCs over the coming weeks and will post results.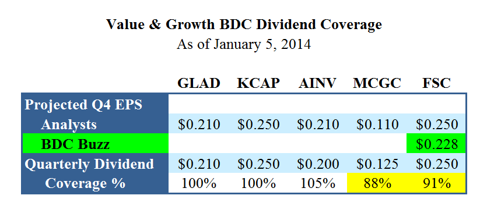 Risk
In a series of articles, I took an in-depth look at the relative risk levels of each BDC. Specifically, I looked at portfolio credit quality, investment asset classes, diversification, non-accrual rates, portfolio yield, leverage, interest rate sensitivity, volatility ratios, market capitalization, insider ownership and trends, institutional ownership and trends, and management/operational history for each BDC. This portfolio has a much higher risk profile than the average BDC. The following table shows the most recent relative risk ranking with a weighted average rank of 3.3 for this portfolio (a rank of 10 implies the least amount of risk).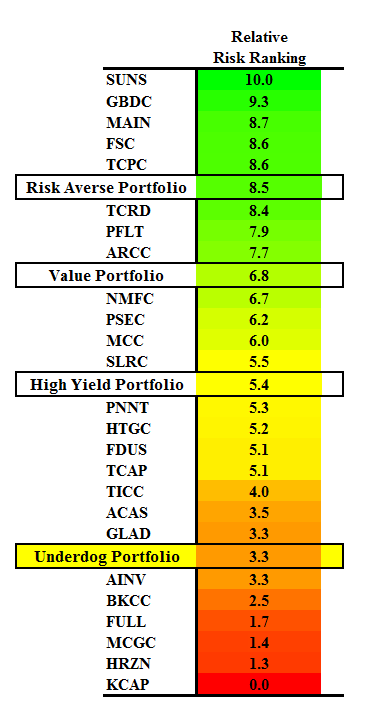 FSC is the only component to this portfolio that is not considered 'risky'. The other BDCs have higher volatility ratios, lower portfolio credit quality and higher portfolio yields. In a robust economy with an overall bull market these BDCs could have higher returns and outperform the other BDCs, but in a down market such the financial crisis in 2008 and early 2009 these companies will most likely underperform. The following table is why I would not personally invest in these BDCs (except FSC) and I believe there is a direct correlation between the amount of risk and stock performance (for better or worse). Obviously historical stock performance is not necessarily an indicator of future performance but many of these companies are employing some of the same practices as they did in 2007 such as covenant light loans and portfolio companies with higher amounts of leverage.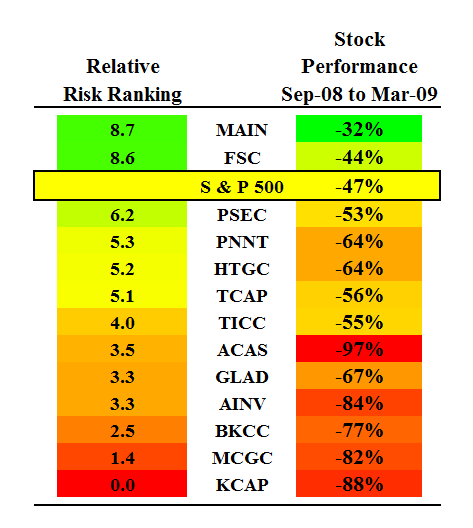 NAV Growth Potential
In the most recent quarter GLAD had the largest amount of NAV per share growth at 14%. On the most recent earnings call the CFO stated "the reversal of the Lindmark unrealized depreciation of $14 million during the quarter accounted for the majority of the net unrealized appreciation during the quarter and the year-end September 30, 2013. Our entire portfolio was fair valued at approximately 77% of cost as of September 30, 2013 as compared to approximately 75% as of September 30, 2012. The cumulative net unrealized depreciation on our investments is largely attributable to investments made in 2007 and prior. We believe this depreciation is primarily due to lingering effects of the 2008 recession and its effect on the performance of certain of our portfolio companies, and also because we were invested in certain industries that were disproportionately impacted by the recession."
The following table shows the portfolio values as a percentage of cost for each BDC: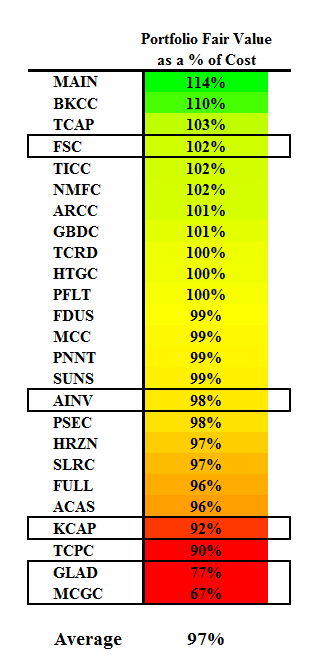 I believe this portfolio has an opportunity to grow its NAV per share faster than some of the others and hopefully this will translate into stock price appreciation for investors as it did with GLAD.
Summary
This is a risky portfolio for investors that want to take advantage of BDCs with the potential to course correct or benefit from a robust economy. I believe FSC will prove itself over the next two quarters and is a victim of yield compression in the industry. The company decided to cut dividends instead of taking on riskier investments to cover dividends. When FSC is more appropriately priced I will consider it for the 'risk averse' portfolio because of these decisions. GLAD and AINV are on the rise and soon could be rotated out of the underdog portfolio. MCGC has been realigning its portfolio and will hopefully cover its dividend soon. I consider KCAP to be a 'cowboy' type BDC that could pay investors with higher total returns in a good economy.
This portfolio might require a higher amount of turnover and reinvestment as prices change relative to each other, and as interest rates rise many of these investors will sell baskets of high yielding stocks regardless of the underlying fundamentals. This should be seen as an opportunity to buy for the long term. In my weekly newsletter I track the performance of the 25 BDCs that I follow and currently they are trending higher as shown in the chart below.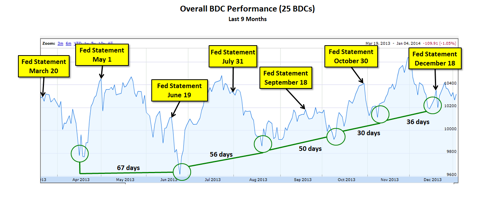 Investors should only use this information as a starting point for due diligence. See the following for more information:
Disclosure: I am long MAIN, TCPC, ARCC, FDUS, TCRD, PSEC, NMFC. I wrote this article myself, and it expresses my own opinions. I am not receiving compensation for it (other than from Seeking Alpha). I have no business relationship with any company whose stock is mentioned in this article.