This is the eleventh piece in Seeking Alpha's Positioning for 2014 series. This year we have once again asked experts on a range of different asset classes and investing strategies to offer their vision for the coming year and beyond. As always, the focus is on an overall approach to portfolio construction.
Valuable Insights has been a regular contributor to Seeking Alpha for the last few years. He has an undergraduate degree in Economics and an MBA with a concentration in Finance. During his career, he worked as an investment banker, a sell-side analyst, and as a senior analyst at a large, long/short value-focused hedge fund. Currently he manages a family office, but expects to launch a primarily small-cap focused value-oriented hedge fund in 2014.
Seeking Alpha's Abby Carmel and Daniel Shvartsman recently spoke with Valuable Insights to discuss his outlook on and positioning for small-cap investing in the coming year.
SA Editors (SA): What is your general philosophy for investing in small caps? What leads you to look at these stocks compared to mid or large caps, or other asset classes?
Valuable Insights (VI): Throughout my career, I have looked at equities of various market caps. My philosophy for investing in small caps is similar to my investment in any security - what is my insight? Why am I right in being a buyer when there is a seller selling?
In my opinion, a stock having a low valuation is not an insight, although it is a great starting point. Exciting end-markets or a solid balance sheet are delightful, but not insights. I look for possible changes in capital structure or capital allocation, potential to divest money-losing units, new managements or changes in incentives, under-earning businesses because of cyclical or one-time expenses, etc. Situations where structural change has occurred, is occurring or can occur is a breeding ground for idea generation.
As one of my all-time favorite hedge fund managers and 1939 Baseball Hall of Fame Inductee Wee Willie Keeler used to say, "hit 'em where they ain't," and in small caps, there simply "ain't" as many people doing the work, which creates substantial opportunity. The fact is, there are many more opportunities in small cap than larger cap securities. There are countless funds and dozens of sell-side analysts working on Apple (NASDAQ:AAPL), Intel (NASDAQ:INTC) and Microsoft (NASDAQ:MSFT), but few following the stocks I typically concentrate on.
However, I will get involved in mid and large cap stocks (particularly on the short side), when I have a unique perspective or feel there is a substantial mispricing. In Feb. 2012 I wrote that Google (NASDAQ:GOOG) was under-earning because of ongoing R&D expense growth (growth that was and remains more rapid than revenue growth) that was artificially depressing EPS, and would eventually be dropped or monetized. At the time the stock had gone mostly sideways for 5 years, but since then it's nearly doubled. Google is still underearning, and I'm still long it, and think it's cheap despite the move. And last November I recommended Micron (NASDAQ:MU) at $5.71, arguing that DRAM production costs that exceeded selling prices was unsustainable and "something's gotta give" - shares are up roughly 4-fold since then, and I remain long, although I've trimmed the position.
(SA): Do you believe that small caps are more attractive today than at other times in your career?
(VI): Absolutely, particularly in the technology sector and in value stocks.
First, since small caps generally have little to no institutional research coverage, historically it's been a concern that you could buy a great small value stock, and hold it for an extended period without shares moving, since it flies under radar screens. Today, with the rise of social media and sites like Seeking Alpha, good stories don't stay buried long. This has helped ensure that you don't get locked into interesting small cap names without performance, and helps bring in like-minded investors.
Second, I'm a believer in Hayak's concept of "creative destruction." In my view, with the pace of technology change faster than it's ever been, the opportunity for companies to reinvent themselves from the ashes has never been greater. Conversely, it also creates excellent shorting opportunities.
Third, with hedge funds making up so much of the market, the focus on short-term fund performance has never been higher. Stocks often see huge price drops after earnings misses, despite little change in their intrinsic value. This short-term mindedness, which is magnified with small caps, creates great opportunities for value investors with a longer horizon.
Last, the rise of activist investors in small caps is also a positive. Investors make a huge deal about leadership, when they speak about large caps - Is Tim Cook why Apple's losing its mojo? Who should replace Steve Ballmer at Microsoft?, etc. In my view, the impact that a great CEO can have on a smaller company is potentially far greater than the impact at a multinational. As Buffett says, "an owner - or investor - can accomplish wonders if he manages to associate himself with such people in businesses that possess decent economic characteristics." (1989 Berkshire Hathaway (NYSE:BRK.A) Shareholder letter)
(SA): Investors are often advised to 'Buy and Hold' stocks for the long run. At the same time, successful small-cap companies will frequently become mid-cap or large-cap firms over time. How do you reconcile the need to buy and hold with a desire to hold small cap stocks?
(VI): I have no desire to hold small cap stocks and nothing would make me happier than for them all to become mid and large-cap companies. Fortunately for me, I have the latitude to hold shares as they grow. My determinant for selling is not based on market cap, but is based on whether I believe my thesis continues to hold, and if it is still not fully understood and baked into a stock's price. Once my view becomes consensus, what's my edge? My edge is not a bet on a quarter, it's having a unique or fairly unique thesis. Once the consensus converges with my view - probably time to sell, nothing to do with market cap. It simply happens that most of my buys start as small cap.
One particularly interesting phenomenon of investing in small caps is that as they grow, in addition to better results, you often get analyst coverage and a bigger institutional following. The result is a stock often gets multiple expansion off a higher earnings number, which can really help magnify returns.
(SA): Many commentators argue that individual investors should focus their stock-picking efforts almost solely on the small-cap space, because that is the only area in which they have an advantage over institutional investors, hedge funds and the like. Do you agree with this? How important do you believe it is to diversify beyond the space, as opposed to just within the space, and in which specific direction?
(VI): I agree that small-cap is far less competitive for multiple reasons. The big institutions aren't there. If you're managing $500 million and you want to establish a 1% position in a $100 million market cap company, you have to buy 5% of the company. Is it worth the effort? If something goes wrong, how liquid is it? There's lots of systemic reasons why funds over a few hundred million in assets won't play in small-caps. Earlier this year I visited a company with several hundred million market cap and was told I was the first investor to visit in several years - simply astounding. Plus many of these companies have little if any analyst coverage.
I think my recent experience with SuperCom (NASDAQ:SPCB) is a perfect case in point. I came to the name because they were the buyer of a division of On Track Innovations (NASDAQ:OTIV), another stock I own. I went through their filings and saw their pro-forma EPS for the acquisition on a trailing basis is almost $1. It's a terrific recurring revenue business with significant barriers. SuperCom did an equity deal at $4 - 4x trailing EPS. They downsized the deal from the original 6 million shares (filed in August) to 3 million (in December), because they didn't need that much cash for the acquisition, and management owns more than 30% of the company, so why have unnecessary dilution. With a $35 million pre-deal market cap, this was on nobody's radar screen. A few small value funds, that's it. They could end up with $2+ of earnings in 2 or 3 years. A 15x multiple, it's a pretty spectacular return. In mid-cap or large-cap a follow-on at 4x EPS for a secular growth company doesn't exist.
The amazing part is many of these smaller companies offer far better growth prospects than larger ones (which is also reflected in studies of historical asset class performance). As Buffett has said, "Operating with large amounts of capital as we do today, we cannot come close to performing as well as we once did with much smaller sums...Indeed, we think very few large businesses have a chance at compounding intrinsic value at 15% per annum over an extended period of time."
If an investor can tolerate volatility, but has a well-researched, unlevered, diversified (i.e. 15 or more uncorrelated securities) portfolio of small caps, I don't see the need to own mid or large cap - although of course you can.
(SA): A major issue that many investors have with small cap investing is the company specific risk that small caps entail. One partial solution to this problem is to diversify, perhaps with an ETF strategy. How do you feel about the small cap ETFs that are out there today? Are there any that appeal to you?
(VI): I disagree that small caps are necessarily riskier. By the classical academic definition, perhaps they have more beta or volatility, but I subscribe to the Buffett definition (see 1993 Berkshire Hathaway shareholder letter) which is "the possibility of loss or injury." When I invest in small caps I assess the likelihood of permanent capital impairment. I can tolerate volatility, permanent loss is far less acceptable.
I think the risk to small caps is simply that many of them are junk - that is, they are small cap for a reason. They often have mediocre managements, second-rate technologies, inefficient distribution systems, customers concentration issues, or poor corporate governance. Despite this, I've rarely spoken to a small cap company that isn't excited about its wonderful prospects. The thing is, the average company is, by definition, average. And in small cap land, perhaps even less so. So as I write in every article, it's vital to do the work.
For my readers, it's probably apparent that I have a strong behavioral bent to my investing - I look for insider buying, incentives for management, etc. I think that's particularly necessary with small caps where seeing shareholder friendly behavior and aligned managements and Boards helps buttress claims of improving business prospects.
I don't have particular favorite ETFs, although I will use them occasionally, particularly on the short side if I'm getting too long. However for the most part, I'm very much a bottom-up stock picker.
(SA): One group of small-cap stocks - US-listed Chinese companies, in particular those listed through 'reverse mergers' - has seen a notable decline in trust from investors, with many trading at what appear to be absurdly low valuations relative to published earnings and/or balance sheet statements. Do you see any value here, or is the country-specific risk too great to attempt to choose individual Chinese equities? Are there any that stand out as more 'safe' plays?
(VI): I think you have to be very careful with Chinese companies. In my view, there are more than their fair share of frauds amongst Chinese companies. When I read a report from Citron or Muddy Waters, I take it very much to heart. The fact is, none of these "shorts" are waking up in the morning saying, "let's make up some facts and come out with a short." A bad set of facts, or financials that don't make sense, lead to someone doing the work, and identifying the short.
Personally, I've been short Fab Universal (NYSEMKT:FU), which very possibly will be delisted, and I've done some work on Pingtan Marine Enterprise Ltd. (NASDAQ:PME) whose filings are chock full of related party transactions, and the disclosure that they have no employees that are qualified to do GAAP accounting.
The one Chinese name I'm comfortable owning and that is a tremendous value is Nam Tai (NTE). While I'm not sure if their EMS operations will ever recover, they trade below book, with about two-thirds of their market cap in cash. More importantly I've consulted with real estate professionals regarding the value of their Shenzhen property. I believe it's worth at least $12-$15 discounted to today, in addition to their $8 of book. In other words, it trades at about 1/3 of fair value. It reminds me of St Joe's (NYSE:JOE), David Einhorn's old short, in reverse, which was a $30 real estate stock that should be trading closer to $15 since they owned a lot of worthless swamp land. Conversely, NTE is a $7 stock that in 2-3 years should be worth 2-3x current prices. Shenzhen is the closest major city to Hong Kong, it's not a ghost city, one actually wants to own land there.
(SA): Do you attempt to judge market risk (either in the broad market and/or the small-cap space in particular) at all in your investment strategy? If so, what signs will you be looking for in 2014? Do you hedge against that risk?
(VI): I am very much a bottom-up stock picker so while I have a view, my investments are largely dictated by my ability to come up with alpha generating ideas. In addition, I have an active short book that serves as a hedge.
Based on my view of the broader market, I'm very hopeful regarding my prospective performance in 2014. I believe interest rates, although they may creep higher, are so low by historic standards, that there are few places for investors to attempt to make attractive returns outside of the equity markets.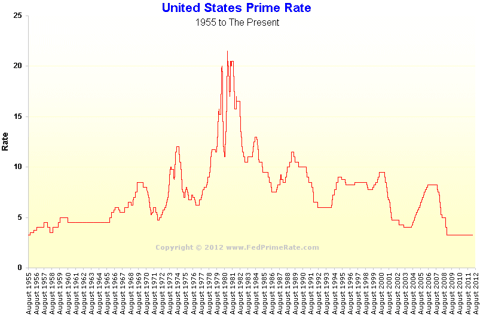 Source: www.FedPrimeRate.com
At the same time, I think there's also a lot of froth in the market among individual stocks and sectors. I keep a copy of the July 2000 Red Herring Magazine on my desk as a reminder that when valuations don't make sense, they don't make sense. The issue was a magnificent 484 pages, and within 3 years, the publication was shuttered, as were an astonishing number of companies discussed in the magazine.
Red Herring Magazine July 2000
Fortunately, in small caps, I continue to see an abundance of unique ideas, with low valuations, many of which are unlikely to correlate with broader markets. I think it's a stockpicker's market, where you can marry cheap longs, with overvalued shorts, in what should be a generally higher market.
(SA): What are the major risks in investing in underfollowed small-caps? When does a risk loom so large that it changes your thesis, and are small-cap picks more liable to these sort of game-changing risks? Please discuss specific examples.
(VI): Small cap stocks often have customer concentration issues, scale issues, or questionable managements, not to mention liquidity concerns in the actual shares. If something goes wrong in a small cap, you have to be aware of how hard it can be to get out, and the potential permanent impairment of capital.
For example, a company like Nam Tai, which we mentioned earlier, had over 2/3 of its business with Apple. We thought they'd be okay on the operations side, but we were wrong. We were on the correct side with Uni-Pixel (NASDAQ:UNXL), shorting it well above current prices. They have had a very promotional management, which was able to sell quite a lot of stock, while investors were still drinking the Kool-Aid. We think small caps are certainly more likely to experience this type of failure than larger stocks.
(SA): Many of your ideas seem to track the portfolios of prominent investors or well-aligned insiders - Jeff Eberwein is the most recent example. How big a part does tracking these sorts of investors play in your search process? Is it a part of your initial screening process, or do you happen to just have similar criteria in common?
(VI): One of the most boring, but in hindsight, most useful classes I took in business school, was in Human Resource Economics - it was all about incentive systems and designing appropriate pay packages. Insider activity is one of the most powerful signposts for me in looking at an idea, so I look at such things frequently.
It's interesting, that often when I look at a stock that's cheap, or would be undervalued if some changes were made, or should be sold, I discover there are activists involved. I think there is a value investing "toolset" which is probably why I frequently find certain investors involved in situations that I'm looking at.
I haven't met Jeff Eberwein, but what he's done in the past couple of years has impressed me. He helped get NTS (NYSEMKT:NTS) sold for 2 times his average cost, in just over a year. He's helped engineer a turnaround at Goldfield (NYSEMKT:GV). Digirad (NASDAQ:DRAD) recently reported its best quarter in history and now yields 5.7%. From what I can tell, in each engagement, he was one of several new board members, each with expertise, and no motivation, other than making the company work.
Still, every investment and insider has to be evaluated on its own merit. When I look at a company like Crossroads Systems (NASDAQ:CRDS) whose board Eberwein joined prior to ever owning a share, and then I see him buying shares starting 6 months later, when he's in an exceptional position to evaluate the company's prospects, that says a lot. When an insider files a 10b5-1 buy program on an illiquid security that goes into the calculus. I simply can't fathom that Eberwein would be buying 100,000 shares of CRDS at $1.90, as he did recently, unless he believed shares are likely worth far, far more. The limitations on insider selling are far too demanding to leave himself that little margin of error. Of course, the buy is just a signal, and one of many pieces of information, but an important one.
I believe in every one of Eberwein's engagements there has been a new CEO. In my experience this can be incredibly impactful, and I'm not sure that it's adequately appreciated by the average investor. I was speaking recently to a friend in private equity who invests in companies with $2-$20 million of EBITDA. I asked him how much of a difference a CEO can make - his response, "all the difference." Again, CRDS is a business with 80% gross margins - a good CEO could be a game changer.
I look at a lot of activist activity because activism often breeds change, and a shift in a company's prospects that is not always immediately understood by investors. That being said, I've been involved in very few activist names over the past few years. While I believe there are far too many entrenched boards and managements, relatively few activist investors have truly impressed me, and several have left me scratching my head. So again, I evaluate every opportunity on an individual basis.
I also frequently review Form 4s for insider buys, which often has signal value. However, it's vital to get the full context of these buys. When I look at Dr. Phillip Frost and his buys of Opko (NYSEMKT:OPK), MusclePharm (OTCQB:MSLP) or other junk, it makes no sense to me at all. These companies would be worth close to zero, in my opinion, if not for his buys. As an investor, you have to ask: does the behavior match the message? If Opko is so terrific, why does it keep paying for acquisitions with stock, instead of cash - especially since it has a benefactor with plenty of cash.
(SA): What are your top sector- or firm- picks in the small cap space for 2014?
(VI): On the long side, I have no favorite sector. I'm long a lot of the names I've written about recently including Eberwein's companies CRDS, DRAD and OTIV. Both CRDS and OTIV have litigation against major OEMs that don't appear adequately reflected in shares, and both have had meaningful insider buys only a few percent below current prices. In addition, the fundamental operating businesses could grow dramatically.
I remain long ChipMOS (NASDAQ:IMOS), which I've written about several times. I believe since the last time I wrote about them, Baupost, Seth Klarman's highly-respected $25 billion hedge fund, has become the largest shareholder. Shares trade at 2.5x EV/EBITDA and they have substantial net cash. An uplisting to Taiwan around May should be a catalyst to get shares to the high $20s or low $30s, in addition to a likely substantial buyback or dividend.
As I mentioned earlier, I believe SPCB has limited downside and if they announce a couple of project wins over the next few months, it could earn $2 or more in '15 or '16 and be an absolute home run.
In the med-tech space, I'm long iCAD (NASDAQ:ICAD) and IRIDEX (NASDAQ:IRIX), both of which were brought to my attention by John Henderson, a very talented investor who runs Inflection Point Investing. I think each appears to be gaining traction, and in 12-18 months could be dramatically higher (or acquired) if they execute, particularly since neither needs to add significant op-ex to support growth. They don't look quite as "value-y" as some of my other names, but if they can grow top-line, there's huge operating leverage.
I recently established a meaningful position in Perion (NASDAQ:PERI). On January 2nd they completed the acquisition of the ClientConnect business from Conduit. The fact is, I believe this transaction is very misunderstood by the market. This is not really a traditional acquisition, since "New" Perion is 81% owned by ClientConnect shareholders - sophisticated institutional shareholders including Benchmark Capital and JPMorgan. Notably, the ClientConnect shareholders agreed to an extended lock-up, exactly the type of behavior you tend to see when you expect a stock's price to rise. In effect, the ClientConnect sellers aren't really sellers, they're buyers - long PERI, just like me. For the last couple of months, almost everything I've read has been about PERI's prospects, which is fairly irrelevant given its size. In sum, the company goes from approximately $150 million market cap, to a stone's throw from $1 billion, opening its doors to a whole new set of investors. Trading at just 8x pro-forma trailing net income, and 6x pro-forma trailing EBITDA, shares are cheap, and if they stay cheap, there will be plenty of cash flow for share repurchases. I have little doubt ClientConnect's PERI shareholders agree with that view. I see an $18-$20 stock in 6-12 months.
On the short side I am very negative on 3-D printing stocks, which is somewhat ironic since I am very positive on 3-D printing technology. 3D Systems (NYSE:DDD) spent less than $40 million on r&d in 2013, about what HP (NYSE:HPQ) spends on r&d every 4 days, which is interesting since HP has indicated it will enter the space, and obviously has huge distribution capabilities. If you visit some 3-D news sites, you'd discover that there are new companies founded in the space almost daily. I don't see the moats in this industry at this point. I also continue to agree with the excellent call by Keubiko on Proto Labs (NYSE:PRLB) a 3-D printing stock, that doesn't make or use 3-D printers, but does fabricate items on a quick-turn basis, and warns of the threat of 3-D printing in its risk factors. Interesting that their CEO sold his stock in 2013 and retired.
I'm negative on many "popular" shorts that have been widely discussed on Seeking Alpha - Opko (OPK), Questcor (QCOR), Textura (NYSE:TXTR), and The Tile Shop (NASDAQ:TTS), Uni-Pixel - amongst others. When the numbers don't work, they don't work.
I realize Brightcove (NASDAQ:BCOV) just blew up, but it should go lower. I've done extensive work in the space and it's extremely competitive. It also reminds me a lot of Millennial Media (NYSE:MM), which I successfully shorted in Sep. 2012, which has exciting growth prospects, but economics that make it hard to justify the valuation. I don't see BCOV ever earning anywhere close to what bulls think it will, nor do I see a buyer for the company. Interestingly, their VC backers and Founder-CEO sold out and left long ago.
I have one new long idea in the works with some of the most unusual back story I've seen in a long time. I'm hopeful it's a home run, with limited downside if I'm wrong (tiny company - sorry)… stay tuned, coming soon.
(SA): What advice would you give to a 'do-it-yourself' small-cap investor looking at opportunities in the present environment?
(VI): To once again quote one of my investing heroes, Wee Willie Keeler, "Learn what pitch you can hit good; then wait for that pitch." (Keeler can say that as an expert. In 2013, 32 major leaguers had more strikeouts than the 136 he had in his 9610 career plate appearances). There are lots of opportunities out there. Don't rush. Make sure you understand the story and risk/reward.
Read abundantly. Look at press releases regarding mergers, divestitures, changes in management, changes in incentives, options grants, etc. These all often presage changes in a company's fortunes. If you haven't read Buffett's shareholder essays, read them for free on the Berkshire website or in the collected volume. Read Joel Greenblatt's "You can be a stock market genius" and Seth Klarman's "Margin of safety."
Always ask yourself, "does this make sense?" Does this business model make sense? Does the described growth opportunity and market size? Does the valuation? Does the behavior of management and/or the board in light of a great opportunity?
Ask yourself, "how can I get hurt?" What would have to go wrong? If the price goes down, and the facts haven't materially changed, would you buy more?
Try to model projections. If you don't know how, investing is a lot riskier. You want to be able to understand the leverage points in a business. It's important to understand the numbers. That's probably being generous - it's essential to understand the numbers.
As a final suggestion, I think there is a tremendous amount of wonderful analysis available on Seeking Alpha itself. I have friends at several well-known large hedge funds and none of them regularly visits Seeking Alpha. In fact, very few of my friends at small hedge funds read Seeking Alpha either. Personally, the site has been an excellent site for idea generation. Even if you don't get the premium content immediately, it's worth reviewing later. To me, SA is an excellent opportunity to get crowdsourced ideas that fly under the radar screen. It's an inefficiency that shouldn't exist, but while it does, 'do-it-yourself' and all investors stand to benefit from it.
Disclosure: Long CRDS, DRAD, GOOG, ICAD, IMOS, IRIX, MU, OTIV, PERI, SPCB. Short: BCOV, OPK, PRLB, QCOR, TTS, TXTR, UNXL
Additional disclosure: We conduct thorough research on our ideas, but our views are our own. Please do your own research.

To read other pieces from Seeking Alpha's Positioning for 2014 series, click here.