(Editors' Note: This article covers a stock trading at less than $1 per share and/or with less than a $100 million market cap. Please be aware of the risks associated with these stocks.)
After soaring 270% from its Nov. 20 close, Growlife Inc. (OTCQB:PHOT) trades near all-time highs. While the market cap of PHOT rips through $100 million, while sporting only $3.61 million in sales, in my mind PHOT looks and feels like an explosive cult stock-a stock which attracts investors with an underlying fire of emotion.
Stick with me on the PHOT brainstorm. Let me quickly explain the PHOT thesis before I give you the set-up.
What is a cult stock?
A cult stock has the telltale characteristic of emotionally grabbing an investor with a populist, trend or fad phenomenon, luring him (her) in, while the underlying business operates in infancy. The hope of the investor is to become part of the movement-a participation in something bigger than himself-and he'll pay to become part of the movement.
Sounds crazy? It's real, and PHOT is one of those stocks.
But, here's the deal with cult stocks:
Don't expect a buy-and-hold strategy to work for you very often. Instead, expect massive volatility, which, in the case of PHOT, can translate to a quick profit (held for minutes, hours, or a couple of days) during the run-up, fueled by crazy volume, "high" expectations, and a pent-up emotional-relief response to an industry once locked-up for decades in a modern-day Dark Age of sanctimonious oppression.
So, now, state legislators across the country are jumping on board to the populist movement, and we can profit from this one-off renaissance of freedom (some say, a new government tax revenue plan, like the lottery scheme).
Well, in any case, the madness of crowds is a compelling reason to hold the stock, or to get into PHOT for the first time - but... should be bought when the TIME IS RIGHT.
Timing and profiting from patterns and psychology is what day-trading is all about. And in the case of PHOT, fundamentals mean nothing in this business. It's a trade, and should not ever be misconstrued as a 401(k) retirement stock; it's a quick money-in-your-pocket stock, a Schedule D 1040 stock.
The PHOT Play
Okay, here's the potential play: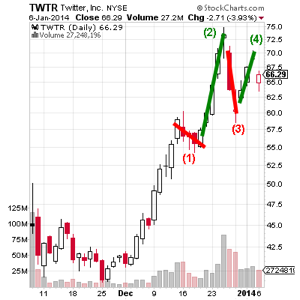 And I'll use Twitter, Inc. (TWTR)-another cult(ish) stock-as the example of the set-up for, what I see can happen to PHOT very easily-a potential TWTR move on steroids!
Look at TWTR's chart (right). Notice the stock's big initial move following the sloppy IPO of early November.
Then, at (1), we see a break in the action higher, followed by (2), a resumption of the big bull move.
And, at (3), we see profit-taking, and (4), the buy-on-weakness crew takes the stock back up.
Now, let's look at the much more volatile and explosive stock-our upcoming play, PHOT.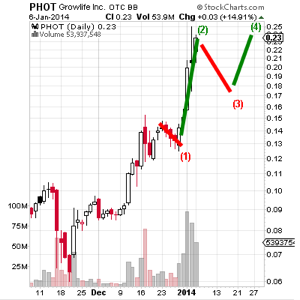 We see the big move, a pause (1), and a resumption of the bull move (2). Not knowing when traders will exhaust themselves on the upside (2), we'll wait for the break (3), at which time we enter for the move back up at (4).
It's at the leg higher, at the start of (4), where we want to take the ride for our killing in PHOT.
The Right Time to Take a Bite at PHOT
For those following PHOT with me, I entered when the stock popped up through its bullish downtrend on Dec. 30, for a quick 20% pop profit four days later on the 2nd of January.
But, as it turns out, PHOT may give us opportunity to take another bite of the apple in coming days.
I'll keep you posted on PHOT through my Twitter and Facebook accounts. Better yet, join us at the Jason Bond chat room each day for the up-to-the-moment execution of the PHOT trade and other exciting and potentially big-moving trades I have on the Watch List.
Growlife, Inc. (PHOT) - $0.24
Market Cap: $167.29 million
Revenue (annual): $3.61 million
Forward P/E (fye Dec. 31, 2014): N/A
PEG Ratio (5- year expected): N/A
Quarterly Revenue Growth (y-o-y): 176%
Quarterly Earnings Growth (y-o-y): N/A
Growlife markets its proprietary product lines, Stealth Grow and Phototron, to retail customers at the company's brick-and-mortar locations (California, Colorado, Massachusetts, Maine and New Hampshire) in addition to its three on-line retailers Greners.com, 58Hydro.com and StealthGrow.com.
Disclosure: I have no positions in any stocks mentioned, but may initiate a long position in PHOT over the next 72 hours. I wrote this article myself, and it expresses my own opinions. I am not receiving compensation for it. I have no business relationship with any company whose stock is mentioned in this article.