General thoughts
Last month I explained my views on a suitable portfolio structure for early retirees. The proposed portfolio structure was basically a mix of safety and opportunity components: cash, bonds, "opportunity" stocks and dividend stocks.
While such a portfolio is suitable for early retirees, it is not for those still accumulating for their retirement. If you are saving $200,000/year - why in the world should you keep a huge cash pile? And why should you focus on dividends? You can invest the money instead and maybe reach your goal earlier, if your portfolio does well.
Also keep in mind that later on you'll have to transform your pre-retirement portfolio in a tax efficient way into a retirement portfolio.
Retiring early is somewhat different from ordinary retirement: While ordinary retirees don't need (and often don't even want) much flexibility, feeling fine in their property, with a bit of traveling every now and then, early retirees are much younger and many still have their full live ahead. Maybe they are still looking for a partner, don't know where they'll want to live ten years later, might even want to live abroad for a while, etc. All these facts need to be considered in an accurate financial project.
In this article I will provide some basic considerations on a suitable portfolio for those among you that are still more than 5 years away from retiring early. I presume that you have a good job, save at least $100,000/year and pay a lot of taxes. You have little time (as you are always busy with your job) and still want to manage your money yourself.
So here is how I'd do it, based on my own pre-(early)retirement experiences.
Portfolio structure
Keeping in mind that you'll want to keep a high level of flexibility, I would be careful with real estate purchases. Buy your home only if you are very sure that you'll continue to live at the same place for many years and consider that, once retired, your lifestyle will probably change a lot. Otherwise your property might turn out to be an obstacle on your way to realize your dreams.
Second, forget about doing aggressive or risky speculations, maybe involving options or even leverage. I know, many people that get high pay checks each and every month feel that they can afford to risk a bit of it for the chance to get rich fast. In my opinion there is no rational way to justify such a behavior. With the nice income you earn, you are far more likely to get rich by working than by speculating at Wall Street. You should also be aware of the fact that other market participants probably dedicate far more time to analysis than you can afford. So you just don't have any competitive advantage. While you might have above average money, you are less than average afraid of losing it. Moreover you are less informed than average. So these are extremely unfavourable conditions. Just don't do it.
The area of the stock market where you do have some kind of competitive advantage is that of long-term investments. Most market participants must focus on short-term results: Fund managers compare their returns to benchmarks, their pay checks are based on annual reports, fund in- and outflows are determined by the "alpha" achieved on an annual or even only quarterly basis.
On the contrary, your own investment focus is on the long term, because you really don't need just any short-term return on your investment. You will continue to save money for five or more years - so why would you need to cash in tomorrow or next quarter? (Raising even your taxes by the way.) The stock market regularly presents great long-term opportunities which most fund managers just can't buy because of bad press (which might keep away potential fund investors), almost certain lack of growth over the coming few quarters, or temporary uncertainties.
An example I know very well is that of big pharma stocks and the patent cliff issue. In 2010 many big pharma businesses faced patent expirations of their biggest blockbuster drugs. It was certain that billions of revenues would be lost due to generic competition. Moreover, the past few years had produced very little R&D results, in spite of heavy spending. So almost all big pharma stocks tanked. However, it was easy to see that a few years later big pharma would have done fine on average: demographic tailwinds and emerging middle classes in emerging markets would have provided growth opportunities even without new blockbusters. In addition, many of these big pharma businesses were drowning in cash and could buy themselves out of the problem. But it would have taken time: maybe 2 years, maybe even some more. (Nice dividends would have sweetened the wait, by the way.) While fund managers hesitated to buy those unpopular stocks, at some point I had 40% of my portfolio in a basket of big pharma stocks like Sanofi (NYSE:SNY), Johnson & Johnson (NYSE:JNJ) and Roche (OTCQX:RHHBY). As it turned out, these stocks were great outperformers in 2012.
Keeping in mind that the portfolio we are building here should be a practical and tax efficient basis for the permanent retirement portfolio you will own 5 or more years later, the simplest way to start involves just the "opportunity stock" segment of my proposed retirement portfolio (see the above mentioned previous article for further explanations):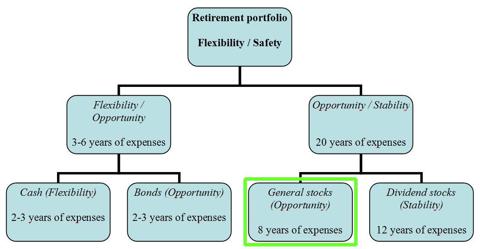 If your planned day of retirement is still many years away, the first part of the future retirement portfolio you should fill is the highlighted part. "Opportunity stocks" are safe and stable businesses that have a market capitalization of over $10 billion, have a long history of shareholder friendly management and smart capital allocation. They are mostly defensive or even "antifragile" - and they (almost) don't pay dividends, as these would only raise your taxes. You'd better leave your money invested and let it grow as it gets allocated by full-time investors that will likely achieve higher returns than you could hope for on your own. These stocks might have a higher "beta", i.e. a more volatile price chart - but you have time on your side. You won't need to sell these stocks for many years. Often these businesses buy back their own shares, increasing your part of the pie without any incremental money from your own pocket. They manage cash smartly, keeping more of it when prizes are high and investing aggressively when stock markets crash, which means that you don't need to bother with market timing yourself. Some of the best investors worldwide will do the job for you.
Here are a few examples for businesses belonging to this category:
Berkshire Hathaway (NYSE:BRK.A) (NYSE:BRK.B): Warren Buffett and his handpicked investment managers will allocate your money together with Buffett's own, growing intrinsic value per share year after year.
Jardine Matheson Holdings (OTCPK:JMHLY): an international conglomerate that grew book value and earnings throughout the recession.
Markel (NYSE:MKL): also called "Baby Berkshire", this company modeled after Warren Buffett's holding is managed by smart value investors.
Loews (NYSE:L): another value investor run conglomerate.
DaVita (NYSE:DVA): one of the largest dialysis providers worldwide. (For further information see my article here.)
DirecTV (NYSE:DTV): a pay-TV provider with enormous growth opportunities in Latin America and an extremely shareholder friendly management that strictly focuses on return on invested capital.
The great thing about these businesses is that they are very likely to grow value per share for many years to come. In the meantime, you don't need to do anything and won't pay a dime in taxes while your capital continues to grow, providing some years later a solid basis for your early retirement.
As you get closer to retirement, start filling the "Dividend stocks" segment. Start with stocks with lower pay-out ratios to keep your taxes low and profit from internal compounding.
Examples would be Deere (NYSE:DE) and IBM (NYSE:IBM). These two businesses buy back lots of shares, which is far more tax efficient than paying out dividends, but some years from now the yield on your initial investment will probably have grown nicely.
Later on buy the high yielding stocks like Admiral plc (OTCPK:AMIGF), United-Guardian (NASDAQ:UG), Fuchs Petrolub (OTCPK:FUPEF), BBA Aviation (OTCPK:BBAVF), or - if you prefer - the traditional dividend stalwarts: Coca-Cola (NYSE:KO), Nestlé (OTCPK:NSRGY), Wal-Mart (NYSE:WMT), Sanofi, Johnson & Johnson.
In the last years before you finally retire remember to fill your cash reserve.
Some commentators have said that a cash reserve covering 3-5 years of expenses is too much. While obviously everybody makes his own choices, please keep in mind that life might present ugly surprises every now and then. Dividends can be cut in a financial crisis, you might suddenly need a lot of money for some urgent work on your property, a relative could have costly health issues, etc. Moreover, a nice cash pile can provide dry powder in the event of great buying opportunities at the stock market. Personally I'm never ever keeping less than 3 years of expenses in cash.
If you proceed in the way explained above, your pre-retirement portfolio will slowly adapt to your changing needs, as you move closer to your day of early retirement. You can minimize the realization of capital gains and avoid penalizing income taxes. Furthermore, you can focus on what still matters most: your job. In the meantime, some of the world's best investors will allocate your capital for you.
Disclosure: I am long BRK.B, JMHLY, DE, IBM, SNYNF, DTV, DVA, AMIGF. I wrote this article myself, and it expresses my own opinions. I am not receiving compensation for it (other than from Seeking Alpha). I have no business relationship with any company whose stock is mentioned in this article.