According to a report at MarketWatch, earnings warnings by listed U.S. corporations have increased rather dramatically:
"Either Corporate America has reached its most pessimistic outlook in years in regard to earnings, or executives are pushing the envelope of the low-ball game. How bad are the forecasts? It depends on who you ask, but one thing is certain: companies are lowering expectations as much as they can.

According to John Butters, senior earnings analyst at FactSet, 94 out of the 107 companies on the S&P 500 Index that have issued an earnings outlook for the fourth quarter have fallen below Wall Street consensus. That's a negative rate of 88%, the most pessimistic reading since FactSet started tracking the data in 2006.

It also marks the seventh quarter in a row that the number of companies issuing negative earnings guidance has risen, Butters said. By his count, the estimated earnings growth rate for the S&P 500 in the fourth quarter is 6.3%.

Over at Thomson Reuters, corporate earnings outlooks are at "the most negative guidance sentiment on record," according to analyst Greg Harrison.

By their count, 108 companies have given earnings outlooks that fall below the Wall Street consensus, compared with 11 companies that have given an in-line figure, and 11 companies that have provided an estimate above the consensus. Just taking the negatives and the positives yields a negative forecast rate of nearly 91%."
Here is a chart illustrating this trend: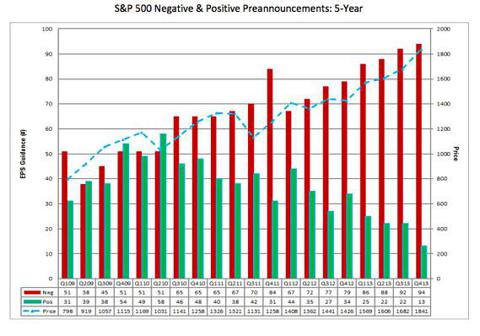 Positive versus negative earnings guidance issued by companies in the S&P 500 index
Even considering that most companies have left their guidance unchanged (apparently only a little over 20% of the companies in the index tend to alter their guidance on average), this trend is bound to eventually affect the overall trend in earnings growth noticeably.
However, we believe that this is generally far less important to the stock market's trend than is widely believed. The degree to which earnings trends matter to stock prices depends on a great many other variables. For instance, during the second-worst bear market of the 20th century (from January 1973 to December 1974, when the S&P Index fell by about 56%), SPX earnings rose every single quarter. The problem for the stock market was that it was trading at a relatively high valuation at the beginning of the period, while worries about inflation and political uncertainty increased markedly and steadily as the bear market evolved. Conversely, when the market rose sharply after the 2009 low, earnings initially remained quite weak, but many stocks started out from extremely depressed levels (e.g. in cyclical stocks the carnage was far more pronounced than in the S&P Index; there was an opportunity to pick up stocks like International Paper (NYSE:IP) or Teck Resources (TCK) in low single digits).
In other words, a negative trend in earnings guidance is not necessarily saying that stock prices have to decline. However, one suspects that if earnings growth slows down considerably in conjunction with slowing money supply growth, it will actually matter, especially in view of how extended the market already is. Moreover, this trend is telling us indirectly that the recovery remains weak and/or that many companies have reached the end of the line with regard to cost cutting measures. EPS growth is also strongly influenced by buybacks. These are nice things to happen to shareholders on the way up, but they also weaken balance sheets, as many are funded by borrowings.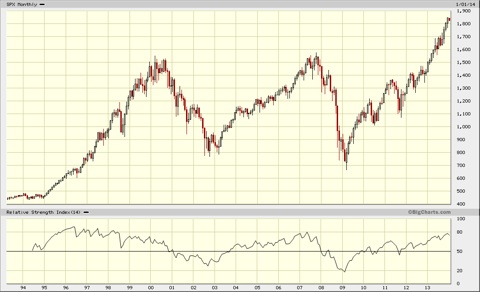 S&P 500 index, monthly
We think this trend is one more reason to be very cautious about the stock market at the current juncture. Note also that similar to what could be observed near the peaks in 2000 and 2007, stock buybacks have progressively increased along with prices. The confidence of corporate treasurers is subject to the same forces that influence the confidence of other market participants. They tend to be the most comfortable about buying back their companies' shares at what, in hindsight, usually turn out to be the most inopportune moments for doing so. Conversely, buybacks tend to be curtailed and postponed when shares are actually cheap.
Plus ca change …
Charts by: MarketWatch / FactSet, BigCharts