This is not a victory lap. Most new shareholders, or desperately hopeful legacy shareholders, do not know what they own. This article is meant to warn them.
Nuverra Environmental Solutions (NYSEMKT:NES) is on its way to zero. Quickly.
NES is not a cheap stock, despite what the chart looks like. It is not a management restructuring story; new management has been in place for well over a year. It is not a call option or investment in domestic energy production. It is not an essential environmental service company. NES is a mismanaged and over-levered water trucking company in a hyper-competitive industry that will soon be bankrupt. Yes, the equity will be worthless (vs. $400mm of current value).
I've written two articles on NES already (1 & 2), but the story continues to evolve... and get worse. 3Q results were nothing short of a disaster. NES missed analyst expectations by a country mile and even missed my bearish expectations by a long shot. Oil and gas activity, especially in Nuverra's core Bakken region, was booming in the third quarter. So why did revenue decline 2% sequentially and EBITDA decline 25% sequentially? More importantly, with Bakken activity up big this year (well count up 20-30% y/y), why has adjusted EBITDA fallen almost 50%? Because Nuverra is needed less and less. I touched on it in my last article, but let's dig deeper into the fundamentals of Nuverra's business - before we dig into the upcoming liquidity problems.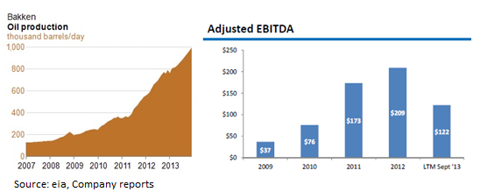 Oilfield Fluid Services 101
Fluids are moved most cost effectively through pipe. It's a simple fact, whether we are talking about oil or water. In the early stages of an oilfield, lots of trucks are needed as the sole source of transportation for fluids since they represent the best immediate solution. This was the Bakken from 2009-2012. As oilfields mature, infrastructure, which can handle higher volume at lower cost, is built (for water and oil) and trucking demand rapidly declines.
How Water Management is Improving Operational Efficiencies in the Bakken is a great article that discusses how operators are changing how they handle water in the Bakken. As the article highlights, water-related costs (both upfront and ongoing) are a significant cost. It stands to reason that energy companies would do their best to try and cut these costs. So what is the most expensive and manageable component to remove?
"Typically, water hauling costs (trucking) are the highest component of completion water and LOE…Advanced project planning designed to minimize water hauling can serve as an important way to reduce costs and provide safe and sustainable water management… In addition, logistical planning can lead to the increased use of pipelines, pad drilling and proximal water handling facilities, recycling, and evaporation."
As the article mentions, pad drilling greatly helps reduce water costs - and most Bakken operators are quickly moving to pad drilling. Since multiple wells are being drilled per pad, it is much cheaper to build temporary piping to bring in fresh water, E&P operators don't need as many frac tanks, and then produced water infrastructure is built to handle the legacy waste stream. These are all Nuverra services in decline.
Article #2: Marcus Gay, Research Director for Water Information and Insight at IHS, an expert in water and wastewater treatment within the energy sector wrote "Our analysis highlights the operational shift from trucks toward water transfer by pipes and hose."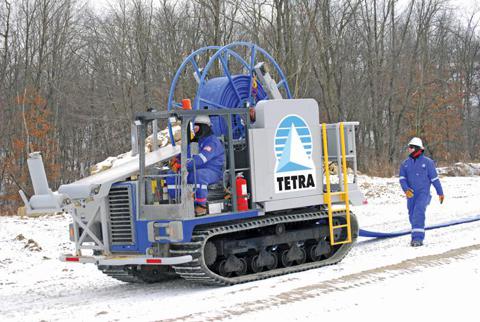 Customers Shifting Water Spend - Trucking is Losing
In my last note, I talked about the hundreds of millions of infrastructure investment by Hess this year, a good portion of which was for water infrastructure. Hess is Nuverra/Power Fuels' largest customer (according to page 6 of the 10-K); is it any surprise that results are crashing? Almost all other Bakken operators are making infrastructure investments (building water gathering facilities and salt water disposal wells) and cutting water costs. Just two examples (since they are all doing it)…
Kodiak's 3Q13 release…
"The Company continues efforts to decrease operating costs primarily by addressing water disposal costs, the largest component of LOE. Gathering and connection work continues on water disposal wells which helps to reduce the Company's dependence on third-party services and minimize trucking requirements."
Oasis's 3Q13 conference call:
"We now have almost 60% of disposal water on pipeline and almost 90% going down our own disposal wells. The acquired assets are a little behind us with about 40% on pipe and 50% going down own disposal wells. We'll be able to invest in salt water disposal infrastructure on the position next year, to help drive down LOE which will be a little inflated from normal levels in the near term."
So large E&P companies are making the right infrastructure investments to save money, but what about the small guys? That's where the midstream guys come in - they build the same type of infrastructure. Here are just two examples. Bear Tracker Energy was rapidly developing water gathering pipelines when it was bought in Jan 2013 and Arrow Midstream is doing the exact same thing. Arrow expects its water throughput to grow from 8,500 bbls/d to 40,000 bbls/d over the next year. Does anyone want to do the math for me as to how many 100bbl trucks that displaces? It's a lot!
Does this look more efficient than a pipeline?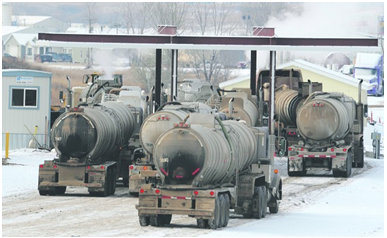 Trucking is structurally disadvantaged and rapidly declining trucking demand is a huge problem for Nuverra. Talk to any trucking company in the Bakken and competition is intense with heavy pricing pressure. Think there are high barriers to entry? This guy built a company just like Power Fuels, but unfortunately wasn't lucky enough to sell to Dick Heckmann at the peak of the market.
But enough about Nuverra's business problems, their financial problems are about to re-take center stage…
Liquidity Crisis Looming
My last two articles were scorned for my analysis of Nuverra's near-term default risk. My analysis suggested that NES was set to violate its 4x net leverage ratio. The company consequently amended its covenants to appease investor worry, but the amendment was necessary. According to page 45 of the latest 10-Q, NES's 3Q leverage ratio was 4.2x, which means NES was set to trip its covenant and be in default.
But that was then, and this is now. According to the very recently amended credit facility, NES can only have leverage of 4.5x in 4Q13, 4.25x in 1Q14, and 4x in 2Q14. According to pages 19 and 45 of the latest 10-Q, Nuverra has $553m of total debt as of November 7th. At a 4.5x ratio, NES has to generate $123m of EBITDA to avoid defaulting on its credit facility and triggering an expedited repayment of its $400mm in senior notes (i.e. bankruptcy). With YTD EBITDA of $90.4mm, that means 4Q EBITDA has to grow to $33mm, or 32% sequentially, to avoid problems. In fact, the CFO even confirmed this on the conference call;
Question: "And if we're at low-30s EBITDA, we're not at risk on that covenant, right?"

CFO Answer: "It's probably where -- in those low-30s of EBITDA is kind of where you get to the point of getting past that risk, low- to mid-30s in EBITDA."
So what are Nuverra's odds that results improve sequentially to $33m? I put them essentially at zero. Not only did NES miss analyst expectations by 35% in 3Q, which was also miserably below the bottom end of guidance given just a few months ago in August , but the company completely pulled forward guidance and said "the Company believes the seasonal slowdown in the fourth quarter could be greater than normal."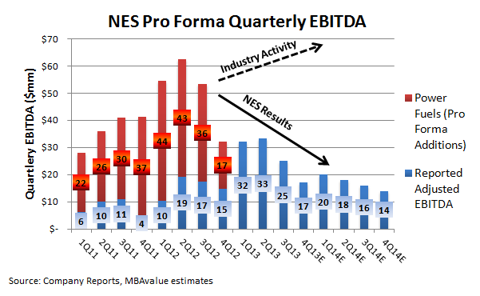 So the company has said results will decline and competitors are also calling for a seasonal slowdown - which is normal for the industry (Basic Energy, a competitor in fluids services said "we expect our fourth quarter revenue to be down 6% to 7% sequentially due to the normal seasonal slowdown), what are the odds EBITDA actually increases and doesn't fall another 25% sequentially?
Nuverra bulls will likely respond, the company is generating free cash flow and paying down debt, and the company is selling TFI and will be in the clear. I'll address both of those issues below.
Cash Flow Is Not What You Think
Nuverra has reported YTD cash flow of $76mm, but is this real, sustainable cash flow? Any company can juice its cash flow if they don't pay their bills and demand a quick collection of receivables. As you can see below, this strategy (collecting receivables and deferring payables) has single handedly been responsible for $51mm of the reported $76mm in cash flow. That's 67% of cash flow!

Is it sustainable? Absolutely not. Normalizing for working capital changes shows that free cash flow (after backing out capex), continues to decline and is negative! So while NES claimed to pay down $32mm of its credit facility in 2Q and 3Q, this was not sustainable. It is also why borrowings on NES's credit facility jumped from $114mm at the end of the quarter to… "As of November 7, 2013 the outstanding balance on the Revolving Credit Facility was approximately $132.5 million." (page 45 of the 10-Q).
The numbers don't lie. Nuverra may be fooling investors for the time being, but they aren't going to fool the bankers who want to get paid back.
Selling TFI Does Not Solve Much
Nuverra bulls think that selling TFI solves all near-term liquidity problems. Why are they wrong? A sale of TFI is unlikely to cover the $133 million due on the credit facility. So Nuverra will still have money due on its credit facility and will be free cash flow negative. In fact, gross profit barely covered interest expense in 3Q!
So what is TFI worth? Nuverra paid $245mm for TFI in March 2012. The company paid a premium multiple (7.2x) on TTM EBITDA of $34mm. Since then, EBITDA has fallen more than 50% to ~$15mm and Nuverra recently wrote off $98mm of the $191mm of goodwill. Nuverra management is hoping to sell TFI at new book value of $148mm (still includes $93mm of goodwill), but given that Nuverra is a distressed seller (they have to sell TFI to appease the bankers and avoid immediate bankruptcy), that is highly unlikely.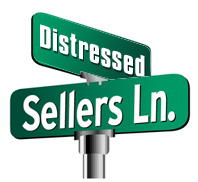 Let's be optimistic, like the bullish analyst, and assume TFI is sold for $100mm (6.5x $15mm of EBITDA). Nuverra can pay down $100mm of the $133mm drawn on its credit facility. So total debt falls to $453mm, but 2013 EBITDA (ex TFI) will be less than $100mm, and that's assuming 4Q is flat with 3Q (very unlikely given the company pulled guidance and said it will decline). That's a 4.5x leverage ratio, which, again, violates the recently amended credit facility.
So even if Nuverra is able to sell TFI, they'll still be in default on the outstanding balance ($30+mm) on their credit facility, their adjusted EBITDA will still be in decline, and they are free cash flow negative, i.e. they need either cash or credit - both of which just ran out.
Bulls will argue 'hey, they can get an asset based loan (ABL)!' but this may be contingent on the company's ability to restructure the terms of its other debt structures, which may not happen given rapidly deteriorating results and concerns about getting paid back. More importantly, an ABL is a desperate move akin to plugging a dam with a bandaid. How much is the equity worth of a company that keeps piling on debt with deteriorating results?
Valuation: NES worth $0
With all of the problems plaguing this company, it should trade at a discount to well respected peers, right? Wrong. Key Energy (NYSE:KEG), Basic Energy (NYSE:BAS), and Superior Energy (NYSE:SPN) are all competitors, but have much more diversified and protected businesses. In fact, this is what KEG said at a recent conference.
"Fluid management remains the company's most competitive business (lowest barriers to entry) and pricing competition is 'fierce' in current environment"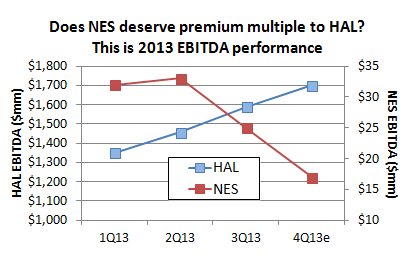 Why is Nuverra trading at a premium to everyone, including Halliburton (NYSE:HAL)? Since NES has negative net income, negative tangible book, and negative operating profit, we can only value NES off of an EBITDA multiple. Fluid service M&A comps are 3-4x EBITDA (Power Fuels was acquired at 3x), but we'll give NES a generous 5x EBITDA multiple. Keep in mind this disregards the risky excessive leverage and the fact that results are still declining. Even at a premium 5x multiple, NES is still worth $0!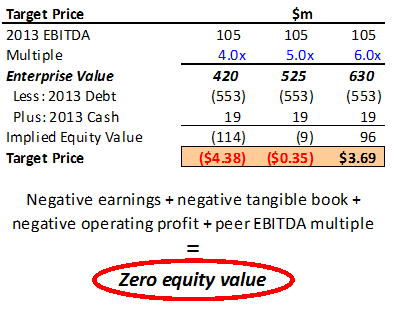 Insider Buying
Insider buying and selling is usually a good sign of what management actually thinks. Yes, Johnsrud has been buying, but in the context of the bigger picture, this is a smoke shield. Johnsrud made $380 million (!!!) selling Power Fuels, composed of $125 million in cash and $255 million in NES stock. With a 2-year lockup, and the fundamentals of the company and credit profile deteriorating, Johnsrud needs to keep the stock propped up to preserve any equity value (11 months remaining in lockup). Johnsrud has purchased ~$2.7 million worth of stock in the last three months. If you had $125 million in cash and $160 million locked up in a stock, would you commit $3 million to try and keep the stock and company's credit alive? So would I.
Other Problems with Nuverra
· Nuverra recently lost a lawsuit that threatens to bankrupt the company, or at least a division that provides 10-15% of EBITDA, even sooner. The company lost a $281mm lawsuit and only has insurance coverage of $16mm. While there is a chance this gets reduced, NES will be lucky to get the verdict below $16mm.
· Yes, all companies have disgruntled employees, but really? Review 1, Review 2, Review 3. Nuverra, most likely has to hire 300 people because turnover is so high.
· If Nuverra is the leader in shale water treatment, why aren't they here and who are all these other players?
· Nuverra still has $706mm of Goodwill and Intangibles. Given that the stock is trading below book value and results have disappointed, more impairments are likely coming.
· Is a landfill really going to save Nuverra? There are lots of landfills in ND! Plus, how can you trust Nuverra's landfill guidance when the company has never come close to hitting guidance?!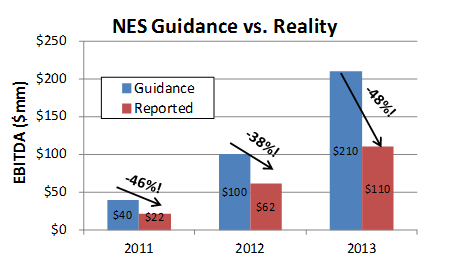 · Dick Heckmann is still getting paid $500k per year and NES is still paying lots of money to use Dick's jet. See page 25...
· Johnsrud is also making millions on the side renting his apartments and selling water to Nuverra, also on page 25 of the 10-Q in the list of related party transactions.
· So why aren't Dick and Mark worried? Because they already got rich off NES shareholders.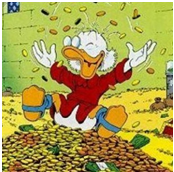 Conclusion
NES is on its way to zero. Quickly. And it's never too late to sell a stock headed for bankruptcy. Management has proven to be untrustworthy and results are in free-fall with no substantive reason to believe that changes. Hope is a weak investment thesis, current holders have been warned.
Disclosure: I am short NES. I wrote this article myself, and it expresses my own opinions. I am not receiving compensation for it (other than from Seeking Alpha). I have no business relationship with any company whose stock is mentioned in this article.