Australian junior oil and gas explorer Karoon Gas (KRNGF) is fast shaping up as one of the most exciting junior oil and gas explorers operating in South America. The company has significant exploration properties and projects in Peru, Brazil and Australia. It has already made a significant gas discovery in Australia's offshore Browse Basin and 2 significant oil discoveries in Brazil's offshore Santos Basin. The quality of these assets and the potential that they hold make it an attractive acquisition target and any further successful development of those assets will boost the company's value.
Company profile and resources
Karoon Gas is domiciled in Australia and is listed in the Australian Stock Exchange (ASX) under ticker (KAR.AX), which is a far more liquid listing than its U.S. OTC ADRs. The company has onshore and offshore exploration acreage in Australian, Peru and Brazil as highlighted by the chart below.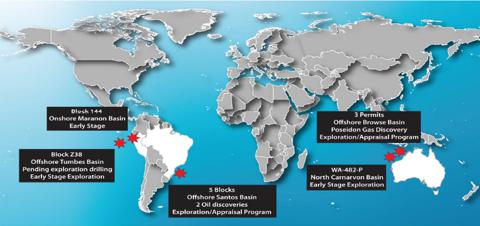 Source: company presentation.
As the chart shows each of these resources are in various stages of development, with development the most advanced for Karoon's Santos basin and Browse Basin assets. It is the quality of these assets which makes Karoon an exciting investment opportunity.
But as the chart below illustrates, while the company has considerable resources in each of those location, there is a significant degree of uncertainty with them being classified as contingent and prospective resources.
Source: company presentation.
Contingent and prospective resources carry considerably more risk than proved (1P), probable (2P) and possible (3P) reserves. This risk is typically composed of commercial risk and discovery risk.
According to Ryder Scott Petroleum Consultants, contingent resources are defined as resources that are recognized as being 100% technically recoverable but may not be commercially viable. As such they carry 100% commercial risk. Contingent resources are classified into 3 ranges of uncertainty 1C, 2C and 3C.
These ranges are equivalent to and theoretically should translate into the respective reserves categories of 1P, 2P and 3P as they are discovered and developed. But the risk is that while there is a 100% chance that they are discoverable they are may not be commercially viable to develop.
Prospective resources are defined as those quantities of petroleum estimated, as of a given date, to be potentially recoverable from undiscovered accumulations by application of future development projects. But there is both commercial and technical risk attached to these resources. Meaning that these resources may not be discoverable and if they are discovered may not be commercially viable to develop.
This means there is considerable risk attached to prospective resources. At best they are an estimation of the potential associated with an oil and gas explorers assets. As such there is a significant degree of uncertainty associated with valuing prospective reserves in order to determine an oil exploration company's indicative value per share.
But to a degree this risk is offset by the high quality of Karoon's assets, particularly those in the Santos Basin, where it has made 2 oil discoveries and its Browse Basin assets. Already Karoon has made 3 gas and condensate discoveries in the Browse Basin with its partner ConocoPhillips (NYSE:COP).
High Quality Australian Assets
Karoon has considerable offshore assets located in the low risk jurisdiction of Australia. These assets as the chart below illustrates are located in the Carnarvon and Browse Basin's on the North-West shelf of Australia.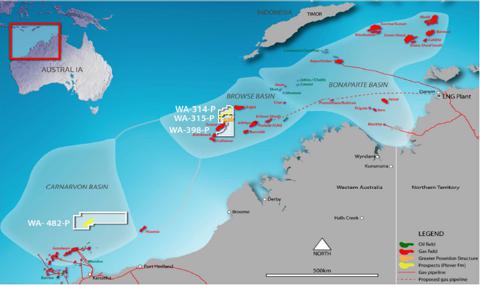 Source: company presentation.
But it is the Browse Basin assets which stand out as being key to Karoon's success, given that they are at the most advanced stage of development and are operated by a world class partner with considerable E&P expertise in ConocoPhillips.
Browse Basin
Karoon currently holds 3 permits in the Browse Basin 217 miles offshore from north-western Australia. These permits are WA-314-P, WA-315-P and WA-398-P located in water depths of around 1640ft with a combined area of 1.9 million acres as shown by the chart below.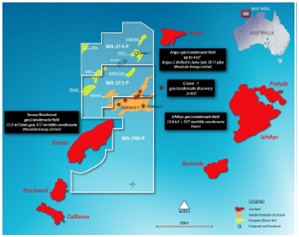 Source: company presentation.
The Browse Basin is believed to have the potential to become a large scale LNG and condensate producing basin. There have already been a number of significant gas and condensate discoveries in the basin including Karoon's Poseidon gas discovery. These include Santos' (OTCPK:STOSF) Crown discovery as well as the Woodside (WOPEY) operated Torosa field and the Inpex (IPHXY) operated Ichthys field.
Karoon holds a 40% interest in permits WA-315-P and WA-398-P, with ConocoPhillips holding 40% in both permits and PetroChina (PTR) the remaining 20%. Karoon also holds a 90% interest in WA-314-P with the remaining 10% held by ConocoPhillips, which is the operator of all 3 permits.
Already Karoon has made a significant gas find in the Browse Basin, the Poseidon discovery, which has a high estimate of net contingent resources of 7.6 trillion cubic feet (NYSE:TCF) of gas. To date 6 wells have been drilled in the Poseidon structure with a drilling and development program currently in place that will extend into 2014 in order to better define the quality and size of the resource. Outside of the Poseidon trend it is further estimated there are mean gross unrisked prospective resources of 19 TCF of gas, with a probability of success of 15% to 33%.
Browse Basin valuation
At this time it is estimated by industry consultants DeGoyler and MacNaughton that Karoon's mean risked resources in the Browse Basin are 1.6 Tcf. As such I have estimated that these assets are valued at $1.5 billion or $5.98 per share, using $957 million per Tcf.
The value per Tcf was obtained by examining the last 2 farm-out deals in the basin where the details were disclosed to the market, both of which are set-out in the table below.
Browse Basin farm-out transactions
Date

Seller

Buyer

% Acquired

Amount ($mm)

Resources tcf

$m/tcf

12 Dec 12

BHP Billiton

PetroChina

9.96%

$1,630

1.55

$1,055

1 May 12

Woodside

MMI Browse

14.7%

$2,000

2.33

$858

Average

$957
Source: company data.
Since the completion of those deals Conoco Phillips sold a 20% equity stake in its Greater Poseidon Field (permits WA-315-P and WA-398-P) to PetroChina for an estimated $371 million. As such this transaction would value Karoon's 40% equity interest in those permits alone at $742 million or $2.90 per share.
But given that Karoon's management have estimated that there is a 15% to 33% chance of success for the development of these resources to commercially recoverable levels I have applied a 33% risk factor. This reflects that there is additional drilling and expenditure required to bring the Browse Basin resources online as commercially recoverable. This therefore values Karoon's Browse Basin resources at $495 million or $1.97 per share.
North Carnarvon Basin
Karoon holds permit WA-482-P in the offshore North Carnarvon Basin, which is located offshore from Northwest Australia. The permit is located in water depths of between 1,300ft to 6,600ft and covers 3.4 million acres as the chart below illustrates.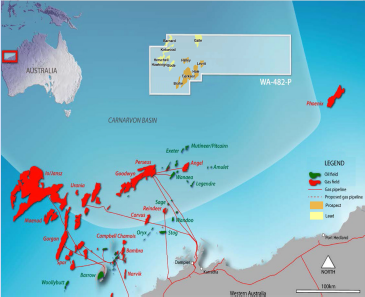 Source: company presentation.
The North Carnarvon Basin is estimated by Geosciences Australia to have remaining known reserves are 478 million barrels of oil, 585 million barrels of condensate and 21 tcf of gas. The permit is located on the same trend as the North Carnarvon Basin Mungaroo gas plays and Carnarvon Petroleum's (CVONF) Phoenix gas discovery.
The WA-482-P permit has 6 prospects and is estimated to have gross unrisked mean prospective resources of almost 3 billion barrels of oil, with Karoon being the operator and holding a 100% interest. But this interest is subject to Karoon complying with its farm in obligations.
The company farmed-in to this permit with Liberty Petroleum Corporation (OTC:LBPE) and will earn its 100% equity in the permit by completing the first 2 years of a work program. The key component of which is completing the acquisition and processing of 500,000 acres of 3D seismic data.
After the completion of the first 2 years Karoon has the option to either exit the block or retain its interest and complete a third year well commitment. It is also planning to farm-out an equity interest in the permit prior to commencing drilling and exploration in 2015. This will go some way to mitigating the risk associated with developing this permit while securing the necessary funding to allow the next stage of the appraisal program to commence. At this time I have not valued Karoon's North Carnarvon Basin asset despite the promise it holds because this asset is in the early stages of development.
There is considerable potential for further discoveries among Karoon's Australian assets; with ConocoPhillips as a partner and operator, the resources are available for the continued development of the Browse Basin permits. All of which bodes well for Karoon to continue building its asset base making it an attractive acquisition target for those larger players seeking high quality assets located on Australia's northwest shelf.
Peru fast shaping up as South America's next oil hotspot
Karoon's assets in Peru consist of onshore assets in the Marañon basin in north central Peru and offshore assets in the Tumbes basin, consisting in total of 2 blocks.
Marañon basin play
The Marañon Basin is the largest oil basin in Peru and corresponds to the southern extension of the Putumayo and Oriente Basins of Colombia and Ecuador. It forms part of the sub-Andean hydrocarbon trend, which is believed to be one of the richest hydrocarbon trends in the world. The trend encompasses a number of major basins in the region across Colombia, Ecuador and Peru as the chart below illustrates.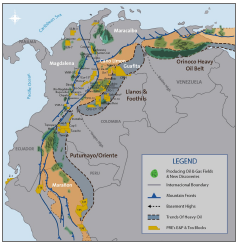 Source: Pacific Rubiales Investor Handout July 2013.
The basin is believed to hold around 970 million barrels of recoverable oil and there are a number of other E&P companies operating in the basin including Pacific Rubiales and Gran Tierra Energy (GTE).
Karoon holds a 100% working interest in and is the operator of block 144 of the Situche Central oil field as shown in the chart below.
Source: company presentation.
The company has identified 22 prospects and leads within the Block, which have been assessed to have prospective resource potential within the range 50 to 250 million barrels of oil. Currently Karoon is evaluating those leads and has scheduled to commence drilling in 2014 to 2015. It is also seeking an equity partner for the block prior to commencing drilling. This will consist of a farm-out of up to 40% equity.
Tumbes Basin play
The Tumbes basin is an offshore shallow water basin located in northern Peru and is estimated to have more than 1 billion barrels of recoverable oil. Karoon holds a 75% equity interest in Block Z-38, with Pitkin Petroleum Peru Z38 SRL holding a 25% interest. Block Z-38 includes targets in water depths ranging from 980ft to 1,640ft and covers an area of 1.2 million acres as the chart below illustrates.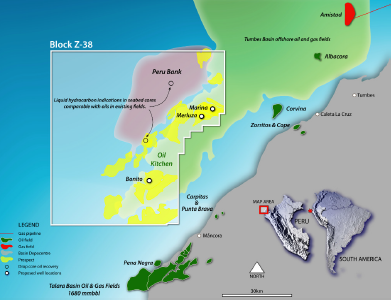 Source: company presentation.
Karoon has identified 16 prospects in the block and it is estimated to hold net unrisked mean prospective resources of 1.8 billion barrels of oil. The company has completed its prospect evaluation program and the final drilling locations have been selected, with the first phase of the drilling exploration program expected to commence in mid 2014.
In order to mitigate the risk associated with the first phase of the exploration program Karoon has committed to farming out an additional 30 to 35% equity interest in the block, prior to commencing the program. Karoon has already opened a data room and had a number of prospective buyers express interest in acquiring the equity interest, boding well for the program to proceed on schedule.
Karoon's Peruvian assets, while in the early stage of development, offer considerable potential. The company is seeking to farm-out a considerable portion of these assets which will mitigate the development risk and provide the required funding to continue their development. But given the early stage of development of these assets and the ongoing search of farm-out partners I have declined to value the assets.
The Santos Basin Karoon's most exciting asset
Karoon's most valuable assets are its interests in Brazil's Santos basin where it has made 2 significant oil discoveries. The Santos Basin is one of Brazil's largest sedimentary basins and is the site of a number of significant oil fields.
Karoon's blocks are located 137 miles off the coast of Santa Catarina region of Brazil, south of Rio de Janeiro. The Blocks are located in shallow water on trend with oil and gas fields such as the Piracucá, Caravela, Vampira, Merluza and Mexilhão fields as the chart below illustrates.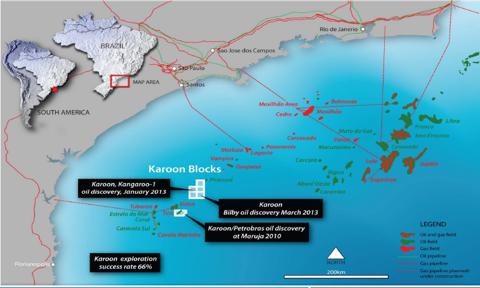 Source: company presentation.
Karoon's Santos Basin Blocks BM-S 1037, 1101, 1102, 1165 and 1166 are located in water depths of around 985ft and have a combined area of 213,000 acres. Karoon holds a 65% equity interest in all 5 blocks while Pacific Rubiales has farmed into all 5 blocks with a 35% equity interest, the details of which are set out in the chart below.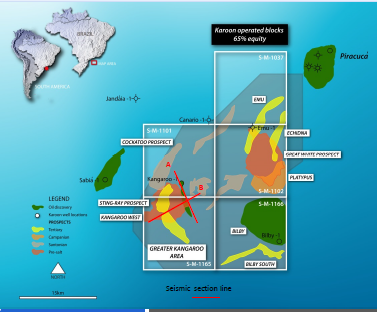 Source: company presentation.
The farm in is subject to approval by Brazil's petroleum regulator, which at this time has yet to be given. Accordingly Karoon is carrying the value of an unsecured liability on its balance sheet totaling $226 million representing the total funds received from Pacific Rubiales for this venture.
To date Karoon has made 2 oil discoveries in the basin at the Kangaroo-1 and Bilby blocks with estimated P90 resources of 81 million barrels of oil. To date Karoon has completed the first phase of its drilling and exploration program with phase 2 to commence in 2014.
The goals of phase 2 are the continuation of its appraisal and exploration drilling program with the completion of 2 firm wells (Kangaroo-2 and Kangaroo West) and 4 contingent wells. The company is targeting a first half 2014 spud. The ongoing appraisal and development of Kangaroo is the company's top priority.
The volume of significant oil discoveries in the Santos Basin coupled with Karoon's 2 discoveries bode well for the continued success of its drilling and appraisal program. Many of the costs and risks associated with further developing those assets are offset by the participation of Pacific Rubiales and the funding it is providing under the conditions of the farm-out agreement.
Karoon has also engaged the services of Worley Parsons (WYPGY), an Australian based oil services contractor, to establish a development plan for first potential oil from its Santos Basin acreage in 2018. Typically a discovery of at least 50 mmbbls is required to be commercially recoverable and it is estimated that capex of at least $3 billion is required for the implementation of a development plan.
Valuation
In valuing Karoon's Santos Basin assets I have only taken into account its contingent resources as set out in the table below for the Kangaroo-1 oil discovery.

Source: company presentation.
But it should be noted that it has risked mean estimate prospective resources of 250 mmbbls.
As such applying the same methodology as applied to reserves, there is a 90% chance of 1C resources being recoverable, a 50% chance of 2C being recoverable and a 10% chance of 3C being recoverable.
Therefore, I have estimated that Karoon has total recoverable contingent resources of 107 mmbbls commercially recoverable resources in the Santos Basin.
I have then taken the average NPV/BOE for nearby fields in the Santos Basin as determined by Gaffney, Cline and Associates for Brazil's petroleum regulator (the ANH) of $8.41. This amount is lower than that the $10NPV/BOE used by Credit Suisse in its July 2013 report on Karoon, as determined by averages from industry consultants Wood MacKenzie. As such I arrive at a total value for Karoon's Santos Basin assets of $900 million or $3.52 per share.
Financials
Karoon continues to generate a net-loss reporting a net-loss for the full year 2013 (ending 30 June 2013) of 4 cents per share compared to a net-loss of 1 cent per share in 2012. This can be attributed to a 39% increase in expenses with the company devoting further resources to developing its discoveries in the Santos Basin. However, this is not unusual with it expected that oil and gas explorers will operate at a loss with no production to generate revenue and because of the capital intensive nature of their operations.
But despite this loss Karoon maintains a strong balance sheet with cash and cash equivalents of $182 million, total assets of $842 million and net assets of $534 million. More importantly the company remains working capital positive, with working capital of $161 million as at 30 June 2013.
In addition, with the exception of the short-term liability owed to Pacific Rubiales totaling $226 million, the company remains debt free. The amount owed to Pacific Rubiales is representative of the funds advanced by Pacific Rubiales under the terms of its joint venture agreement. Karoon only becomes liable to repay those funds should the agreement not be approved by Brazil's petroleum regulator.
This leaves Karoon well positioned to continue funding its exploration and development efforts which should lead to the eventual monetization of its Santos Basin assets.
Karoon Valuation
In order to value Karoon I have solely taken the values assessed for its Browse Basin and Santos Basin assets as set out earlier and then factored in the value of cash on hand less debt as set out in the table below.
| | | | |
| --- | --- | --- | --- |
| Assets / Liabilities | Location | $mm | $ per share |
| Browse Basin | Offshore Australia | $495 | $1.93 |
| North Carnarvon Basin | Offshore Australia | $0 | $0 |
| Maroñon Basin | Onshore Peru | $0 | $0 |
| Tumbes Basin | Offshore Peru | $0 | $0 |
| Santos Basin | Offshore Brazil | $900 | $3.52 |
| Cash & Cash Equivalents | | $182 | $0.71 |
| Liabilities | | $308 | $1.20 |
| Shares Outstanding | 255,840,000 | | |
| Total Value | | $1,269 | $4.96 |
Based solely on the value of Karoon's Browse Basin and Santos Basin assets I have determined that the company's indicative fair-value per share is $4.96, which represents potential upside of 29% for investors.
Investors should note that Karoon's ADRs are particularly illiquid. The preferred option for investors is to purchase Karoon's common stock listed on the Australian Stock Exchange, where shares trade on a far more liquid basis with significantly higher trading volumes.
Short-term price catalysts
There a number of short-term catalysts that have the potential to drive Karoon's share price. Key among these are catalysts are:
The acquisition of farm-out partners for the North Carnarvon Basin as well as the Marañon and Tumbes basins in Peru. This will provide the much needed capital to continue developing those assets.
The successful completion of the drilling program for the Kangaroo block, leading to a first-half 2014 spud.
Any potential interest from a suitor seeking to acquire Karoon, primarily for its quality Santos Basin assets.
These will certainly act to boost Karoon's share price allowing it to realize the potential upside represented by the value of its core Browse Basin and Santos Basin assets.
Key risks
When investing in oil and gas exploration juniors there are a range of risks that investors need to consider. Key risks to consider include:
It is a small-cap oil and gas explorer and this means it doesn't have the resources to continue funding large scale intensive drilling and development programs. As such Karoon will continue to require debt funding, joint-ventures or equity raisings to provide sufficient funds to continue developing its existing assets. Any additional equity offering may dilute the value of existing shareholders.
As a small-cap it has limited financial resources exposing investors to a greater degree of market and investment risk.
The value of its existing assets is not only dependent upon the price of oil and natural gas but also the company's ability to continue generating successful drilling results and bring those assets online as commercially viable reserves.
All valuation methodologies have used the company's contingent resources. There is no guarantee that those resources will be developed to the point where they are commercially viable.
With the exception of Australia the company operates in the higher risk jurisdictions of Peru and Brazil. This leaves investors exposed to higher levels of political, currency, legal and regulatory risk.
Those investors who choose to invest in Karoon's ASX listed stock will be exposed to additional currency risk, with the outlook for the Australian dollar less than optimistic at this time.
But many of these risks are mitigated by the potential of Karoon's high quality asset base and its joint venture with Conoco Phillips in the Browse Basin and its joint venture with Pacific Rubiales in the Santos Basin.
Bottom line
It is clear that Karoon holds interests in a range of high potential oil and gas assets and has the support of 2 experienced E&P partners Conoco Phillips and Pacific Rubiales. As such I believe Karoon offers investors potential upside with its range of high quality assets and recent oil discovery in the Santos Basin. This potential upside could be even higher if the company makes oil and gas discoveries in its North Carnarvon, Marañon and Tumbes Basin assets which are in the early stages of appraisal.
But any investment in Karoon is not without risk because it is a particularly volatile stock and there is no guarantee that its existing assets will translate into commercial recoverable proven and probable reserves. That said, this risk is offset by the company's solid balance sheet, joint-venture agreements and ability to continue funding its exploration and appraisal activities.
Disclosure: I have no positions in any stocks mentioned, but may initiate a long position in KRNGF over the next 72 hours. I wrote this article myself, and it expresses my own opinions. I am not receiving compensation for it (other than from Seeking Alpha). I have no business relationship with any company whose stock is mentioned in this article.