The Dolan Company's (DM) fundamentals have held up reasonably well this year and debt has come down more than 30% since September 30, 2012. However, there were enough negatives on the last earnings call to spook most everyone involved (myself included).
Side note: please do your own research on this name. This company is undergoing a unique circumstance with lenders and has not yet announced any detailed plans in this regard. Also note that all long-term debt was reclassified to short-term as of 3Q13.
A quick recap: Dolan's creditors are forcing the company to raise $50m in capital (exclusive of FCF) by May 31, 2014 to pay down debt. A surprisingly large 20.7% drop in revenue was reported in Q3 and management commented this decline was mainly attributed to a reduction in work from their largest customer due to the "evaluation of The Dolan Company's overall financial condition." Ouch. Exacerbating the situation was management's vague and noncommittal tone in helping gauge a plan of action to raise capital. On the positive side, another $5.8m in FCF was generated in Q3.
CEO Jim Dolan would likely not want to hear this, but I personally believe the best course of action right now is to pick up the phone and call EPIQ Systems (EPIQ), Huron Consulting (HURN), or FTI Consulting (FCN) and sell the crown jewel, DiscoverReady. This is a business with meaningful value and the issue of a large customer pulling work due to Dolan's financial condition becomes a moot point in the hands of a larger industry player (especially if that player was being directed said work). The sale of DiscoverReady would likely take care of Dolan's debt and leave the company with a solid net cash position. Coupled with a few non-working-capital assets on the balance sheet and a "more normal" Business Information segment and Dolan appears to have some attainable value remaining.
I've thought about what the potential valuation might look like from several different angles. If DiscoverReady could be sold for around $145m, then I believe Dolan could look something like this: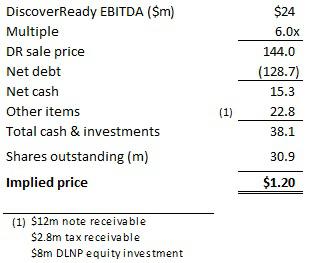 Added to this amount would be whatever Business Information is worth. In a more normal environment where BI could generate around $10m in EBITDA, this could add another $1.30-1.60 to Dolan's value (at 4-5x EBITDA). There would be some leakage in such a transaction (taxes, noncontrolling interests, etc.) but shares could be worth $1.90-2.10 even after applying a 25% discount.
I admit my thesis has been derailed by the recent turn of events; however, I still find this to be a very interesting business with attractive aspects (ttm FCF yield of 145% and 17% on equity and EV, respectively). It is a shame that a combination of changing industry dynamics and leverage could cut short what might have been a very successful company.
Whether or not the company decides to go down this path is the bigger question. Selling DiscoverReady essentially puts the company into a liquidation state (which may not be all that bad if Jim Dolan wishes to extract any last bit of value from this situation). Shares are currently priced for bankruptcy and may be headed there unless action is taken soon. Regardless of which route is taken, the coming months will undoubtedly determine Dolan's fate.
Remember: the Company has in no way stated this is the strategy that will be pursued but rather this is my personal view on the best possible course of action.
Disclaimer
The opinions expressed in this article are those of the author as of the date the article was published. These opinions have not been updated or supplemented and may not reflect the author's views today. The information provided in the article does not provide information reasonably sufficient upon which to base an investment decision and should not be considered a recommendation to purchase or sell any particular stock or other investment.
Disclosure: I am long DM, . I wrote this article myself, and it expresses my own opinions. I am not receiving compensation for it. I have no business relationship with any company whose stock is mentioned in this article.