So a couple of weeks ago, I wrote a small post on Russian stocks and why oil prices above $80 dollars per barrel make Russia a compelling opportunity for investors with a global mindset. The reaction was rather poor. There were quite a few comments, albeit the vast majority of the comments were most definitely negative. As I recall, the number one recurring theme that seemed to scare investors about Russian equities was the rule of law or more importantly, the lack of rule of law.
First of all, with so many comments slanted towards the negative on the issue, I can only conclude that Russian securities must have a substantial risk premium built into them and furthermore, should Russia become as stable as any other fully-developed nation, this risk premium will come out of Russian assets, and anyone with the courage, and some luck on timing, to have invested in Russian assets will earn some very compelling returns on their investment. Nonetheless, the concerns over corruption and rule of law are not without merit. In my opinion they just don't automatically rule out Russia as a place to invest some portion of your assets.
Funny enough, In the Jan/Feb 2010 issue of Harvard Business Review there was an article written by Rawi Abdelal titled, "The Promise and Peril of Russia's Resurgent State". Some of the key points made in this article are that:
"Russia isn't a falling economic power, as it was during the early 1990s, but it isn't rising in the same way Brazil, China, and India are. That's because, unlike its peer group, the country is–unhappily–dependent on exports of commodities such as oil and natural gas, whose prices are volatile."
The implication of this argument is that it is in the best interest of Russia to develop other areas of their economy, thus diversifying away from an overwhelming reliance on commodity exports.
The author goes on to argue that, "provided that the world economy starts growing again in 2010, however, Russia may not have much to worry about externally. Oil prices could increase to stabilize well above $80, and the rising tide of petrodollars should lift the economy. Energy companies–particularly those based in Europe, where imports of Russian gas will surely surge for several decades–have no choice but to invest in Russia. Capital inflows, which reached $80 billion in 2008 (a quarter came from foreign investment; loans and portfolio investments made up the rest), will pick up."
Naturally the implications of increasing capital flows will lead to increased consumption among Russian consumers which of course helps businesses outside of natural resource and infrastructure sectors flourish. In the meantime, "Russia's infrastructure needs modernization, so government spending has risen in recent years; and for political reasons, it won't be cut anytime soon. There's a great deal of money to be made in Russia as the economy recovers slowly but perhaps more quickly than the U.S. economy."
The HBR article does go on to address issues about the rule of law and corruption. Specifically, the author cites an open letter that Putin wrote a few months before winning the presidential contest in March 2000, in which he wrote;
You are not sure of the stability of your business because you can't rely on the force of law or the honesty of the officials. So you are dissatisfied with the services offered by the state and you refuse to pay all the taxes due. What's more, you can live pretty comfortably while doing this. The state fails to get sufficient revenues to keep an impartial judicial system, it pays small salaries to its officials, and they take bribes. The result is a vicious circle.
In my opinion, this seems makes a pretty obvious case that Putin strived to make the Kremlin much stronger to enhance the rule of law and reduce corruption. According to the author, "Throughout his two terms, Putin was helped by rising commodity prices worldwide, which fueled rapid growth and generated budget surpluses." To figures included in the article help paint the picture...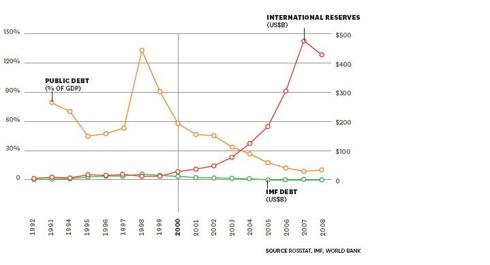 The figure shown above, clearly illustrates the Russian government taking advantage of high commodity prices as they built up a significant war chest of capital in the event of a major collapse in commodity prices. Digressing momentarily, I must point out an underlying theme present. Countries that had significant surpluses, that used those surpluses to bolster savings into Sovereign Wealth Funds, or Stability funds or whatever you want to call them, have weathered the downturn dramatically better than those countries that were in deficit during the majority of the 2002-2007 expansion period.
The other illustration shown in the article provides an anecdotal link between oil prices, budget surpluses/deficits, and GDP growth.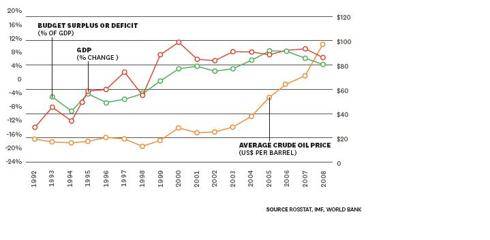 Of course , corruption is still a major problem in Russia. However, the author points out, "corruption continues to be a major problem, but the kind that prevails today is more tractable than the practices in the wild days of the 1990s." Despite the transition from the Putin reign to Medvedev, corruption is no less of a priority. In fact, "Putin's handpicked successor, president Dmitry Medvedev, has repeatedly said that tackling corruption is his top priority, and he is trying to establish legal authorities to combat extortion." Obviously his goals will require a lot of patience to fully achieve. Winning the war against corruption will not realistically happen over night, or even in a year or two–it is a war that will take a decade or longer. But my point would be that so long as progress is occurring the merits behind investing in Russia remain intact.
The article concludes with remarks that:
"Russia is just as promising a bet as the other members of the BRIC quartet; it is no more corrupt, violent, or prone to institutional upheaval. In fact dealing with Russia's state led capitalism is often easier than coming to grips with China's single party, multilevel authoritarianism or India's multiparty, chaotic democracy. Today, as opposed to other periods in the past two decades, the Russian state has the autonomy, capacity, and legitimacy to continue reorienting the economy toward the market."
I would urge anyone thinking about allocating some capital to an "emerging market" to consider Russia. It is by no means a risk-free trade or an investment for the faint of heart. But, at the right price, Russian stocks may make a tremendous amount of sense for your portfolio, and if you are brave enough to venture into derivatives markets...there are compelling opportunities to limit your losses in the event all the naysayers are correct.

Author's Disclosure:
Long Call Spreads on RSX