Intel Corporation (NASDAQ:INTC) is set to report fourth quarter earnings on January 16th. This could be a solid quarter relative to the fiscal year with net revenue increasing relative to the year-ago period. That is being reflected in the current rally.
First quarter guidance could have a significant impact on the share price. I'm looking for revenue guidance of $12.2B with diluted EPS of $0.35. I continue to think fiscal 2014 revenues could be about $51.2B.
There is some downside risk coming from this report. But selling pressure may be an overreaction by investors as they seem to be underpricing the growth rate of the firm. I estimate Intel's intrinsic value as $32 per share, and the share price could converge to the estimate in 2014 or 2015 on a "not-as-bad-as-feared" trade.
Business Summary
Intel Corporation is a semiconductor chipmaker which develops advanced integrated digital technology products, mainly integrated circuits, for industries such as computing and communications. The company is organized into five reportable operating segments: PC Client, Data Center, Other Intel Architecture, Software and Services and All Other.
I estimate that just under 50% of Intel's revenue is derived from enterprise customers. This leaves the firm less vulnerable to swings in consumer tastes and preferences. This is one of the reasons why declining PC sales had a minimal impact on the financial performance. Additionally, I think this is a source of mis-perception by retail investors. They are placing too much focus on consumer adoption of tablet and smartphone devices. Enterprise processes still rely heavily on traditional desktop and laptop solutions, in addition to adopting tablet and smartphone solutions as a means of increasing productivity while "on-the-go."
Intel continues to have a significant technological competitive advantage over its rivals. The organization is making progress towards developing the industry's first 14nm manufacturing process. Additionally, Intel is beginning production of second-generation 3-D transistors in the first quarter of 2014. Intel should continue to maintain dominant market share in microprocessing for the foreseeable future as sticky enterprise customers are unlikely to adopt less trusted solutions.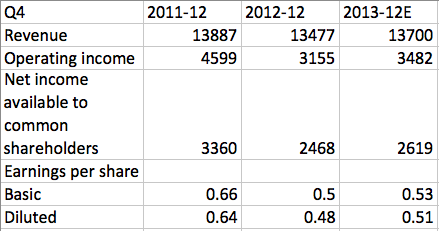 During the 2013 fourth quarter, revenue could be up relative to the prior year but down relative to 2011. Operating income should decline substantially compared to 2011 as management increased R&D expenditures. Also, the cost of revenue increase could adversely impact operating income relative to 2011. I'm looking for EPS of $0.53. The fourth quarter should be solid given the backdrop of declining PC sales.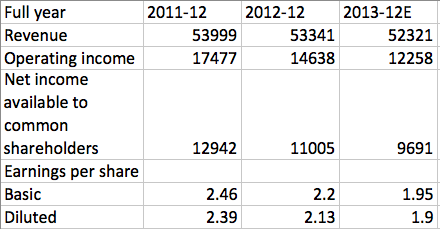 On a nominal basis, full-year revenue should be flat relative to the two prior years. This comes following a substantial increase in revenue during calendar 2011. The decline in operating income is mostly attributable to increased R&D expenditures. For the full year, I am expecting EPS of $1.95. Overall, calendar 2013 would be pretty good based on my forecast.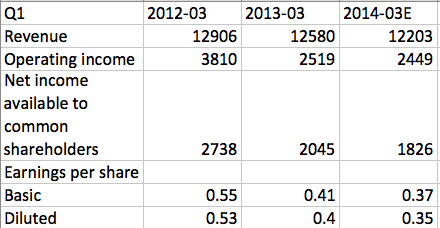 Management's 2014 guidance will be just as important, if not more important, than fourth quarter results. I'm looking for revenue to be down about 3% relative to the year-ago quarter with operating income declining more than revenue as growth in R&D expenditure continues. I'm expecting EPS of $0.37 for the first quarter of 2014. EPS may be lower than my forecast if cost of revenue is higher than I expect. My baseline scenario calls for 2014 revenue of $51.2 billion.
Risks
A change in the mix of platforms among Data Center, PC Client and Other Intel Architecture could adversely impact Intel's net revenue and profit margins.
Recently introduced products with higher costs could adversely impact profitability.
Given that technology firms rely heavily on intellectual property, Intel investors face risks emanating from IP-related incidents.
Material settlements related to adverse litigation outcomes may adversely impact the results of operations and value of Intel's common equity shares.
A significant decline in sales from the Data Center operating segment could cause reported results to differ materially from expectations.
A material decline in IT and/or consumer expenditure could adversely impact the results of operations and cause reported results to differ materially from expectations.
The share price is likely to be volatile in the future and investors could lose a portion or all of their investment. Additionally, Intel is unsuitable for some investors.
Valuation
My fair value estimate for Intel is $32 per share, which is 24% above the current price. I think the market is pricing in slower growth for Intel than the company is likely to produce over the medium term as the company's data center and PC segments could outperform expectations. I still think revenues growth will be flat in the near term, but growth should resume in 2015 or 2016. I think slowing growth is more likely a consolidation than a turning point. I view the $48 per share level as a distribution zone.
Including my estimate for fourth quarter EPS, Intel is trading at 13.39 times earnings. Intel trades at 13.71 times EPS including Q1 '14 EPS. The S&P 500 is trading at 18.6 times trailing twelve months EPS. Thus, Intel is undervalued relative to the market.
I think Intel could reach $32 per share during calendar 2014 or 2015 as fears of a dying PC market recede, because enterprises continue to rely heavily on desktops and laptops. Data Center should continue to be a relative bright spot for the company. Lastly, design wins in smartphone could make the Other Intel Architecture segment more significant.
Disclosure: I am long INTC. I wrote this article myself, and it expresses my own opinions. I am not receiving compensation for it (other than from Seeking Alpha). I have no business relationship with any company whose stock is mentioned in this article.