I believe that investors interested in having exposure to the Chinese market should consider buying Baidu (NASDAQ:BIDU). There are at least three reasons why I think so:
Baidu has a very strong position in many segments of internet and mobile market in China. Chinese internet and mobile market has huge potential for further growth
For many quarters Baidu has managed to generate very good financial results
Strong financial position allows company to make acquisitions which strengthen the company's position in the market
Baidu has leading position in Chinese market
Despite increasing competition from companies such as Qihoo 360 Technology (NYSE:QIHU), Baidu managed to maintain a leading position in the Chinese internet search market. It is worth it to notice that the Chinese market has tremendous potential for further growth. It will be the result of two factors:
increase in number of people with access to the internet. According to the World Bank number of people with access to the Internet in China is still far below the numbers in developed countries (42 per 100 in China, 81 per 100 in USA). Assuming that the Chinese market over time will become similar to the market in developed countries - only for that reason market should doubled in the next several years.
rising purchasing power of Chinese society.
Baidu generates sound financial results
The company managed to increase its revenues and profits for the last several quarters. Increasing competition caused some pressure on the margins, but profitability ratios are still impressive (gross profit margin 61%, operating margin 39% and ROE 39%).
The table below shows the revenues and the net income of the company for the last several quarters.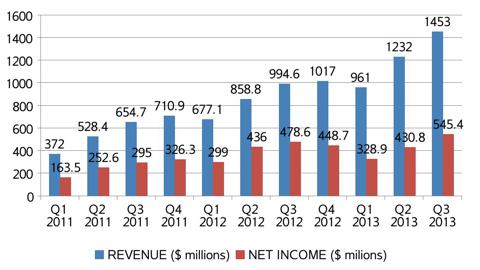 For the next year, analysts predict revenue growth of 31% and profit growth of 24%, which means that earnings per ADS will be equal to $6.27
The table shows the diluted earnings attributable to Baidu per ADS for the last several quarters.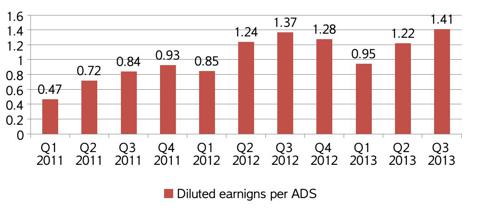 Baidu's acquisitions strengthen company positions
Baidu carried out intensive acquisition program. Financial strength of the company combined with a thorough knowledge of the market allows Baidu to acquire companies which strengthen its position in the market. Summary of Baidu latest acquisitions are presented in the table:
The table presents latest acquisitions of Baidu
| | |
| --- | --- |
| Acquired company | Effects for Baidu |
| 91 Wireless | Baidu become leader in mobile app distribution and one of the leading operators of mobile games in China |
| PPS | Baidu could strengthen its position in online video platforms (effects of synergy with Baidu's iQivi) |
| Nuomi | Baidu entered group-buying business, synergy with mobile LBS and maps services |
| The online literature unit of game operator Perfect World | Baidu entered into the new growing business |
Technical analysis and summary:
Stocks of Baidu are in the long term upward trend near all time highs ($181.1).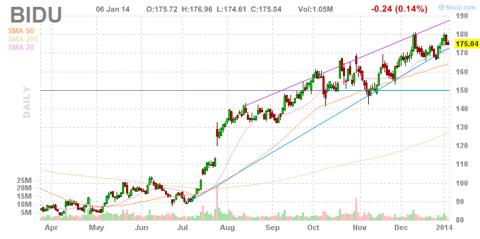 source: finviz.com
Buying stocks at current levels may be a little bit risky, so I prefer a strategy of buying shares of Baidu on possible dips towards 50 MA or 200MA. It will give a substantially better risk/reward ratio. I think that fundamentally BAIDU is attractive and the long-term business prospects of the company are great.
Disclosure: I have no positions in any stocks mentioned, and no plans to initiate any positions within the next 72 hours. I wrote this article myself, and it expresses my own opinions. I am not receiving compensation for it (other than from Seeking Alpha). I have no business relationship with any company whose stock is mentioned in this article.