Increasing efforts to get better results from the e-cigarette market
The popularity of e-cigarettes has increased from thousands in the year 2006 to several millions worldwide today. Philip Morris (NYSE:PM) is capitalizing on the growing market for e-cigarettes, and has established a strategic framework with Altria Group (NYSE:MO) to commercialize its e-cigarette products. According to the agreement, both Philip Morris and Altria will capitalize on the tobacco users' growing awareness of less harmful products, and will complement each other to enhance the distribution of their unconventional cigarettes. Moreover, Altria will provide Philip Morris with a license to sell its newly introduced e-cigarette products internationally. On the other hand, Philip Morris will make two of its next-generation reduced-risk tobacco products, available to Altria for sale in the U.S.
Both the companies will also co-operate on regulatory engagements related to the product in the U.S. and in international markets. The new products launched by Philip Morris and Altria will be subject to approval by the U.S. Food and Drug administration, or FDA. Both the companies will work together to provide the information that would be required by the FDA to assess and approve these products. To enhance the reach of their respective reduced risk products, and e-cigarettes, both Philip Morris and Altria are making innovations in the nicotine delivery systems that are less harmful to the customers. Altria is continuing with its objective to develop a strong portfolio of innovative products that will meet adult tobacco consumers' preferences while, Philip Morris, focused on developing an e-cigarette that heats, rather than burns tobacco, producing less tar and smoke. Philip Morris' announcement to enter the e-cigarette business, can give some relief, since the company witnessed a 5.3% decline, year-over-year in the cigarette shipment for the first nine months of 2013. This deal will help Philip Morris to diversify beyond the traditional cigarette business in which it is witnessing consistent problems of tax increases, health concerns, and smoking bans.
Will the e-cigarette business give significant returns?
Despite making some useful efforts in making less harmful tobacco products, Philip Morris's move came quite late as compared with its peers. In November, 2013, Imperial Tobacco (ITYBY) announced that 2014 would be an important year for the company as it is looking for innovation for the products closely similar to tobacco, including the e-cigarettes. With this Imperial Tobacco is seeking some new customer opportunities in 2014. In 2013 Imperial Tobacco bought assets of Dragonite, which was the original e-cigarette inventor company. Apart from Imperial Tobacco, British American Tobacco (NYSEMKT:BTI) also made some significant efforts to enter the e-cigarette business. In July, 2013, British American launched its Vype e-cigarette in the U.K. The product is available online, and is expanding to retail outlets.
Philip Morris is also expected to face stiff competition from Lorillard (NYSE:LO) and Reynolds American (NYSE:RAI), the prominent competitors to Philip Morris in the U.S., and which has already entered the e-cigarette business. Reynolds American introduced a revamped version of their e-cigarette Vuse in 2013. Moreover, Vuse e-cigarette will also be showcased during the 2014 consumer electronics show.
In 2013, Lorillard was the first U.S. company to introduce the e-cigarette in the market. Lorillard's Blu is one of the best-selling e-cigarettes in the United States, and one of prominent e-cigarette brand sold by the U.S convenience stores. However, Lorillard could not convert the increasing popularity of its e-cigarette brand in the financial results. Lorillard's e-cigarette gross margin declined from 37% in the first quarter of 2013 to 32% in the second quarter, and 24% in the third quarter. Moreover, the company witnessed decline in the e-cigarettes earnings report and operating margin since it couldn't make a profit from the segment in the third quarter. This indicates that enhanced competition for the e-cigarette business can affect Philip Morris in the long run as e-cigarette market is very fragmented. According to Forbes's article, there are more than 300 e-cigarette companies and the top three have 85% of the market. The chart below shows the leading e-cigarette brands in the U.S.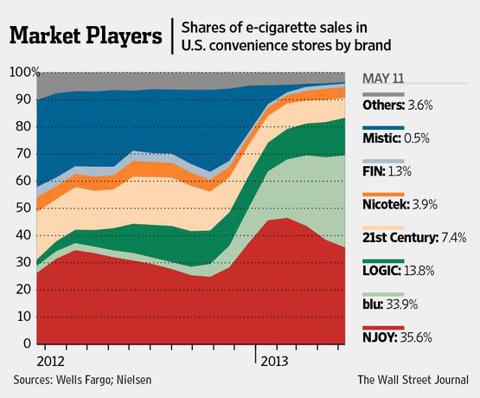 Source: online.wsj.com
With already established prominent players, and big players introducing their respective e-cigarette products, the competition will be tough for Philip Morris. Moreover, recent approval by the New York city council to ban smoking e-cigarettes in offices, restaurants, bars, and parks can be followed by other U.S. cities also. The competitive and legal environment of the e-cigarette business does not seem encouraging.
Still a lucrative stock for income investors
Philip Morris has always given good returns to income investors. With 4.38% trailing twelve months, or TTM dividend yield, Philip Morris is one of the lucrative stocks for income investors. The company has announced a quarterly dividend of $0.94 on December 11, 2013, which is to be payable on January 10, 2014. This represents annualized dividends of $3.76, a 16% rise from the annualized dividends paid by the company in 2012. Moreover, the company is generating enough profits and free cash flows, of which considerable portion is paid as dividends.
| | | |
| --- | --- | --- |
| Quarter | Dividend Payout Ratio | Free Cash Flow Payout ratio |
| Quarter ended September, 2013 | 65% | 46% |
| Quarter ended June, 2013 | 65% | 49% |
| Quarter ended March, 2013 | 66% | 125% |
Source: Calculated as per data available in ycharts.com
While going through the above table, we can infer that Philip Morris has ensured consistent returns for its shareholders out of profits and free cash flows, but apart from dividends, the company also made consistent share buybacks. In the first-three quarters of 2013, Philip Morris has returned around $5.21 billion with its sale purchase of stock activities to the investors. Along with this, dividends of around $4.2 billion were paid for the same period. With this shareholder yield of Philip Morris comes at around 6.7%. This indicates that investors of Philip Morris do not have to depend upon stock returns only.
Peer comparison
Altria Group has also ensured consistent dividend payments to its shareholders. Its TTM dividend yield stands at 5.10% and its TTM dividend payout ratio stands at about 69%. For the first-three quarters of 2013, the company witnessed cash outflows of around $382 million with its sale purchase of stock activities. For the same period, the dividend payments from the company accounted for around $2.65 billion cash outflow. With this, the shareholder yield of Altria stands at around 4.4%, which was less than Philip Morris.
On the other hand, the TTM dividend yield of Reynolds American stands at 5.1% and its TTM dividend payout ratio stands at 75%. For the first three quarters of 2013, Reynolds American paid dividends and entered into share selling and repurchasing activities, which led to cumulative cash outflow of $1.61 billion. With this, the shareholder yield of Reynolds American comes at around 6.1%, which is slightly less than Philip Morris' 6.7%.
Lorillard is also a consistent dividend payer; its TTM dividend yield stands at 4.40% very close to that of Philip Morris's 4.38%. In the first three quarter of 2013, Lorillard paid back $621 million in the form of dividends, and $566 million in the form of share purchase and selling activities. In total the company paid $1.18 billion to its investors, and the shareholder yield of the company stands at 7.15%. This suggests that shareholder yield of Philip Morris, and its peers suggest that overall the cigarette industry is quite lucrative for income investors.
Comparative Valuation
With good dividend prospects, the recent performances for companies engaged in tobacco industry have been positive.
Comparative Valuation based on trailing twelve months
| | | | | | |
| --- | --- | --- | --- | --- | --- |
|   | Philip Morris | Altria | Lorillard | Reynolds American | Industry Average |
| P/E | 16.18 | 14.5 | 15.9 | 17.2 | 15.5 |
| Price/Sales | 1.8 | 4.2 | 2.8 | 3.3 | 2.2 |
| Price/Cash flow | 14.8 | 15.7 | 15.2 | 20.4 | -4.8 |
Source: Morningstar.com
Based on valuation multiples, Philip Morris is undervalued with respect to Price/Sales and Price/Cash flow. With respect to P/E, the company is slightly overvalued in comparison to Altria, Lorillard, and industry average.
Conclusion
Philip Morris' performance in the e-cigarette business can be judged later in 2014, since it is at an inception stage, but the stock promises a lot to the income investors. The investors can invest in this stock to ensure steady returns in the form of dividends.
Disclosure: I have no positions in any stocks mentioned, and no plans to initiate any positions within the next 72 hours. I wrote this article myself, and it expresses my own opinions. I am not receiving compensation for it (other than from Seeking Alpha). I have no business relationship with any company whose stock is mentioned in this article.