The just-released examiner's report of the Lehman (OTC:LEHMQ) collapse reads like the financial crisis equivalent of the 9/11 Commission Report.
WSJ has hosted the 2,200 page document in 9 parts on Scribd.
Right up top it shows how, to inflate the "net leverage" figure on which ratings agencies were focused, Lehman actively manipulated its balance sheet.
Lehman did not disclose…that it had been using an accounting device (known within Lehman as "Repo 105") to manage its balance sheet – by temporarily removing approximately $50 billion of assets from the balance sheet at the end of the first and second quarters of 2008.

In an ordinary repo, Lehman raised cash by selling assets with a simultaneous obligation to repurchase them the next day or several days later; such transactions were accounted for as financings, and the assets remained on Lehman's balance sheet.

In a Repo 105 transaction, Lehman did exactly the same thing, but because the assets were 105% or more of the cash received, accounting rules permitted the transactions to be treated as sales rather than financings, so that the assets could be removed from the balance sheet. With Repo 105 transactions, Lehman's reported net leverage was 12.1 at the end of the second quarter of 2008; but if Lehman had used ordinary repos, net leverage would have to have been reported at 13.9.
Lehman employees themselves referred to the maneuver as an "accounting gimmick" according to the report.
Here's a simpler way to look at it: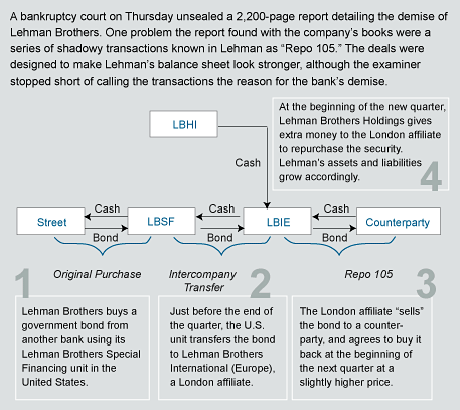 The report also says they misled the market about their available liquidity, much of which was, er, illiquid.
There is much, MUCH more.