Nvidia (NASDAQ:NVDA) made headlines last year by demonstrating the world's fastest processor, Tegra 4, which the company claimed to be more powerful than any other available chip. This was seen as an important move towards reviving its Tegra business after the company's Tegra 3 lost design wins to Qualcomm's (NASDAQ:QCOM) Snapdragon processors.
Nvidia has not gained a presence in the mobile processor market and therefore has remained a graphics chip-concentrated company. Looking at the Tegra outlook, however, Nvidia may finally gain considerable share in mobile computing. Nvidia delayed the launch of the Tegra 4 processor by one month to speed up the launch of its first LTE System on Chip, or SoC Tegra 4i. This is a good move, as the LTE smartphone market is growing, with much opportunity for Nvidia. Though this move led to Nvidia's design losses, the company is on track to ship its Tegra 4i chip by the first quarter of this year, while its next-generation Tegra mobile processor, code-named Logan (probably Tegra 5), is also expected to come soon after Tegra 4i. This processor is based on the Kepler architecture GPU, which is used by Nvidia in desktops and therefore will provide high graphics to a mobile device.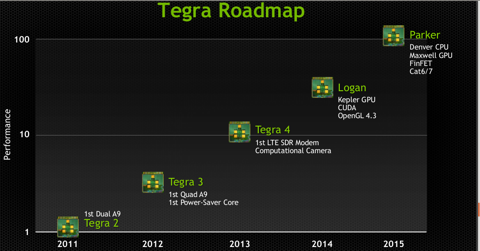 Source: Company Presentation
Nvidia's growth plans for its Tegra processor will face stiff competition. Its LTE SoC will compete against dominant market leader Qualcomm, while new entrant Intel (NASDAQ:INTC) and upcoming player Broadcom (BRCM) will add to the competition.
Qualcomm's third-generation LTE solutions enabled the company to take an extensive lead over other chip manufacturers, which are still launching their LTE products. The company is about to launch a fourth-generation LTE modem based on a 20-nanometer, or nm, manufacturing process and will provide download speed of up to 300 Mbps due to carrier aggregation. While Intel has recently launched its multi-mode LTE modem XMM 7160, which supports 15 LTE bands, the company is yet to launch an integrated LTE SoC. On the other hand, Broadcom recently won a Samsung design for its upcoming LTE SoC. After acquiring Renesas's LTE assets, the company quickly progressed in its LTE plans, with dual LTE SoC being shipped in the upcoming Samsung handset during the first quarter of this year.
Therefore, it will be difficult for Nvidia to win new designs in this competitive market, although the company has developed a strong Tegra product pipeline to capitalize on the new market opportunities and grow its market presence in mobile computing. In addition to Tegra 4i and Tegra 5, the company will also introduce its first 64-bit architecture processor, code-named Parker, which contains Nvidia's upcoming Maxwell GPU series. Sixty-four-bit chips are a new market in mobile devices, with Apple (NASDAQ:AAPL), the first to launch a 64-bit A7 chip powering its iPhone 5s. It's thus a good opportunity for Nvidia to increase market share by targeting new markets and thereby remain competitive. This will boost the Tegra segment revenue and help generate a return on the development expenses incurred by Tegra processors. Nvidia has incurred exorbitant expenses on this processor and therefore is losing money on it. For fiscal year 2013, and nine months of fiscal year 2014, the Tegra processor segment's operating loss was $157.92 million and $407.69 million, respectively. Although it will take time to break even and maintain profitability, given the potential revenue generation of the new Tegra processor launch, the company should eventually achieve its target.
It will also help increase the revenue contribution of the Tegra processor to the company's top line. Nvidia's Tegra processor segment contributed 9% of total revenue for the nine months ending Oct 27, 2013. Going forward, the Tegra processor's contribution will be important for Nvidia's growth and significantly affect its top line in the long run.
Important move for targeting tablet market
Nvidia recently announced its biggest update to its reference tablet platform, Tegra Note 7. The company doesn't manufacture and sell Tegra Note, instead providing a platform designed on Nvidia's products to its partners, which can further add to this reference design and sell under their brand name. The company has provided an update by adding features such as support of the latest Android 4.3 operating system, an enhanced stylus feature (support for left handed users), and an always-on high-dynamic range, or AOHDR, capability camera, which helps take real-time snaps without much processing time.
These added features will enable current users of Tegra Note to provide their customers enhanced features, thus increasing the user experience. In addition, it will also enable Tegra Note 7 users to remain competitive in the market with their updated designs.
Graphics remain key to Nvidia's growth
The overall graphics outlook looks solid with the launch of next-generation GeForce series of graphics cards based on Maxwell. The graphics segment will remain important to Nvidia's growth in fiscal year 2015. It derives more than 80% of its revenue from the GPU segment and therefore a negative impact on its graphics business can adversely impact its top line. Nvidia had taken 64.5% share in overall shipments of graphics cards in the third quarter of 2013, while its biggest rival, Advanced Micro Devices (NASDAQ:AMD), had taken a 35.5% share. To gain market share, AMD launched two new series of Radeon graphics line R7 and R9, also called Hawaii chips. These chips were based on AMD's second-generation graphics Core Next architecture, and targets both performance gamers and lower-budget customers. These graphics lines will help AMD gain market share in 2014, until Nvidia's launch of its next line of GeForce graphics card based on Maxwell architecture. Reports suggest that the company will start shipping these GPU during the first quarter of fiscal year 2015. Maxwell architecture (a successor to Kepler) provides increased performance per watt to users. These graphics chips will help Nvidia regain the lost market share to AMD and fortify its lead in the market.
In addition, Nvidia's GRID portfolio of products, especially for cloud applications and Tesla products for high-performance computing, will also add to the segment's revenue growth. Application of GRID for cloud is in the introductory phase and growth in adoption of this technology will increase revenue in the graphics business. The Tesla business is a growing, profitable business, given the strong demand for graphics in high-performance computing applications.
Nvidia's graphics business will continue to contribute significantly towards Nvidia's top-line growth in 2014. The launch of the Maxwell GPU-based graphics card supported by strong demand of its Tesla products will play a major role in the company's growth.
Conclusion
Nvidia's outlook looks strong with both the graphics and Tegra businesses contributing to top-line growth. Though Tegra forms only a small part of the overall top line, long-term it will be a main growth driver of the company. Meanwhile, the graphics business should post another good fiscal year on account of new market opportunities from cloud applications and the launch of the next-generation Maxwell architecture.
Disclosure: I have no positions in any stocks mentioned, and no plans to initiate any positions within the next 72 hours. I wrote this article myself, and it expresses my own opinions. I am not receiving compensation for it (other than from Seeking Alpha). I have no business relationship with any company whose stock is mentioned in this article.