Risk vs. reward ratio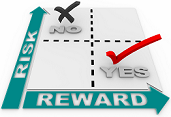 Investors looking at Athersys, Inc. (NASDAQ:ATHX) who've done their due diligence should see a favorable risk vs. reward ratio and relative safe haven for investment dollars. At least that's the picture through April 2014 when Athersys investors will have first pause to re-evaluate their risk tolerance ahead of the ulcerative colitis phase II initial data release. Those who are both seasoned and savvy investors in the biotechnology arena understand the following: This far away from the April data release they face almost no risk for significant downside. They also know for at least the next three months it will remain this way. On the other hand, Athersys investors have potential for higher than normal rewards heading toward April.
The overall investment sentiment is strongly bullish and the steadily increasing share price is testament to that fact. To explain the bullish sentiment one needs to use a certain level of due diligence. For example, one of the most important questions upon investigating any development stage biotechnology company should be: Is the company strapped for cash? That question comes only after the most obvious question is answered. Does this company possess something worthy of an investment in the first place? In the case of Athersys most investors are investing in the belief MultiStem, a platform based on an adult stem cell derived from bone marrow, will be a success in treating both ulcerative colitis and ischemic stroke. Both are currently hard to treat diseases and patients are in need of better options for treatment. MultiStem is specifically derived of multipotent adult progenitor cells (MAPCs). For those further interested in what MultiStem is they should look at the development of multiStem.
Getting back to the important question, is Athersys strapped for cash? The answer is absolutely not. Could Athersys benefit from a higher market cap, sure, what company wouldn't? The thing investors are really interested in is whether the company has in the past raised capital in a way that spares its investors as much downside risk as possible, and whether it has enough money to see its key catalysts through. In the case of Athersys, those questions are both answered with a yes. Athersys CEO Gil Van Bokkelen seems keenly aware and in tune with his company's investors. Evidence of this can be seen in the recent registered direct offering announced on November 27th, 2013, that closed on or about December 3rd, 2013. That offering occurred with almost no undermining of the then current share price. That's most often not the case when a biotech company raises capital. The offering was done because Athersys was approached by an interested investor and Gil made sure his team explained it to all investors in the last webcast. If being approached by a large investor wanting more shares in Athersys isn't an indication of a bullish sentiment for the future share price direction, maybe those investors who can't see it that way should paper trade a while longer. Athersys has also renewed a deal with Aspire Capital should financial conditions warrant the need for more capital. (not likely any time soon). In other words, the risk of an equity placement is virtually non-existent ahead of the ulcerative colitis data release.
Deciphering price targets
In the diagram below investors and potential investors are given a quick snapshot of where things stand as far as risk and reward vs. current share price. This should help with the question that many investors will inevitably be asking: Is it too late to jump on board? It's interesting to note that Edison's projection is right where most conservative share price estimates are, in the middle. That's not to be confused with the risk/reward tipping point, better known as an even bet ahead of a key company event. For those who may not know it, Edison is a leading international investment research firm.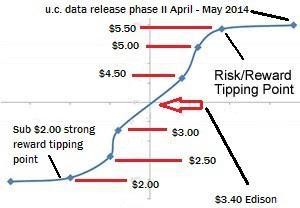 Note the distance between price targets. The distance does not necessarily mean how fast a target will be reached. Rather it's indicative of that generality from past similar acting biotechnology stocks. To see why the line is so short between $2.50 and $3.00 an investor should look at how fast Galena Biopharma, Inc. (NASDAQ:GALE) went to $3.00 after breaching $2.50 then $4.00 after breaking over $3.00 as an example. The Yahoo Finance price history can be utilized in that endeavor. Sometimes targets are broken faster or slower than the lines in the illustration tend to portray, however, they are far more accurate at determining length of time for consolidation at each price target. In other words, if a target on a longer distanced line is achieved too fast investors can expect more profit taking to occur, followed by the typical ups and downs of re-accumulation and new base forming for the next leg up.
Share price targets given in this article are upgrades to previously lower estimates and no longer agree with Edison's estimate. The evolving higher price per share estimates can be seen by reviewing past articles posted via the U.S. Biotech Investor site as well as other articles on the Seeking Alpha site. Actually, looking at the above illustration an investor should be able to see the overly conservative nature of the Edison share price estimate ahead of the ulcerative colitis top-line data release coming up in April or May of this year.
Here's the reason for the departure from Edison's price targets. There's still plenty of time to the known phase II data release event in April or May, with much to look forward to. Current market cap demands more respect, investor sentiment is bullish and should remain so, potential for surprise catalysts ahead of known events, and more is known about alternative markets like Japan. Those are examples of things used to determine a fair value per share ahead of the ulcerative colitis data release. Looking at time to event (data release) and current investor sentiment while combining it with the visual diagram above should illustrate the true absurdity of an investor believing Edison's $3.40 projection will be the top share price ahead of April 2014. That's meant as no disrespect to Edison Research which chose to err on the side of caution, it's just the nature of the game. To be fair to Edison, they came out early with their price target and boldly stated it. Edison did this while the Athersys market cap was a mere $105 million and based on a $1.75 share price. Price target projections from just about all sources have been moving higher ahead of the coming data release. Edison's call being one of the earliest was bold at the time.
Further explaining why current price projections were edged higher: In the latest webcast new light was shed on potential catalysts (like potential GvHD partnering). These potentials had to be more accurately factored in projections concerning share price targets ahead of the ulcerative colitis data release. The timing of potential new events doesn't really matter, what matters is the perception that investors see for share price appreciation.
A look at the last 3 months of 2013
With the year-end comes the occasion for biotechnology investors to revise their investment choices. This usually comes after evaluating the future potential of multiple biotechnology companies both in the short term (months) and long term (year or years). It's logical to assume that Athersys, Inc. will be viewed favorably and as a worthy addition to many portfolios. Fresh on the minds of many will be the recent breaking developments near the end of 2013 like the European orphan drug designation and the end of the enrolment for the ulcerative colitis trial conducted by Pfizer.
Another recent development is the finalized legislation in Japan that provides a framework for accelerated approval of stem cell products. Japan is the world's second-largest mature healthcare market.
Japan's parliament, the Diet, enacted a bill in the last quarter of 2013 which revised the existing Pharmaceutical Affairs Law to define new medical products which contain stem cells to be termed regenerative medicine products. The bill allows the Japanese government to give conditional approval to such products if their safety is confirmed in clinical trials, as may occur on completion of well designed Phase II trials. William (B.J.) Lehmann, President and Chief Operating Officer of Athersys, said they are "aggressively going after Japan." Hopefully news will be coming from Gil Van Bokken's recent visits to Japan. See: Q3 2013 - earnings call transcript for comments concerning Japan.
Here's a quick snapshot
●End of enrollment for the ulcerative colitis trial - achieved
●Initiation of the GvHD phase II/III trial in 2014 likely
●Initiation of the acute myocardial infarction phase II trial 2014 likely
●Potential realization of a partnership for the obesity drug
●Potential realization of a partnership for ischemic stroke in Japan
●Potential for future grants or awards
●Potential milestone payments from RTI or Pfizer
●Small potential for Bristol Myers squib news
●Regulatory changes to accelerate regenerative medicine use in Japan may bring development and partnering news for rights to the Japanese market. *See: Ramifications of Japanese legislation
The above mentioned GvHD indication may in fact have two catalysts: Initiation of the trial and a potential partnering per the last webcast hosted on December 4th, 2013. The same may also hold true for the acute myocardial infarction indication. After listening to the webcast one gets the feeling investors may be treated to unexpected news sooner than anticipated.
Major catalysts
● Ulcerative colitis trial initial data release -April or May 2014
● Ischemic stroke trial initial data release - July 2014
Conclusion
Herein lies a low risk and probable high reward investment opportunity. Shares of Athersys should be valued at a minimum of $5.50 ahead of April 2014 when the top line data for a phase II ulcerative colitis trail will be released. The bullish sentiment should increase as April approaches. A second trial for ischemic stroke is around the corner and reduces risk for investors if the ulcerative colitis data is less than expected. For a price projection beyond both trials data release please see: Treatment for ischemic stroke.
For those who will no doubt argue a $5.50 price projection is too conservative ahead of April. Notice the illustration in this article does extend past the $5.50 mark. Room exists for an upgrade should any of the listed snapshot events occur prior to April 2014.
Disclosure: I am long ATHX. I wrote this article myself, and it expresses my own opinions. I am not receiving compensation for it. I have no business relationship with any company whose stock is mentioned in this article.