Many people seem to think China is taking over the world. Although its economy is roughly half the size of the US economy, some surveys have suggest that many perceive it as bigger. There is also widespread ideas that China's yuan will soon become a major reserve currency and challenge the role of the dollar.
While we are considerably less convinced, we appreciate that rarely can one have a conversation about the global economy without referring to China.
Regardless of the long-term prospects of China, the near-term outlook of Chinese shares seems poor. This first Great Graphic here, composed on Bloomberg, shows the Shanghai Composite (white line) and FXI, the iShares large cap Chinese ETF that trades in the US.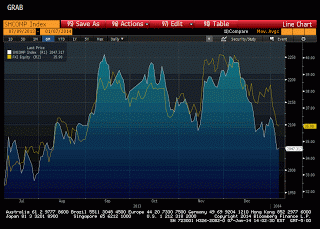 FXI seeks to duplicate the results of the FTSE China 25 Index. Foreign Investment in China's mainland shares requires special government authorization. Rather than pursue this route, many (individuals as well as money managers) can take on China exposure through ETFs.
In the coming days, China will report a slew of data that is expected to confirm the gradual slowing of its economy, ostensibly as it transitions to more balanced growth and as it comes to grips with having largely exhausted its demographic dividend. In addition, China has re-opened its IPO market, with overhead supply coming.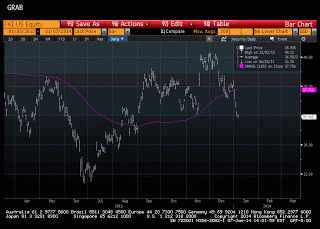 Even though the Shanghai Composite closed higher earlier today, FXI is trading on its lows in late dealings, with a small loss on the day. Technically, it looks heavy. The lower chart shows FXI and the 100-day moving average, which it gapped below on January 2 and has not looked back. Technical indicators warn of the risk of additional near-term losses.
Disclosure: I have no positions in any stocks mentioned, and no plans to initiate any positions within the next 72 hours. I wrote this article myself, and it expresses my own opinions. I am not receiving compensation for it. I have no business relationship with any company whose stock is mentioned in this article.