The decline in Netflix (NASDAQ:NFLX) shares today is being attributed to an analyst's downgrade and the reasons given for it, including valuation and burgeoning competition. However, I'm telling you that the reason for this early 2014 downslide is much simpler than that, and was completely predictable. Furthermore, I expect it will get worse with shifting momentum and fleeing capital.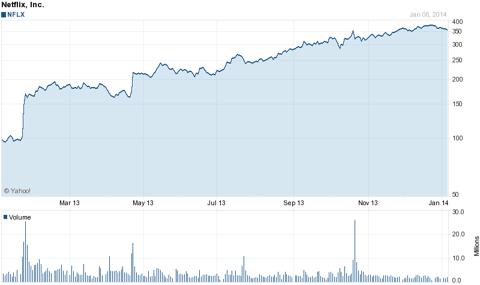 Netflix led all comers in the S&P 500 in 2013, rocketing 298% through the year. Whenever a name shows significant operational improvement, like Netflix did this year, or offers great potential, like Netflix does, it attracts an opportunistic investor base along with the long-term holders. When that happens, momentum takes over and allows a stock to pack on a heavy load of precarious capital, or money that could leave as quickly as it came.
As a result, at the threshold of critical tax year dates, and other dates like around earnings, there's going to be a good chance for profit taking. That should be especially true when the market is reexamining momentum names across the board, as evidenced by stock or analyst pressure of late against Tesla (NASDAQ:TSLA), Twitter (NYSE:TWTR) and others. I think this is the main reason why NFLX is cascading today, and that investors, media and analysts are filling in reasons to justify a change of opinion. Those same reasons existed before, in my view, but the catalyst that's bringing them to the fore of the tongue today is flighty capital that has a good reason to go on the tax calendar.
But Valuation Matters Right?
Of course it does. Just because a stock quadrupled over the last year does not mean it can't do the same thing this year. However, I find it hard to make that argument when a valuation is too rich. This stock trades at 84X the 2014 analysts' consensus EPS estimate. Now, mind you, that represents stellar 129% growth over 2013. These are estimates that have been seeing sharp increases of late as well, so we cannot be sure how much better (using trend as our guide) things could get over time. That combination of rapidly improving operations and uncertainty is what has allowed the stock's P/E to expand so far. So, as it turns out, long-term growth estimates for a 22.5% average annual rate of improvement could prove conservative. If so, the PEG ratio of 3.7X could be deceiving rather than rich.
However, given that Amazon.com (NASDAQ:AMZN) has developed a competing service, Amazon Prime, perhaps there is formidable threat that could impact the company's growth by taking a portion of the available market. That is in addition to the threat presented by HBO GO and Hulu.com. Sony (NYSE:SNE) joined the fray today as well, announcing it at CES.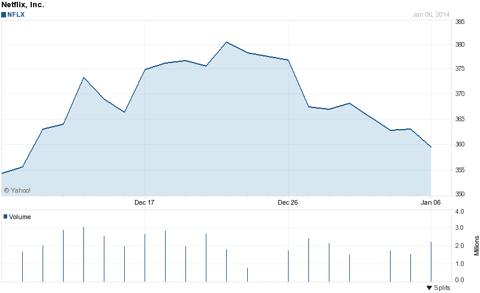 Netflix shares topped out during what I'll call this year's Santa Claus rally; the shares closed at $380 and change on December 23. Since then, as you can see, the share trend has changed. Morgan Stanley (NYSE:MS) might have taken note of that before downgrading the stock Tuesday for various reasons including:
Believes investors have priced in unreasonable expectations
Valuation
Increasing competition
Today's analyst downgrade and the real threat from new and serious competitors can only add to the stress on precarious capital that has good reason to flee and take a tax gain now that will be paid next year. This is the reason the stock started lower late last year, and it's the overhanging threat that could cause an avalanche for NFLX over the near term. In conclusion, I would reduce risk and sell NFLX or otherwise protect holdings.
Disclosure: I have no positions in any stocks mentioned, and no plans to initiate any positions within the next 72 hours. I wrote this article myself, and it expresses my own opinions. I am not receiving compensation for it (other than from Seeking Alpha). I have no business relationship with any company whose stock is mentioned in this article.