Do not be afraid to tiptoe into the utility sector. While the "conventional" wisdom may be to shy away from utilities during times of rising interest rates, and we are definitely in the up-cycle for future rate movements, there are opportunities for investors to become a bit more defensive in the sector.
Offsetting the usual interest rate risk for income stocks such as utilities is increased contribution from dividend growth. The usual equation is that lower asset prices will increase current yield, especially with fixed income assets. However, utilities stock income is not like most bond "fixed income" as it has the potential to increase over time - and increase it does.
What drives dividend growth? Either a higher payout ratio or underlying earnings growth. One of the best fundamental ratios for analyzing management effectiveness in the utility sector is to review return on invested capital ROIC. ROIC is a better matrix than return on equity as it incorporates all capital employed by management, both equity and debt. My goal for the sector is a 5% or higher ROIC, with the higher the better.
A combination of high dividend growth driven by high ROIC should separate better performing management teams. The combination could uncover management teams that not only generate above average returns for shareholders but also gives these rewards back to shareholders.
A review of the exceptional list offered by SA contributor David Fish of Dividend Champions, or those utilities that have increased dividends annually for the past 25 years, revealed some interesting companies that offer both above average ROIC and sustainable dividend growth.
The top five Dividend Champions in the utility sector, by ROIC, are: American States Water (AWR), MGE Energy (MGEE), National Fuel Gas (NFG), Questar Corp. (STR) and Piedmont Natural Gas (PNY). Listed below are these companies, the current yield, payout ratios, trailing twelve-month ROIC and various dividend growth rates based on recent history.
| | | | | | | | | | |
| --- | --- | --- | --- | --- | --- | --- | --- | --- | --- |
| Name | Ticker | Industry | Div. Yld % | EPS % Payout | TTM ROIC % | 1-yr Div Growth % | 3-yr Div Growth % | 5-yr Div Growth % | 10-yr Div Growth % |
| American States Water | AWR | Water | 2.82 | 51.59 | 7.69 | 19.70 | 13.50 | 8.70 | 5.60 |
| MGE Energy Inc. | MGEE | Electric/Gas | 2.83 | 52.76 | 7.23 | 3.20 | 2.60 | 2.30 | 1.80 |
| National Fuel Gas | NFG | Gas | 2.10 | 48.54 | 7.09 | 2.80 | 2.90 | 3.10 | 3.40 |
| Questar Corp. | STR | Gas | 3.13 | 80.90 | 6.10 | 6.80 | 9.60 | 7.50 | 6.20 |
| Piedmont Natural Gas | PNY | Gas | 3.74 | 66.67 | 5.38 | 3.40 | 3.50 | 3.60 | 4.10 |
It is intriguing that this list is mainly gas utilities that offer lower current yields than their electric peers, with the exception of MGEE. However, even MGEE has a low current yield than its counterparts.
Another common denominator is these firms are either small-caps or mid-caps. The largest market cap in the list is NFG with $5.85 billion and the smallest is AWR at $1.06 billion. This compares with Duke Energy (DUK) with a market cap of $47.95 billion and Dominion Resources (D) at $36.93 billion.
In a previous article titled "An Unconventional View Of Utility Stock Performance During Initial Interest Rate Hikes," I offered comparisons of utility performance during the interest rate turns of May 2004 to June 2006, May 1999 to May 2000, and Jan 1994 to Feb 1995.
From May 2004 to June 2006, the Fed Funds rate rose from 1.0% to 5.3% and the 10-year Treasury yield rose from 4.7% to 5.1%. Below is a chart for the most recent period of May 2004 to June 2006 for the Utility ETF (XLU) and these five utilities: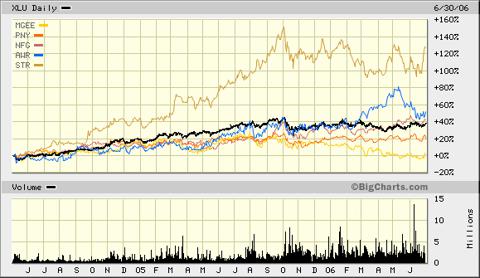 While only three of the five stocks beat the utility ETF over this time frame, they all provided positive real rates of return, with the exception of MGEE.
These five utility firms are worthy of further research for investors looking for additional defensive growth investments that may counter the interest rate risks most perceive as being built-in to utility stocks.
Some readers may be curious as to how some of the larger capitalization utilities performed during the same time frame. Below is a comparable chart for five popular large-cap utilities - Southern Company (SO), Edison International (EIX), Exelon (EXC), PG&E Corp. (PCG), and Duke Energy: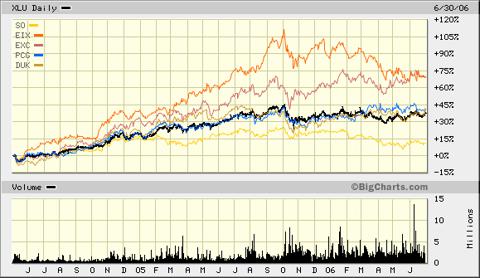 While these five firms do not all have best in sector ROIC, they are also worthy of additional research for more conservative investors.
The bottom line is the conventional wisdom of dumping utilities during the initial periods of interest rate turns may not be as useful as one may believe.
Author's Note: Please review important disclaimer in author's profile.
Disclosure: I am long EXC, NFG, SO. I wrote this article myself, and it expresses my own opinions. I am not receiving compensation for it (other than from Seeking Alpha). I have no business relationship with any company whose stock is mentioned in this article.