(Editors' Note: This article covers a stock that is trading at less than $1 per share and/or has less than a $100 million market cap. Please be aware of the risks associated with these stocks.)
(Editors' Note: Nuvo Research also trades on the Toronto exchange, symbol NRI.TO, with average daily volume of C$21,000.)
Disclosure
I am long Nuvo Research (OTCQX:NRIFF) (TSX: NRI.TO) via an equity position in NRIFF and intend to hold this position through the events outlined in this article, or until my anticipated gains are realized. Before investing in companies such as the one discussed in this article, investors should be aware of the inherent associated with investing in a small company that trades OTC (Over The Counter). Per the SEC, "Penny stocks may trade infrequently, which means that it may be difficult to sell penny stock shares once you own them. Moreover, because it may be difficult to find quotations for certain penny stocks, they may be difficult, or even impossible, to accurately price. For these, and other reasons, penny stocks are generally considered speculative investments. Consequently, investors in penny stocks should be prepared for the possibility that they may lose their whole investment (or an amount in excess of their investment if they purchased penny stocks on margin)."
Summary
2013 was a year Nuvo Research shareholders are glad is now behind them. Between the FDA issuing a Complete Response Letter in March, negative sentiment following a reverse stock split in May, and a lack of additional catalysts, shares ended the year down ~60% from their early January levels. However, sentiment appears to be shifting and Nuvo Research offers an extremely compelling risk/reward opportunity in both the short-term and long-term. Next year will be a crucial year for the company, with 3 significant catalysts all likely to occur in the first part of the year. While these catalysts vary in nature, they all serve as the foundation for the company's future value and present significant trading catalysts.
The 3 catalysts are:
An FDA approval decision for their core product
Resolution to pending litigation with Mallinckrodt Pharmaceuticals (NYSE:MNK)
Initiation of a Confirmatory Phase IIb study in Allergic Rhinitis with results expected by EOY
Even putting the upcoming catalysts aside…with current price levels relatively close to cash value, the company is being drastically undervalued based solely on fundamental valuation alone. In my opinion, buying NRIFF at these levels will offer a very favorable asymmetrical risk/reward profile. And while caution should always be observed, the potential for percentage returns well into the triple digits certainly exists.
Company Overview
Per Yahoo Finance, Nuvo Research Inc. (NRI.TO) , a specialty pharmaceutical company, engages in the research, development, and commercialization of pharmaceutical products for the treatment of pain. It operates in two segments, Pain Group and Immunology Group. The Pain Group engages in the research, development, and commercialization of topically delivered pain drug products, including Pennsaid, Pennsaid 2%, Synera, and Pliaglis. It offers Pennsaid, a non-steroidal anti-inflammatory drug that is used to treat the signs and symptoms associated with knee osteoarthritis. This segments product portfolio also includes Pennsaid 2%, which is used to enhance the transport of diclofenac; Synera, a topical patch that provides local dermal analgesia for superficial venous access and superficial dermatological procedures; Pliaglis, a topical local anesthetic cream, which provides local dermal anesthesia on intact skin prior to superficial dermatological procedures, such as dermal filler injection, pulsed dye laser therapy, facial laser resurfacing, and laser-assisted tattoo removal; and other topical pain medications for various pain conditions, including NRI-ANA and formulations for the treatment of pain of inflammatory, nociceptive, and neuropathic origin. The Immunology Group offers WF10, a solution of OXO-K993 that focuses on supporting the immune system; and Oxoferin, a diluted form of WF10, which is a topical wound healing agent. This segment markets Oxoferin in Europe, Asia, and South America. The company was formerly known as Dimethaid Research Inc. and changed its name to Nuvo Research Inc. in September 2005. Nuvo Research Inc. was founded in 1983 and is headquartered in Mississauga, Canada.
Current State Overview
Financial Information:
As of 9/30/13, reported cash and equivalents of $14.6M with essentially no current cash burn from operating activities
Nuvo is due to receive a $2M milestone payment from Galderma in early 1Q14 for the regulatory approval of Pliaglis in Brazil
As of 9/30/13, reported 8.75M shares of common stock outstanding
As of 9/30/13, trailing 12 month revenue of $18.3M
In July, amended Paladin Labs loan agreement and withdrew an additional $4M tranche, resulting in $6M total level of debt
As of 9/30/13, there were 745,000 options outstanding with an average exercise price of $10.04 and 583,000 options exercisable with an average exercise price of $10.87
When investing in small cap biotechs, there are two big risks that need to be avoided:
Share count dilution via a secondary offering to raise cash
A company already trading with an enterprise value multiple times greater than cash value
Great news for NRIFF in both of those areas:
They have abundance of cash relative to their burn and are committed to non-dilutive financing
The stock currently trading only slight above CASH VALUE
Those facts alone are compelling reasons to be bullish on NRIFF…but it gets better.
Reverse Stock Split:
In May 13, Nuvo conducted a massive 1:65 reverse stock split to drastically decrease the number of shares outstanding-as illustrated on the reverse split adjusted chart below, shares of Nuvo quickly tanked ~50% following the reverse stock split announcement without much recovery since.
Just by looking at the daily chart, one can easily decipher the negative impact the reverse split had on investor sentiment. However, Management appeared to have investors' longer term interests in mind and this is another effort to create shareholder value. During the 6/18 Annual Shareholder Meeting, Management made it a point to address the share consolidation.
When posed with the question, "Why did you do a share consolidation? It has lowered the market cap of the company," management responded with several key points:
"Goal to attract new institutional investors"
"Many institutions restricted from owning penny stock"
"Some U.S. brokers refuse to hold penny stock in clients' accounts"
"Minimum per share broker's commission makes acquiring Nuvo expensive relative to other stocks"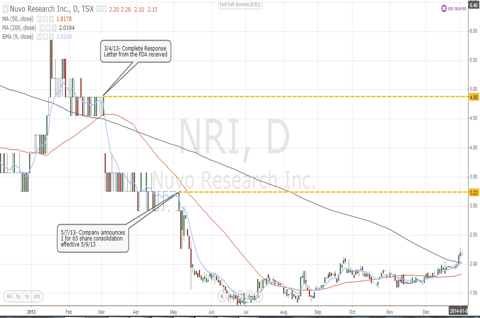 In addition, the newly realized low float creates a great trading environment into fixed date catalysts. I will discuss this later when I reference other stocks who were in very similar shoes as NRIFF before they moved.
Key points here:
Minimized risk
Very undervalued given strong cash position
Management committed to shareholder value
Unjustified major drops are a gift to anyone looking to enter
Looking ahead into 2014
The first quarter of 2014 is loaded with 3 potential catalysts that will have a significant impact on the share price (whether it is from a run-up into the catalyst date or big pop following the event).
1.) An FDA approval decision for their core product is the near term catalyst that spark the run-up back towards early 2013 levels
On 8/7/13, US licensing partner Mallinckrodt Pharmaceuticals (Nuvo receives 20% royalties on net product sales based upon the current agreement) submitted results of its Pharmacokinetics Study (PK Study) in response to the FDA's March 2013 Complete Response Letter (CRL) seeking approval for improved and higher strength formulation of topical NSAID (anti-inflammatory and pain) drug. The new FDA decision is expected by 2/7/14 under a six-month Class 2 review and includes expected marketing exclusivity until 2022. The product is a major improvement over the currently marketed version Pennsaid 1.5% - it is not simply a slightly higher strength formulation. The dosing is reduced from four times daily to two times daily and the product is supplied in a much more convenient metered dose spray device rather than being a messy liquid in a bottle.
The NDA resubmission was straightforward (additional PK data requested by FDA for a novel formulation of an approved drug) and is being managed by MNK which has a good track record at receiving FDA approvals and marketing products.
2.) WF10 could be a game-changer for the company and could offer significant value from a longer term perspective
In late 2010, initial results from the Phase II Proof of Concept Study for WF10 were released. With the stock near $12, the company announced that announced that its European Phase 2 clinical trial evaluating WF10 as a treatment for severe allergic rhinitis met its primary endpoint. The positive results were well-received by investors, as the sales potential could be $660M with a market penetration of 15% in the $4.4B refractory allergic rhinitis market in the U.S. Unfortunately there has been little to no progress or development in this area. As a result, the market seems to have almost entirely written off the vast opportunity within this space.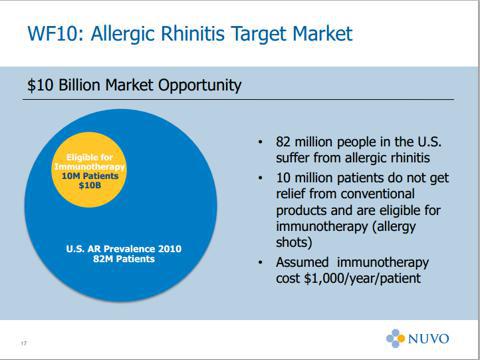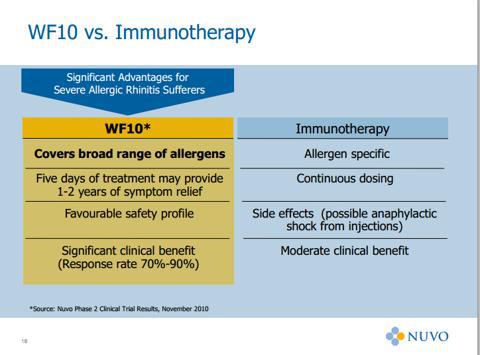 An official announcement from the company of a confirmatory study in WF10 would be huge for investors and the stock price for a few reasons:
It would signal that they are committed to taking the necessary steps to bring WF10 to market and capitalize on the multi-billion dollar U.S opportunity
It would provide for another MAJOR catalyst for the company in late 2014
It would attract longer term investors seeking to investor in companies with deep value in their pipeline
Nuvo's current valuation seems to completely neglect any future benefit in this area. When in reality, WF10 should be adding the most value as long as it is continuing to be developed. If/when confirmation comes, don't be surprised to see a big move up…and expect the same later in 2014 when results are announced.
3.) A resolution to their pending litigation is a major wild card…and some recent developments might be hinting at something huge in the works
On 8/21/13, Nuvo announced a lawsuit against Pennsaid marketing partner MNK for allegedly breaching the following license agreement terms: failing to conduct certain clinical studies required under the contract that are critical to regulatory approval, marketing and sales of Pennsaid 2% throughout the world; making significant errors in certain clinical studies for which it was responsible; failing to apply requisite efforts to commercialize Pennsaid in the US; and willfully refusing to pay the full milestone payments due to Nuvo.
Nuvo is seeking damages of not less than $100 million and a declaration that it is entitled to terminate the License Agreement which would result in the rights to market and sell Pennsaid and/or Pennsaid 2% in the United States reverting to Nuvo. Nuvo has not terminated the License Agreement which continues in accordance with its terms pending the Court's decision.
Given that the licensing agreement with MNK remains in effect pending the outcome of litigation, the FDA decision catalyst remains in full effect. Even if the agreement is terminated and Nuvo regains rights to Pennsaid they will simply take over the FDA approval process. In this case, there is the potential for mediation and an out-of-court settlement and it seems likely that Pennsaid rights will be returned to Nuvo or if the license agreement remains in effect, then Nuvo is likely to receive a cash windfall. That payment is not likely to be anywhere near the $100 million cited, but even a small cash payment to Nuvo would be significant given less than 9 million shares outstanding and a low cash burn rate. Even a small payment of $15M would represent over $1.50/share to Nuvo yet would be insignificant to a larger, profitable company such as MNK. However, the legal process is lengthy so there is not likely to be any major developments in this case prior to the 2/7 PDUFA date.
Now it is time for a little speculation...albeit speculation based on facts and recent developments.
There have been several different recent events that suggest some potential "re-organization" might be merged into Nuvo's future.
Several recent developments sparked the idea in my head that (while the chances are slim) they could be bought out soon.
One 12/19, Nuvo announced an agreement with Novamedica to market Pennsaid in Russia. While it is standard procedure to issue such a PR, I found it odd that the terms of the deal were not disclosed. This suggests that the terms are possibly still under negotiation OR it might suggest that by the time marketing of Pennsaid in Russia begins, Nuvo won't own the supply and distribution of Pennsaid, thus they have no interest in setting financial terms.
MNK hasn't once alluded to the current lawsuit despite discussing/giving guidance on Pennsaid 2% and making several mentions of launch plans.
On 12/17, Zogenix, Inc. announced that it had added to its senior leadership team with the appointment of Bradley S. Galer, M.D., as the company's new Chief Medical Officer. Dr. Galer was Nuvo's CMO immediately prior to that. The strange part…no mention of Nuvo in ZGNX's PR, nor was there a PR (or update for that matter) from Nuvo. A little strange, but ok whatever.
Keep in mind that for this scenario Nuvo has indicated its commitment to WF10.
Here's a crazy thought…. If you are Mallinckrodt the lawsuit could cost up to $100 million and then there is the potential $100 million in milestone payments, if they are successful in marketing Pennsaid 2%.
Can Nuvo work with and having a productive relationship with a partner that they just sued?
Nuvo management has mentioned the potential to split its operating units, and a lump sum payment from Mallinckrodt would enable this. In the scheme of things, ~$200 million wouldn't really cost Mallinckrodt a thing if the lawsuit is winnable and Pennsaid 2% sales can eventually reach $100+ million annually. So let's just be conservative and say a $150M payment for Nuvo would make sense for Mallinckrodt. $17/share isn't that farfetched if you consider where Nuvo was valued in 2010-2011.
Would that be a good deal for the company and for shareholders? I would say so.
This would allow Nuvo to concentrate on their pipeline (and primarily a potential game-changer in WF10).
Or you can take the glass is half empty approach and look at Endo Pharmaceuticals:
With Dr. Galer gone, why would Nuvo concentrate any efforts in their Pain area
They recently took a big loans from major distributor
They are in a big lawsuit against their US distributor and have expressed their frustration with them
Management has basically been silent for several months
In early Nov, Endo acquired Canadian-based Paladian labs in an effort to expand its presence in Canada and emerging markets
What about this scenario…Nuvo could take back the US distribution via the law suit and spin off pain products to Endo, leaving NRI as a WF10-focused company.
I realize that these scenarios are purely speculative and are not intended to be my primary rational for being in the stock. I am a trader before anything else, and refuse to put on my tinfoil hat and buy something on buyout speculation (cough cough AMRN longs). However, once you look at the bigger picture, a lot of pieces of the puzzle seem to start fitting, and the sheer thought of either of these scenarios coming to fruition really make the risk/reward profile increase even more. For those who trade options, liken this to picking up some weeklies in a high beta name on a Friday afternoon.
Key points here:
3 upcoming catalysts all present very strong cases for upside price appreciation in the stock
1 catalyst is a traditional FDA run-up play, which offers great upside in a short timeframe
1 catalyst would really open everyone's eyes in regards to the unlocked value in WF10
1 catalyst that, while definitely a wild card, could pay huge returns
I think asymmetric is definitely a fair term for the risk/reward based on upcoming catalysts.
Near term trading plan
With a PDUFA date of 2/7/14 for the Pennsaid 2% NDA resubmission; I plan to buy NRIFF on any dips leading up to early February. Unlike many binary events in biotech, I am willing to hold part (or all) of my position through the catalyst for reasons outlined in this article.
As mentioned earlier, I am hesitant to assert a price target; however there are 2 important levels that I am eyeing that can be seen on the chart posted earlier:
The low to mid $3's is the price in NRIFF at which shares closed on May 8th prior to the reverse split taking effect. I envision that this level will be reached as shares run up prior to the 2/7 PDUFA date.
The mid-$4 range was where the close on March 4th prior to gapping down from the CRL. This will be an important level to watch from a technical perspective. This could potentially be tested leading up to the decision date, and if FDA approval is granted I envision shares will fill the gap and trade higher. I am basing this partly due to recent moves in very similar stocks.
However, these price levels do not account for the potential boost likely to be seen from the other Q1 catalysts. I will refrain from speculating in detail on the potential positive impact to shares…but I think it is safe to say that anyone long the stock won't be complaining about the move.
As stated earlier, my conviction in this trade and the potential upside is reaffirmed by the recent appreciation in similar type companies.
Two stocks with similar characteristics to Nuvo that have seen this type appreciation are Intellipharmaceutics (NASDAQ:IPCI) and Tonix (NASDAQ:TNXP).
Intellipharmaceutics is another Canada based biotech with a low market cap and low number of outstanding shares. Recently, Intellipharmaceutics and their partner received FDA approval for additional strengths of a generic ADHD medication.
I have included the six-month chart below for Intellipharmaceutics to illustrate the upside potential for Nuvo. As illustrated below, Intellipharmaceutics realized significant appreciation on the announcement of its approval. This was largely in part to their low float, and I expect the same result for Nuvo. However, NRIFF could trade like Intellipharmaceutics on steroids following a positive announcement when you consider their 8.8M shares of common stock vs. IPCI which has about 21M shares of common stock outstanding.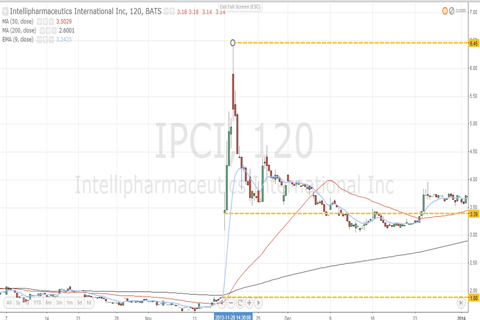 Tonix is another company that was in a very similar situation as Nuvo just several months ago. TNXP is great example of how positive catalysts and a change in investor sentiment can propel a stock from 52 week lows to all-time highs and create positive upward momentum. TNXP was extremely under the radar and undervalued, but once investors became aware of it, shares took off.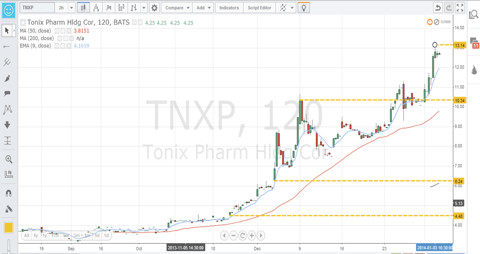 Conclusion
While nothing in the market is ever guaranteed (especially when it comes to biotechs trading OTC) the likely approval of Pennsaid 2% provides substantial upside potential given the product is a major improvement over the currently marketed version Pennsaid 1.5%. Furthermore, the stock is currently undervalued solely on a fundamental valuation basis. Yes there are risks that the FDA issues a CRL, or that WF10 falls through, but a favorable cash position caps the risk potential. Now couple that with the potential upside resulting from positive results from the Q1 catalysts, and you might just have a "can't miss" play for 2014. And finally…if you aren't convinced yet, just look at the other numerous examples of low float biotechs who have seen exponential increases in value within a matter of days due to catalyst event. In this bull market, speculative money continues to pile into small biotechs and I don't see any reason why that will cease anytime soon.
Disclosure: I am long NRIFF. I wrote this article myself, and it expresses my own opinions. I am not receiving compensation for it (other than from Seeking Alpha). I have no business relationship with any company whose stock is mentioned in this article.