By Tracey Ryniec
Amazon.com, Inc. (NASDAQ:AMZN) looks to be putting its 2013 troubles behind it as it has jumped to a Zacks Rank #1 (Strong Buy) from a Zacks Rank #5 (Strong Sell) last year. Earnings growth is expected to pick up steam in 2014.
Amazon is one of the world's largest on line retailers. It also operates a publishing division and creates original media content, offers cloud services and sells Kindle tablets and the Kindle Paperwhite e-reader.
New Holiday Record for Amazon Prime
On Dec 26, Amazon announced that a million new customers had signed up for Amazon Prime, the annual membership program that offers unlimited 2-day shipping on millions of items, in the third week of December alone. It is widely believed that all the new Prime members contributed to the surge in last minute package deliveries that caused a back up at UPS just before Christmas day. The Prime program now has "tens of millions of members worldwide."
Is Amazon the new Santa? It delivered enough packages through the Prime program to equal one gift for every household in America. The 2013 holiday season was a record for Amazon with 36.8 million items ordered on Cyber Monday alone. The company also said it sold "millions" of Kindle e-readers and Kindle Fire tablets, but true to Amazon's history of not providing exact numbers of tablet sales, it didn't say how many "millions."
Triple Digit Earnings Growth Expected
We'll find out how great Amazon's holiday quarter really was when it next reports earnings. It's expected to report around February 4.
But while 2013 seems to have ended with a bang, the analysts expect an even better 2014. 1 estimate has been raised for 2014 in the last 2 months. Analysts are expecting earnings growth of 233% in 2014 after earnings growth of 167% in 2013.
Amazon has a very choppy earnings track record, however. It has only beat once in the last 6 quarters.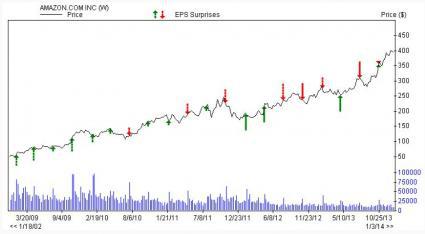 But it is one of the few stocks that doesn't really trade on the actual earnings miss or beat. Shares are near all-time highs.
What About Valuations?
Amazon isn't a "cheap" stock. It trades with a forward P/E of 158. Investors are buying the growth story. But it IS profitable and there ARE real earnings. Amazon delivered to 185 countries this holiday season. 2014 could be the year that Amazon makes believers out of a lot more of the skeptics.
AMAZON.COM INC (AMZN): Free Stock Analysis Report (email registration required)