Direxion, a pioneer in the 3x leveraged ETF space, announced Thursday the launch of six new funds, bringing the firm's total product offerings to 34, and represent firsts for both the company and the ETF industry. The leveraged ETFs beginning trading on Thursday include: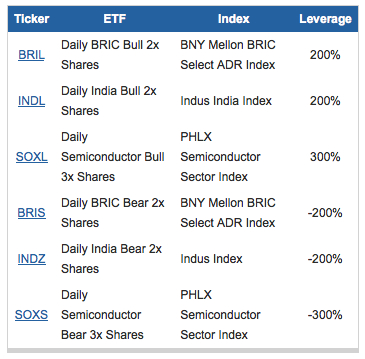 Each of the new products is an industry first of some sort. Both ProShares and Direxion offer leveraged products linked to the MSCI Emerging Markets Index, but BRIL and BRIS are the first leveraged ETFs offering exposure to the BRIC economies. INDL and INDZ are the first leveraged ETFs linked to Indian markets, joining funds from both major leveraged ETF issuers based on China indexes. SOXL and SOXS are the first 3x leveraged ETFs focusing on a semiconductor-specific benchmark. There are a number of "plain vanilla" semiconductor ETFs, including SMH, IGW, XSD, and PSI. These 1x semiconductor ETFs have aggregate assets of nearly $1.7 billion and average trading volumes of more than 15 million shares. ProShares already offers both 200% daily leveraged (NYSEARCA:USD) and -200% daily leveraged ETFs (NYSE:SSG) linked to the Dow Jones U.S. Semiconductors Index.
"Direxion strives to provide innovative investment solutions that enable investors to employ tactical portfolio strategies amid changing market conditions," stated Dan O'Neill, Direxion Shares' President. "We have provided the investment community with many industry 'firsts.' With this launch, we are pleased to offer the first 2x leveraged BRIC and India ETFs. The BRIC economies represent some of the fastest-growing in the world, and we are pleased to provide a vehicle for trading in these markets."
The BRIC and India funds are the first leveraged ETFs offering 2x exposure from Direxion. Historically, the company has dominated the 3x leveraged ETF space while ProShares has focused on inverse and 2x leveraged funds. In recent months ProShares has expanded into the 3x leveraged ETF space, and now Direxion has ventured into offering 2x leverage. Through the first two months of 2010, cash inflows into leveraged ETF products exceeded $1 billion, indicating that these funds remain tremendously popular among a variety of investors.
BRIL and BRIS are linked to the BNY Mellon BRIC Select ADR Index, a benchmark tracked by Claymore's BRIC ETF (NYSEARCA:EEB). INDL and INDZ are based on the Indus India Index, which is tracked by the PowerShares India Portfolio (NYSEARCA:PIN).
Disclosure: No positions at time of writing.