For emotional reasons five year old Bitcoin (BITCN) is very polarizing and has become magic Internet money; either rat poison or 'techno tour de force' to Charlie Munger and Bill Gates, respectively. And for all it has been the best performing asset over the past five years. But despite any personal sentiments or emotions corporate officers owe a fiduciary duty to maximize shareholder value.
And Target (NYSE:TGT) has an opportunity to immediately create significant amounts of shareholder value by accepting Bitcoin like Zynga (NASDAQ:ZNGA) recently using Bitcoin processor Bitpay.
And if Target fails to develop a Bitcoin strategy then they will lag Overstock (NASDAQ:OSTK) which has already announced it will accept Bitcoin payments in 2014. And Target will be at further risk of falling behind both Amazon (NASDAQ:AMZN) or Wal-Mart (NYSE:WMT) which might already be fast on the scent of lower prices with former board member Michele Burns who is currently on the boards of Goldman Sachs (NYSE:GS), Cisco (NASDAQ:CSCO) and Bitcoin startup Circle.
BITCOIN ADVANTAGES FOR CUSTOMERS
The customer is always right. When a customer wants to give a business money for a good or service then the business should figure out how to take it! Obsolete merchant processors like Visa (NYSE:V), Mastercard (NYSE:MA), Paypal (owned by EBAY) and innovators like Bitpay help smooth the user experience in transferring value which is why businesses use them.
Recent United States Senate hearings on Bitcoin included representatives of several government agencies like Treasury, FinCEN, Secret Service, DHS, etc. and industry including both Tony Gallippi CEO of Bitpay and Jeremy Allaire CEO of Circle testified sending the message loud and clear that Bitcoin is legal for US corporations to use in transactions.
How many Bitcoin customers?
Reddit reports 2.7% of site users pay using Bitcoin. People have valuable bitcoins to spend and a Lambroghini dealership in Newport Beach, CA sold 3 for Bitcoin in December when they usually average 5-10 per month. This evidences Bitcoin's growth as a transactional currency with Bitpay reporting in November 2013 15,550 merchants, $100,000,000 of gross processing volumes and 6,260% year-over-year growth in processing volumes.
Identity Protection
In December Target allowed their database breached resulting in the compromise of obsolete credit card transactions and personal information for over 40 million customers. There may be significant fines or other costs associated with this massive security incident. Bitcoin users would have been unaffected and shareholders would be better off if there was never any data to potentially leak in the first place!
And in the middle of holiday shopping season J.P. Morgan Chase (NYSE:JPM) said, "it was temporarily limiting ATM withdrawals to $100 a day and purchases to $300 a day for customers whose accounts were at risk." What an inconvenience for customers! An inconvenience that would not even have been possible if Target's customers had been given the option to pay with Bitcoin instead of a credit card.
Bitcoin has identity protection built in and merchants cannot be victims of either fraud or chargebacks. As this 30 second video of a Zynga Bitcoin transaction shows the customer checkout process consists of two clicks with no personal information being submitted and the merchant knows instantly that payment is good. This could be even smoother and faster than the patented Amazon One Click Checkout!
Consequently, Target needs to takes their customer's private information more seriously by (1) making sure their security systems and practices are secure and (2) accepting Bitcoin payments from customers so customers do not need to trust this corporation with data in the first place since it has already proven itself an untrustworthy steward.
New emerging markets
Additionally, debit and credit cards are only available in about 50 countries. Bitcoin is available anywhere there is an Internet connection. UPS (NYSE:UPS) or Fedex (NYSE:FDX) can ship to many of these countries.
Is Target looking for a potential expansion strategy for their lagging ecommerce division? You can be sure Amazon is already targeting this potentially huge and lucrative expansion possibility. Just watch their video Exporting With Fulfillment By Amazon and consider the implications with Bitpay's Fulfillment by Amazon plugin.
BITCOIN IS FINANCIALLY CHEAPER
But another tangible reason why Target should accept Bitcoin payments is because they are significantly cheaper than debit or credit cards.
Transaction Costs
Target, Wal-Mart and Amazon all generate tremendous amounts of revenue by selling retail products that are often commoditized. So there are extremely low profit margins. Hence, Wal-Mart's slogan "Always low prices. Always."
But credit card costs are on average around $0.30+2.9% although I am sure these giant retailers get massive discounts due to volume. Nevertheless, this is still a point of major contention since the middlemen, who can suffer disintermediation, siphon off material amounts in fees.
In July 2012 the Chicago Tribune reported,
"Visa Inc, MasterCard Inc and banks that issue their credit cards have agreed to a $7.25 billion settlement with U.S. retailers in a lawsuit over the fixing of credit and debit card fees in what could be the largest antitrust settlement in U.S. history."
Bitpay's merchant solution
Meanwhile, for a flat monthly fee Bitpay offers to (1) process Bitcoin transactions, (2) convert to the fiat currency of choice like USD, EUR, YEN, etc. and (3) direct deposit to the bank account next day. Plus, there is no personal information from the customer for PCI compliance, no risk of fraud or charge-backs and no other hidden fees.
Bitpay offers two different pricing models either (1) 0.99% of gross revenue where they will process the Bitcoin transaction, convert to the fiat currency of choice and direct deposit to the bank account next day or (2) a unique Software As A Service pricing model. The SaaS model has three tiers at $30, $300 and $3,000 and with the highest tier where they will process $5,000,000 or more monthly volume.
Retailer volumes
In 2012, Target had $73.3B of gross revenue while Wal-Mart's was $469.2B and Amazon's was $61.1B. We do not know what percentage of revenue will have the Bitcoin payment method so we will assume the same 2.7% as Reddit.
We will assume the major retailers pay a mere 1% of gross revenue for credit card transactions which would include all transaction costs, PCI compliance, computer security costs, contingent liabilities from breaches of their systems, fraud or chargeback costs, foreign exchange conversion costs and all of the other hidden fees that have not been enumerated.
Proforma analysis of financial effect from Bitcoin acceptance
With those two assumptions this would mean Target would process via Bitcoin approximately $1.98B of annual revenue, Wal-Mart about $12.7B and Amazon about $1.65B with costs of .
Bitpay will process all of those amounts for a full inclusive flat fee of $3,000/month or $36,000 per year. This would save Target approximately $19.8m in processing fees, Wal-Mart about $127m and Amazon around $16.5m. In all cases, immediate cost savings would be in excess of 99.9%. Not a bad ROI for a few hours of a developer who is likely already on salary!
What this would look like for a consumer
Remember, Target, Wal-Mart and Amazon offer retail goods that are commoditized so there is very little differentiation they can do to boost margins. Here is the beautiful 70" Vizio TV.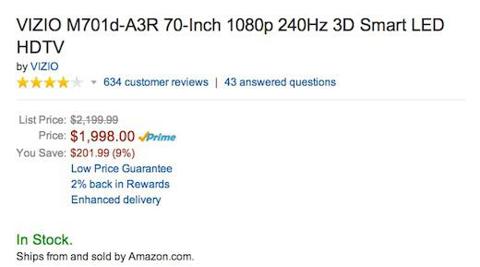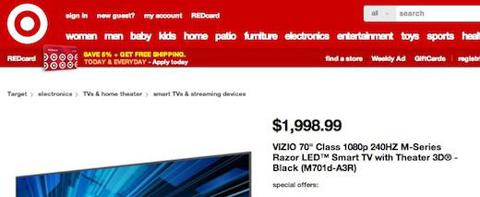 So we see that Target is already offering the same high value item for $0.99 more than either competitor. Target is not the low price so why buy from them?
But if 1%, about $20, were knocked off that price which could easily be done by giving discounts to people who pay with Bitcoin because of the lower fees and zero risk of fraud or chargebacks then Target would be far and away the low price leader. Which major retailer will join Overstock first?
CONCLUSION
It really seems like common sense for Target to accept Bitcoin. In one fell swoop they can tremendously benefit their customers and shareholders by (1) expanding accessibility globally, (2) lowering overhead, (3) improving the user experience, (4) protecting customer personal information and (5) cutting costs. And if Target does not move then it seems increasingly likely that in 2014 either Wal-Mart or Amazon will so that Overstock is not the sole major retailer accepting Bitcoin.
And looking at it objectively without any personal bias I have to conclude that there is little if any cogent articulate argument against accepting Bitcoin. Please, make the other case in the comments!
After all, Bitcoin is merely a protocol like email and Target started using email years ago. By accepting Bitcoin Target will gain a competitive headstart, has basically nothing to lose, a lot to gain and a fiduciary duty to increase shareholder value to fulfill.
Disclosure: I have no positions in any stocks mentioned, and no plans to initiate any positions within the next 72 hours. I wrote this article myself, and it expresses my own opinions. I am not receiving compensation for it. I have no business relationship with any company whose stock is mentioned in this article.
Additional disclosure: Seed round investor in the private company Bitpay and long Bitcoins.